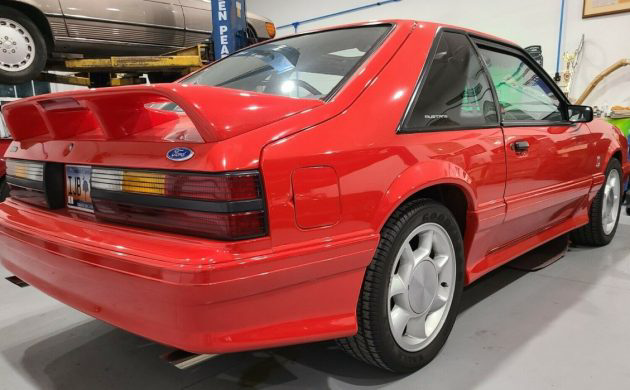 It's rare to see a true collector car with time-capsule mileage go up for grabs with no reserve on eBay, but this gorgeous 1993 Ford Mustang Cobra is clearly bucking that trend. With under 4,000 original miles and still evidently in pristine condition, this may be as good as it gets for a Fox body Cobra. The red over gray leather combination is one of the better colors pairings offered, and the paintwork and body panels all appear to be in near-perfect condition. The seller is the original owner, despite the Carfax reporting two owners following a relocation from North Carolina to South Carolina. Bidding is enthusiastic at the moment, currently pegged at $56,600 here on eBay.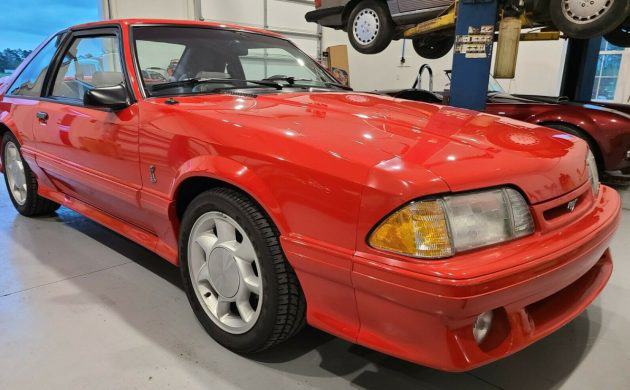 The Fox body Cobra is an increasingly hard car for me to predict the current market appetite for. On the one hand, any limited production, high-performance Mustang is going to be in demand, no matter the era. The Fox body Cobra wasn't the most over-the-top of the limited production Mustangs, but it was still a competent package overall. However, in recent months, there's seemingly been a glut of these Cobras on the market; we've featured several of them. Some of them have sold for very reasonable money, likely as a result of showing average miles, a modification or two, and having the unfortunate luck of being listed the same time another Cobra was.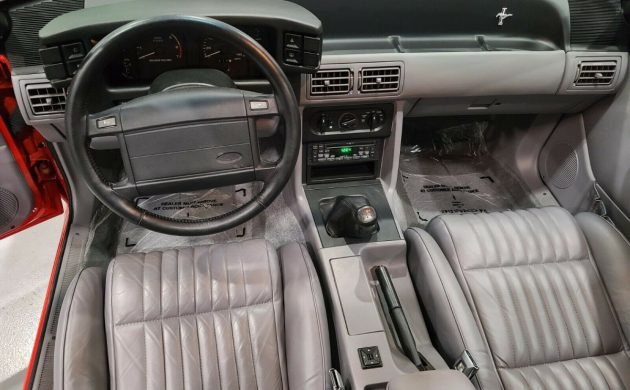 What the bidding on this car goes to show you is that collectors will always pay top dollar for the best-of-breed. I've learned this the hard way and have had to start ignoring some of the more popular price guides, as the values are seemingly only based on the best of the best – not driver-quality cars. This one is certainly in a league of its own, with a pristine leather interior and spotless carpets. When you see mileage like this and protective coverings on the floor, it's pretty clear the longtime original owner never intended for this Cobra to be heavily used. Given the assortment of cars in the garage, I doubt he ever felt like the Cobra was the only car available to drive.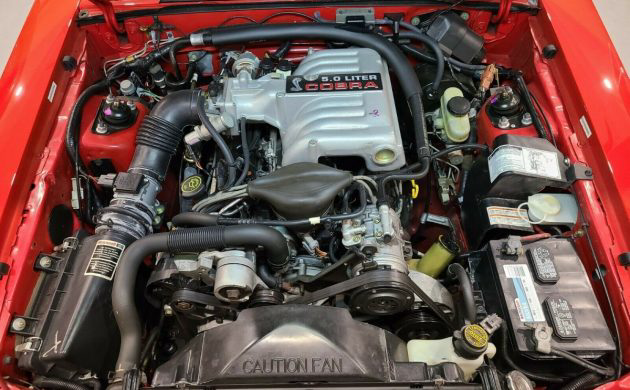 The engine bay is pristine, just like the rest of the car. The seller notes that a bevy of documentation is included with the sale, including the window sticker, warranty card, protecto plate, bill of sale, several pieces of correspondence with the SVT division at Ford, build sheet, sales literature, hang tags, seat belt buckle extensions for child seat, and more. The tires remain original, and the original wiper blades are still in the trunk! The antenna and floor mats were never installed, either, and aside from the original radio occasionally cutting out (an issue that has not been successfully diagnosed), there are seemingly no stories with this car. Would you spend this kind of money on a pristine Fox body Cobra?