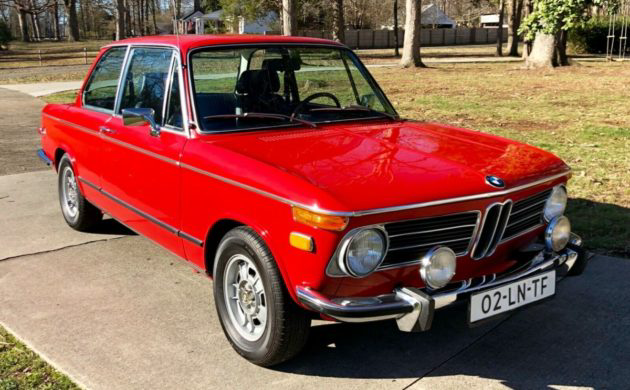 This 1973 BMW 2002 Tii is a nicely preserved example that remains highly original despite a repaint from its original Sahara paint job to the current red finish. The car is not only numbers-matching, but it also retains what 2002 enthusiasts refer to as a non-snorkel, or snorkel-free, nose panel – a minor detail that is a big deal in assessing whether an '02 has been in an accident in its many years on the road. This example also comes with some ideal upgrades inside the cabin, including a gorgeous set of Recaro seats with fresh upholstery. Find the 202 Tii here on eBay with bidding over $35,000 and the reserve unmet.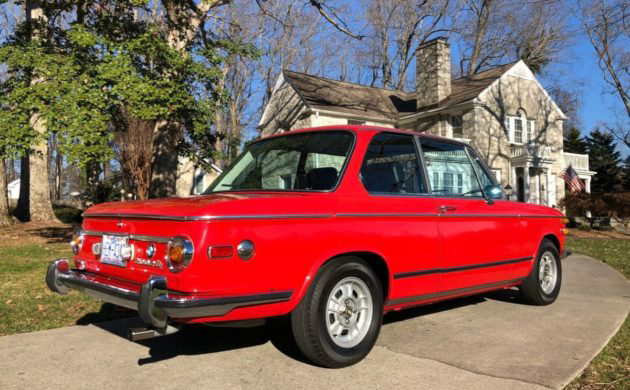 The 2002 has been extensively refurbished over the years, both mechanically and cosmetically. The seller notes the repaint was done at a fairly comprehensive level, with all trim disassembled and removed (and presumably, the glass out, too.) Though I prefer the original Sahara color, most people prefer to have their sports cars in red. The chrome is all said to be in good condition, and the preferred, smaller bumpers appear quite nice. This 2002 retains its original floors with factory paint still visible, a testament to its many years in California. The car now resides in North Carolina and is said to remain rust-free.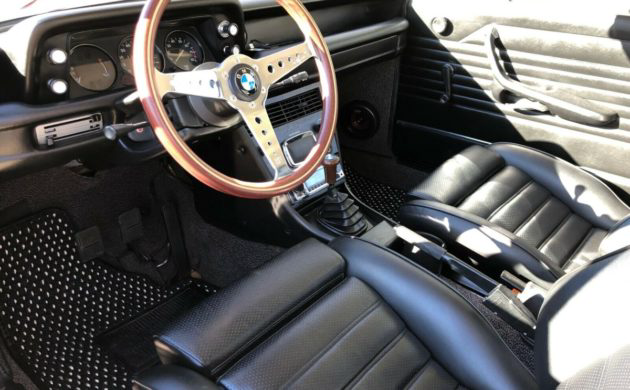 The interior is gorgeous, with factory Recaro seats from a later E21-series BMW 320 reupholstered with the backseat to match. Coco-style mats protect the factory carpets, and a gorgeous Momo Heritage steering wheel replaces the bus-like original. The console and restored dash are in excellent condition with no visible cracks. The A/C is functional and blows cold air, and the seller further notes that the door panels front and rear remain in excellent condition. Some light discoloration of the headliner is noted, and only major deviation from stock insider is the installation of a Bluetooth radio. The original Tii-specific clock remains affixed to the dash and still works.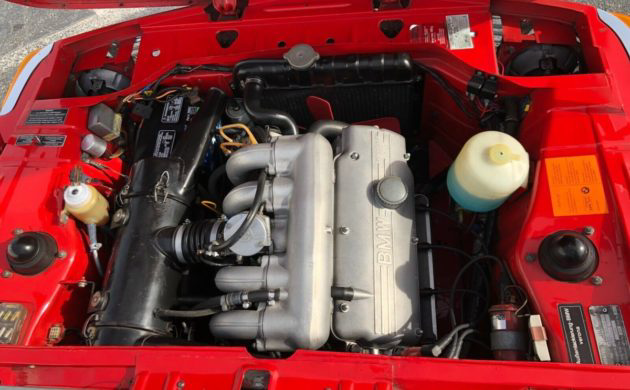 The engine bay is practically spotless, and underscores the level of detail this car's caretakers have demonstrated while in their care. The recent maintenance list is lengthy, and includes a new waterpump and hoses; an OEM muffler; coolant system flush; new universal joints and center support bearing; plugs/plug wires/distributor cap and rotor; and more. The seller notes the Tii's engine runs smoothly, and is paired to an upgraded Getrag 245 5-speed manual transmission. While there is evidence the engine has been rebuilt, it does not come with any documentation. Regardless, this is the kind of car to buy if turnkey ownership is important to you.