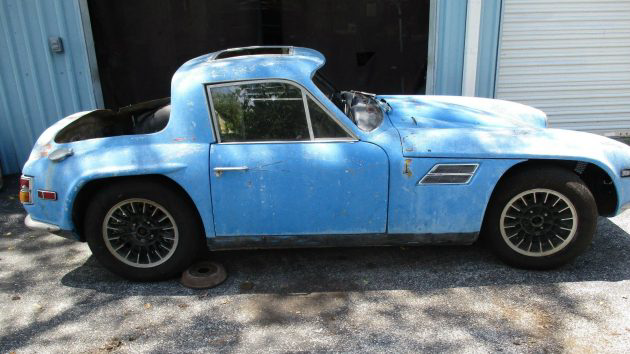 Reader Peter R. sent in this cool TVR 2500 find. It's not as bad as it looks, as the seller has stashed the extremely expensive rear window and the windshield somewhere else for safe keeping. The car is listed for sale here on eBay and is located in Houston, Texas. I was surprised to see the car listed at no reserve, and bidding is just over $1,000 at this point. That's right, only three zeros.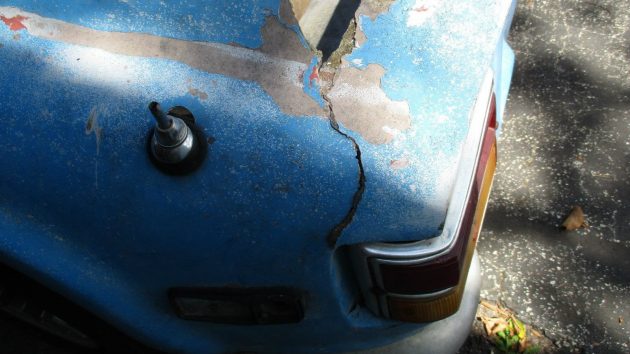 Although the car is only showing 17,642 miles I'm pretty sure it's either 117k or the cable was broken for a long time. This fiberglass damage will obviously have to be fixed, but fiberglass can be fixed at home if you are willing to take some time about doing it. I doubt that whatever did this caused any real structural damage to the car. And if you are wondering, those are either MG Midget or Triumph Spitfire sidelights, and even though they have slightly different contours, I suspect either would replace this damaged one.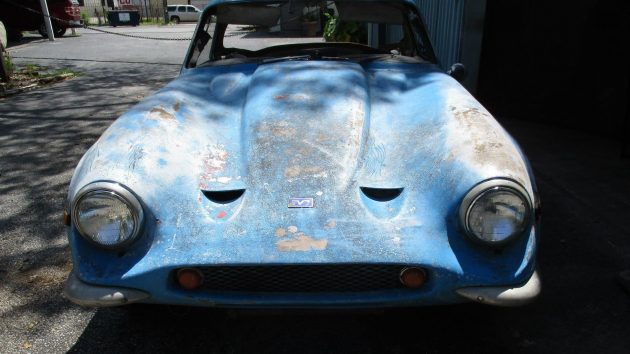 The 2500 was only produced for a short time with the Vixen type body work before being updated to the 2500M model with a reshaped nose and tail. Both, however, are very small designs. The tubular frame mounts mostly Triumph TR6 components although the rear suspension is TVR's own design and has better geometry than the TR6. The frames are prone to rust but the seller tells us they see no holes in the frame.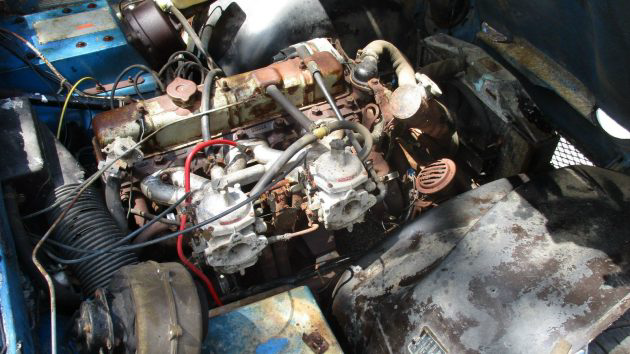 You can see the Triumph TR6 engine here. Most Triumph-engined TVR's do not have the wonderful Laycock overdrive fitted, but they do use the 3.45:1 rear end from european TR6s versus the 3.9:1 used in North American specification cars. The seller has neither tried to start the engine, and the car doesn't have a title, so bear those two negatives in mind when you think about this car. You can readily obtain a running TR6 engine for $500 or less, so that probably won't be a huge issue, but the title might slow you down a little.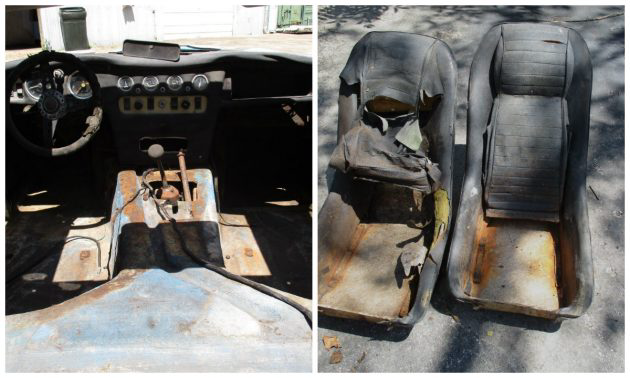 The interior is toast. Really toast. However, since the cars' interiors were similar to kit cars in construction, it's not unrealistic to think you can put something together. Just remember how skinny those seats are–I know, I ended up not buying one that I wanted because it was so difficult for me to fit into (my problem, not the car's)! So do you think this seat would be a good fit for you?