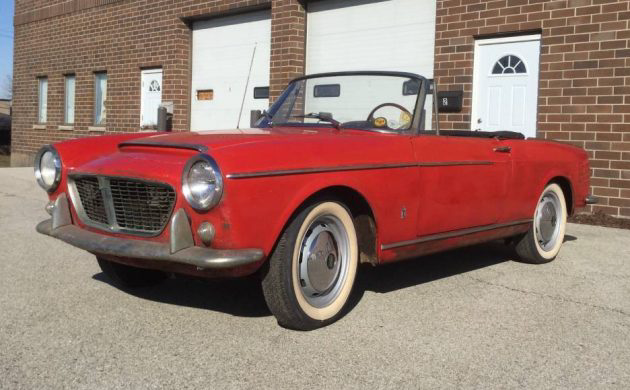 Just when you think you are pretty savvy with all things automotive, you come across a brand or model that registers a great big goose egg in your collective memory. Well, a Fiat, that's no big deal but an OSCA cabriolet? Search me fish, I've never heard of it. At first glance, I thought I was viewing a Datsun 1600 or 2000, nope, it's a Pininfarina styled Fiat. Let's take a closer look at this 1960 example, it is located in Lake Bluff, Illinois, and available here on craigslist for $11,500. Thanks to Ikey H. for his most unusual tip!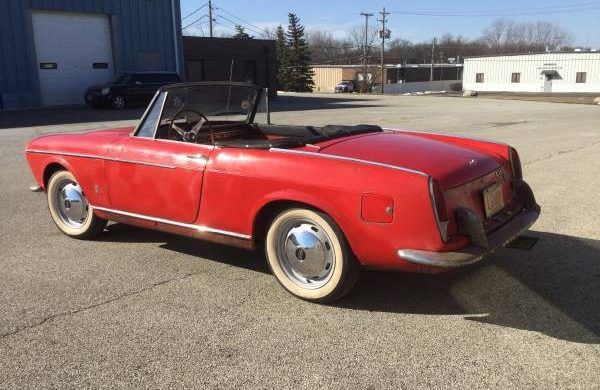 The listing title is a bit confusing but here's the skinny, the Fiat Pininfarina was manufactured between 1959 and 1966 and is considered a Pininfarina that was marketed by Fiat but it was a joint project so the Fiat brand is appropriate. Originally, this model was powered by a 1200 CC engine that was not considered robust enough so along came a powerplant from OSCA, a racing and sports car manufacturer that was started by the Maserati brothers. The OSCA engine displaced 1500 CC's and was quite a bit more powerful than the standard 1200 CC unit. Ultimately, Fiat started its own production of the OSCA engine and in 1960 renamed this sportscar the Fiat 1500 S Cabriolet. The Fiat Pininfarina, regardless of engine, was produced in both cabriolet and coupe body styles with total production reaching about 34K copies in its eight-year run but only about 1,000 examples were produced with the OSCA engine. That makes this Fiat 1500 S pretty rare!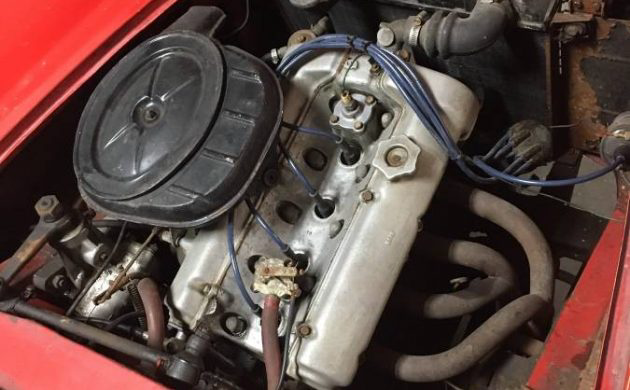 The information on this Fiat is scant, with no statement as to whether or not it runs. The twin-cam, 1500 CC, in-line, four-cylinder engine generates about 80 HP when operational and drives through a four-speed, manual transmission. There is no mileage listed but the engine compartment is surprisingly clean. Considering the obscurity and awareness, or lack thereof, parts locating for this OSCA powered Fiat could be challenging. Those 1500 S models produced from mid-1960 on were equipped with rear disc brakes, it would be worthwhile to know if this example is so equipped.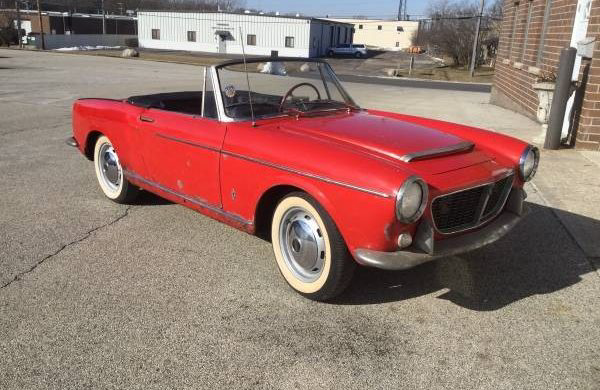 The exterior presentation is fair. The seller advises that rust repair and general restoration are needed but he doesn't elaborate beyond that. The door bottoms and rocker panels look problematic so I would be concerned about the floors too, though the included image of the trunk-well shows as solid. The finish is quite mottled, it appears as if it has been rattle-canned.  It's really not very presentable as is. The trim is dull and the chrome bits, the bumpers primarily, will need a replate. We'll go with the assumption that there is a material top folded down, under the boot but it remains to be seen what sort of shape it is in. Supposedly, Fiat provided a removable hardtop for the Cabriolet body style, probably a very rare piece today.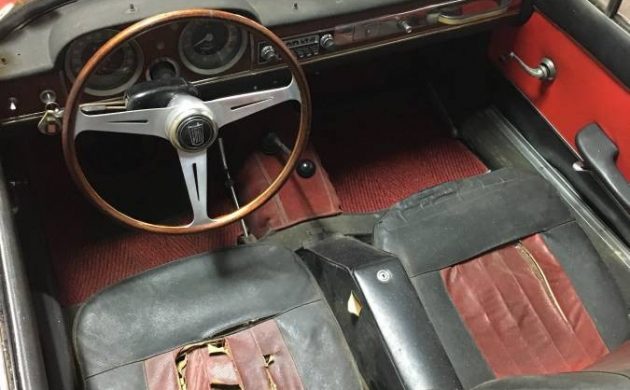 The interior looks fair but it's hard to get a complete look at it from one image. Obviously, the seats need to be reupholstered but the dash, door cards, and the instrument panel, again what's revealed by one image, look OK. The advantage of a two-seater such as this is its diminutive size. There is a whole lot less of an interior to restore than there would be on say a similar era Lincoln or Cadillac.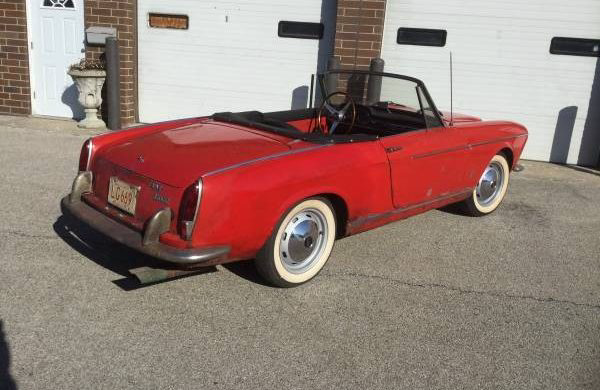 The rarity of this Fiat is in the engine more so than the car (body and interior). Finding replacement parts for the interior or exterior, if needed, may not be that impossible a task. The engine, however, is another matter entirely and the likely, non-operational aspect of this Fiat is cause for concern. Rare engine or not, the price seems a bit steep for this car and the choice of advertising medium doesn't seem like the most effective place for such a rarity. So here's the question, anyone familiar with this Fiat 1500 S Cabriolet and if so, what else can you add to the minimal details that we now know?
Have something to sell? List it here on Barn Finds!