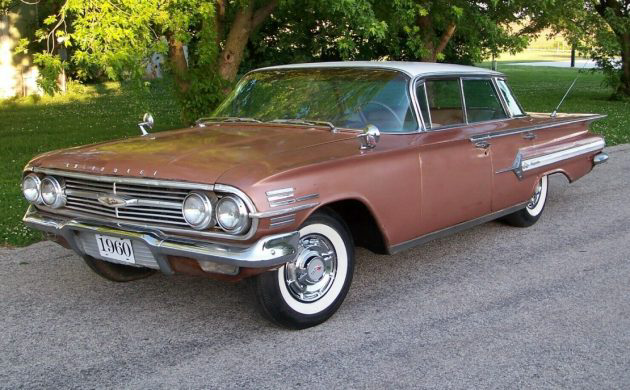 I'm not sure what to make of this one. This 1960 Chevrolet Impala four-door hardtop is not a more desirable model like a '65 or '66 SS version. It is a four-door, thought at least a hardtop and not a sedan, and it's not in the best of condition. That said, it is trending well in the bidding, here on eBay, with a current bid of $6,800, twenty-five bids tendered so far. This Impala is located in Everest, Kansas, and is certainly worth a closer look.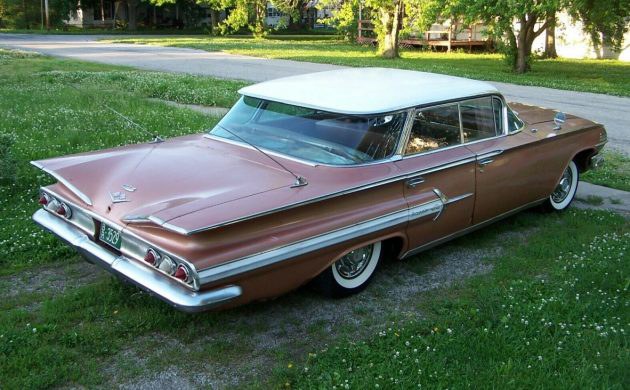 There is no reason to retrace over the territory of the unique "bat-winged" '59 Impala that took so many auto observers by surprise in the autumn of '58. And of course the '60, like this example, is just a more toned-down version but the interest in this four-door flat-top is pretty brisk.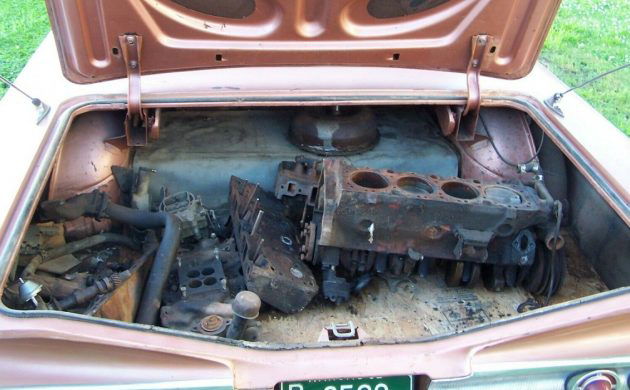 First up is the motivation department. This Impala originally came equipped with a 348 CI V8 "W" head engine of unknown, but probably, a 250 HP range of output. It is technically still "equipped" with it though it has gone ala Corvair with a rear-end placement. Actually, the motor is completely apart and lollygagging in the trunk. Hard to say but the future operation of this original powerplant may not be in the cards.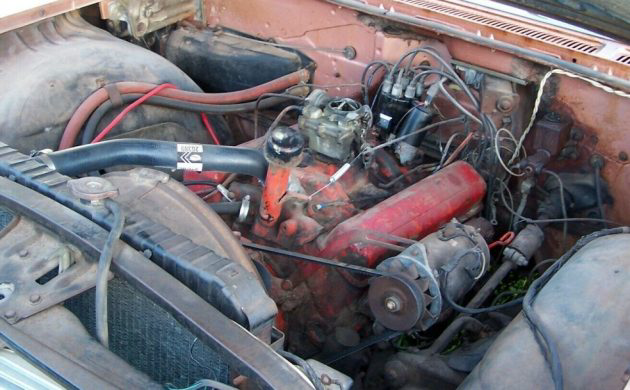 Instead, the seller has installed a small-block V8, of undisclosed size and power to take up daily operation. There is a caveat though as the seller states, "HAS SBC IN CAR THAT YARD DRIVES ****BUT SMOKES TO BEAT THE BAND, ID SAY ITS SHOT". He further adds that he thinks the engine is strong enough to trailer load this Chevy, but no guarantees. There is an automatic transmission in place and it's probably a Powerglide though there is no disclosure.
.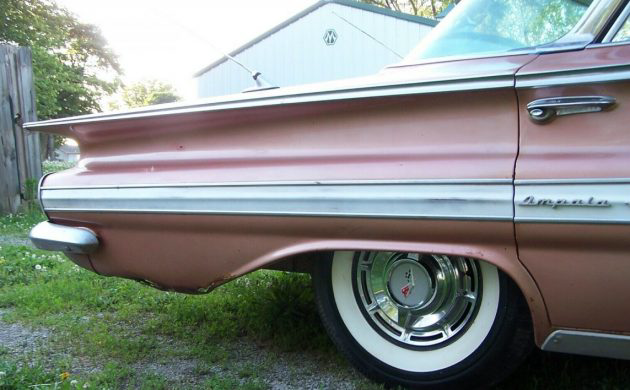 The body of this Impala is listed as being pretty solid though the rear floor and lower quarters are rusty. But then, no worry, the body has been clear-coated to preserve the "patina". It actually looks pretty straight and is completely presentable as is. Cars of this era possessed an enormous amount of stainless trim and it all appears to be in place and in good nick in this instance. Of note are the crossed flag emblems in the grille centerpiece and, in particular, mounted on the trunk lid. They denote the original 348 CI engine and the trunk piece frequently goes missing. There seems to be a small problem in the security department as the lock cylinder for the driver's door and trunk are missing – minor issues but could be indicative of a key problem. One of the benefits of this era Impala is the open, breezy, panoramic view provided by the hardtop/slim pillar design. Compare this arrangement to a modern automobile with its bunker mentality, things have really changed!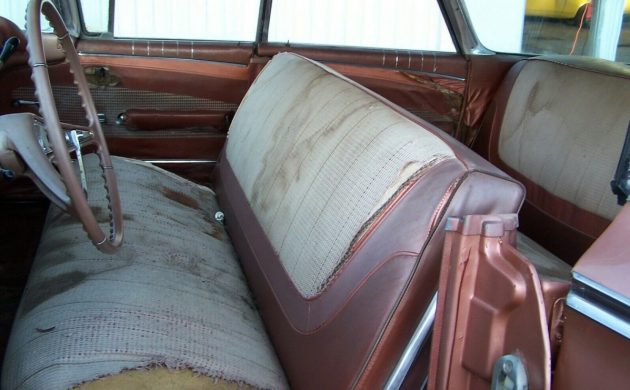 The interior is, as the seller states, "shot". There is no image provided of the dash and instrument panel so that's out of judgment territory but the floors (rear), door cards, and seats will require a major redo. It wouldn't be surprising to find the same kinds of issues inherent with the headliner.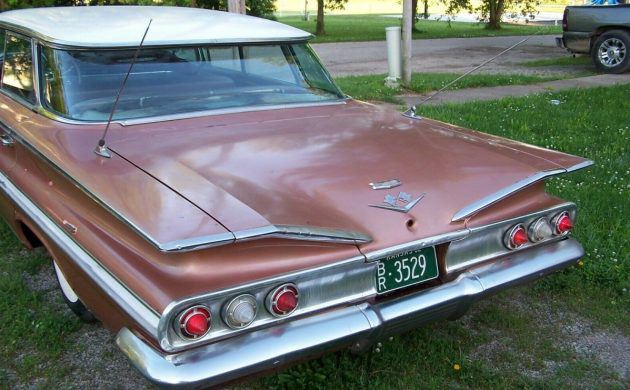 As stated at the outset, this Impala is trending well for a not particularly collectible Impala, with a less than desirable body style that is in fair condition and possessing the power conundrum that is present. If the trunk-bound 348 engine is the original motor, that will help with the value though what would really matter is the ability to return that engine to prime mover status. It would be nice to know what banished it to the trunk in the first place. There is something automotive for everyone and twenty-five bids like this '60 Chevy four-door hardtop. How about you, any interest on your part?