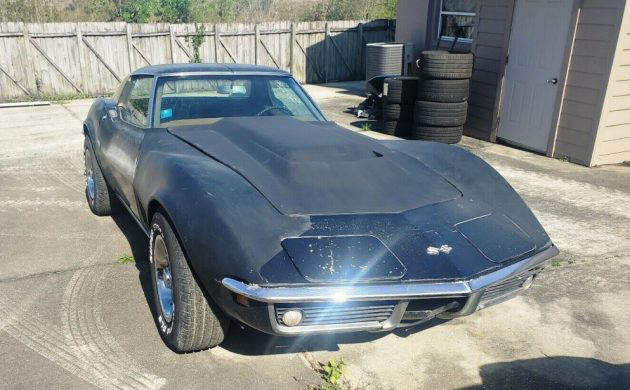 With gleaming chrome on black primer, this first-year C3 (third-generation) Corvette looks ready to pounce. Fans of America's Sports Car will immediately identify the chrome bumpers of the early C3 and the burly big block hood. Indeed this 1968 Chevrolet Corvette in Auburndale, Florida left the factory with the 427 cid L36 big block, and that block is still in there! What's more this one came with the L68 "Triple 2-Barrel" induction, a trio of two-barrel carburetors often called by the Pontiac moniker "Tri-Power." Sadly the original Tri-Power setup is gone, replaced by a single four-barrel, but the original block and decent interior add interest and value to this Corvette built late in the 1968 production run. The listing here on eBay includes pictures of the engine block stamping and body tag among other views. At least a dozen bidders have driven the market value above $11,500 for this "Good running and driving" 'Vette.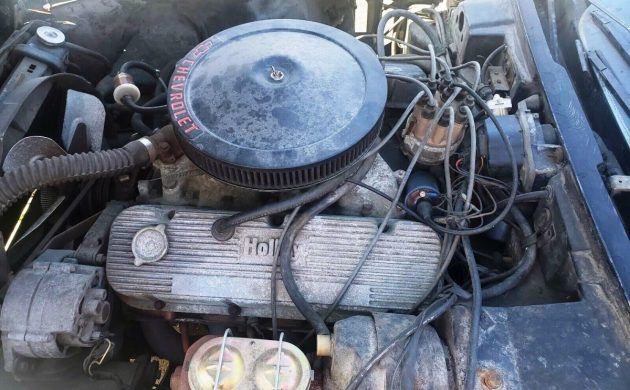 The Holley valve covers suggest an injection of parts in the 1980s. This may be an excellent snag for someone with a set of Tri-Power induction parts in their garage. The L68 setup added 10 HP on paper, 400 vs. the single four-barrel L36's 390. The "L68" is considered an engine package on top of the L36 motor, though you'll see it listed as a unique engine in some places. The "IO" stamping on the block tells the difference. Thanks to WillCoxCorvette and CorvetteForum for some details.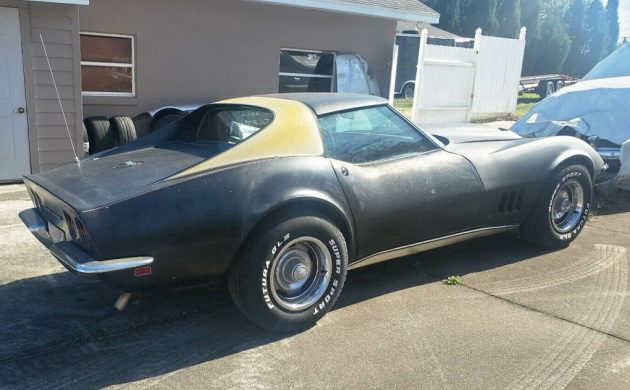 Originally 983 British Green, the coupe would look dashing if restored to the original hue. One interesting point about the '68 Corvette:  despite being marketed as a "Sting Ray," the phrase appears nowhere on the Corvettes manufactured during that model year. The 1967 models wore the script as two words Sting Ray, and the name returned in 1969 as one word, Stingray.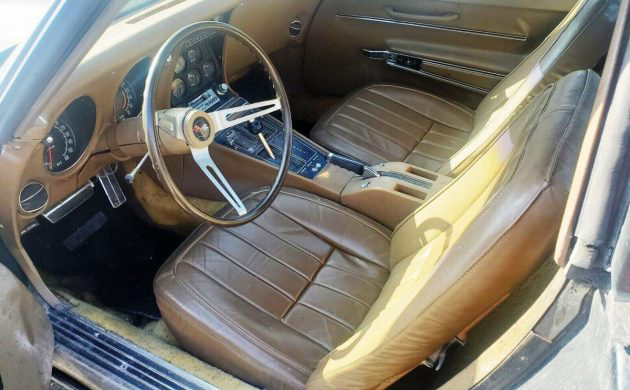 It's certainly possible to believe this 420 Saddle Vinyl interior has covered no more than the 75000 or so miles shown on the odometer. A TurboHydromatic transmission (presumably the TH400) handles the gear changes. Some sources list black as the only interior color paired with British Green in 1968, but research at CorvetteForum indicates some later 983 colored '68s left the factory with this interior and the 421 Saddle Leather. The "L27" build date and 426993 sequence number suggest a build date in July 1968. Though not mentioned in the listing I believe I see controls for the four-season air conditioning and power windows.
While more powerful 427 options topped the charts for the all new 1968 Corvette, it's hard to go wrong with a big-block chrome-bumper C3. I'd be proud to drive this one as-is while saving up for a paint job and scouring the internet for a proper Tri-Power induction setup. What would you change on this potent early C3?