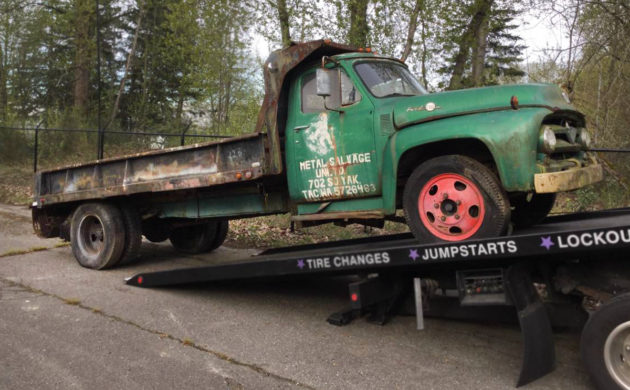 This opening image is almost like one of those photos that you see where someone is looking into a mirror with a mirror behind them and it goes on and on. It's sort of unusual to see a roll-off or rollback truck on the back of another one, or it is for me, but how else do you haul a classic truck? This 1955 Ford F-600 heavy hauler can be found here on craigslist in Des Moines, Washington. The seller has reduced their asking price to $2,500.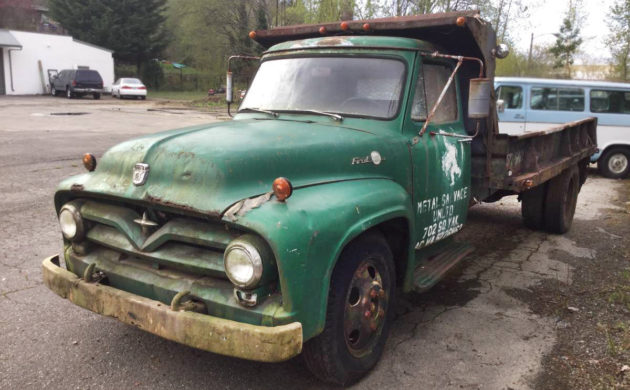 This is such a great era for Ford trucks and the 1955 F-Series trucks would have been made during the second-generation, 1953-1956. It was when they changed the model name to F-600 from F-6. The F-600 is a 2.5-ton truck and it appears that this truck is from Washington state and was used for hauling metal, according to the faded paint on the doors.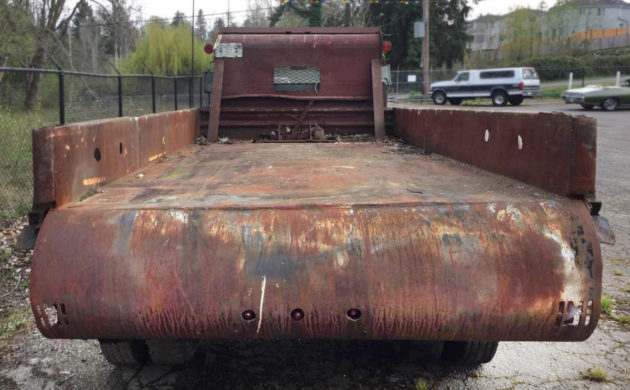 There is some rust on the cab and that doesn't count the hauling bed. Now that's a rollback! Or a roll-bed, roll-back, roll-off, hyphen or no hyphen, etc. A few days ago, an experienced car guy and a long-time commenter was dismayed that I didn't follow "writing standards" by referring to something by what he thought should be the standard name for it. So, what would you call this truck? The seller calls it a "rollback", is that correct?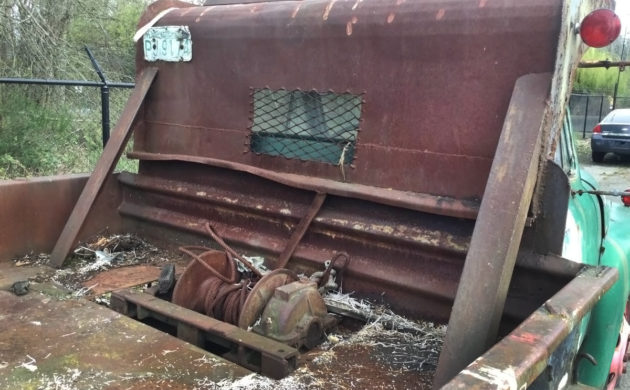 The seller refers to it as a "Brandon" winch but I think it may be a Bradon winch? Anyone? Whatever it is, it looks pretty rugged and when you're hauling scrap metal, it needed to be tough. They say that the title is from 1977.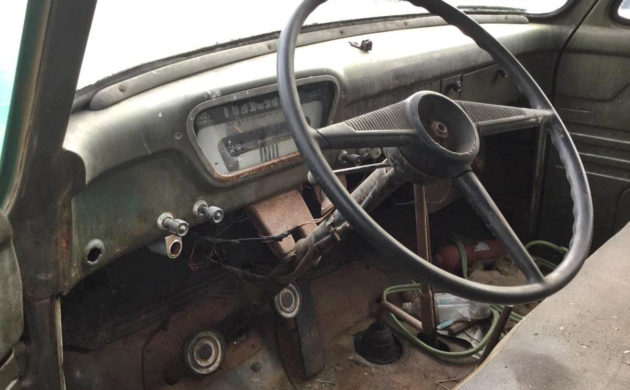 You already know that this truck needs work everywhere and with the only soft surfaces inside being the seat, it shouldn't be too daunting to restore the interior. It looks like this truck was originally more of an olive green color – maybe Meadow Green? – that's how I'd bring it back. This F-600 has a 4-speed manual transmission and a 2-speed rear end.
They say that the engine is original so it should be Ford's slighter bigger 223 cubic-inch inline-six, the Mileage Maker. It would have had around 115 hp for 1954 and 1955. I expected to see a generator in this truck instead of an alternator. The seller doesn't mention whether it turns over or not but let's hope for the best. What would you call this truck, a rollback as the seller calls it? What would you use this truck for?