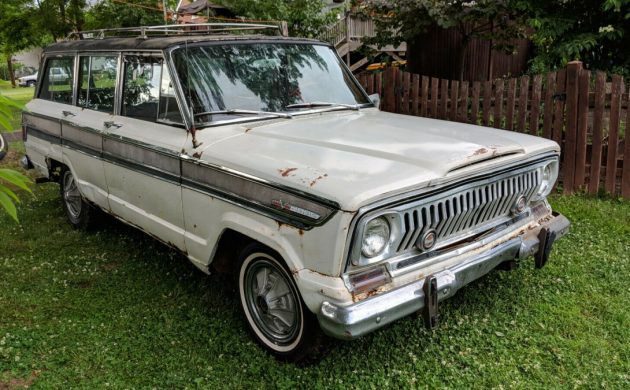 This is a tough one: a complete but rusty 1968 Jeep Super Wagoneer, a truck that remains highly original and comes with its higher-performance four barrel 327 AMC V8 under the hood. The seller initially purchased this Wagoneer as a parts rig for his restoration project, but ended up finding the parts he needed elsewhere and resisted the urge to hack this one up. Still, it may make more sense to part out given the rust, but I can understand the dilemma given it's not the worst I've seen – but it is needy. The Super Wagoneer is offered here on eBay with an extra frame and body clip with an opening bid of $10,000 and no action yet.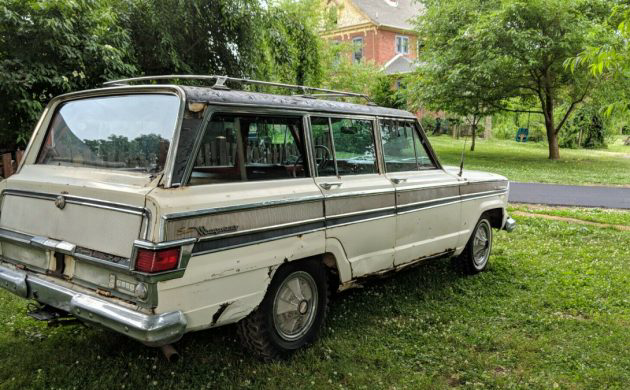 The seller doesn't pull any punches, noting that the Super Wagoneer is quite rusty and needs panel replacement in the floors, fenders, and quarters. The doors and inner fenders are said to be OK, as is the hood. There's rust near where an aftermarket hitch was mounted, but the frame is also said to be solid. The Super Wagoneer was owned in Virginia and is now located in Pennsylvania, two areas that aren't immune from having road salt spread when wintertime arrives. Even in it's rusty state, the Super Wagoneer still looks quite handsome, if not regal, and the seller claims it was one of just 187 built that year.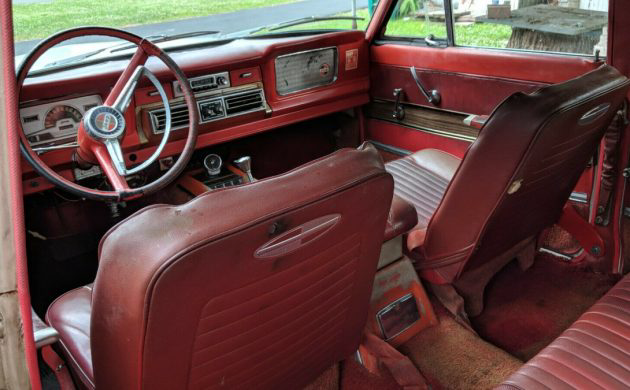 The interior, fortunately, is in much better condition than the body. What a looker this Super Wagoneer must have been when it was new, white over "Presidential Red" seating surfaces, door panels, carpet, and dash. The seller notes that even with the cabin looking fairly fresh, he's including new door cards and factory-correct vinyl for the doors and seats. Like anything wearing the Wagoneer nameplate, this truck was loaded up with front buckets, center console with clock, air conditioning, and a powered rear window. Based on the description, one path the seller may have planned was to swap all of this over to the spare frame and body he's including, as the rust issues are far less significant.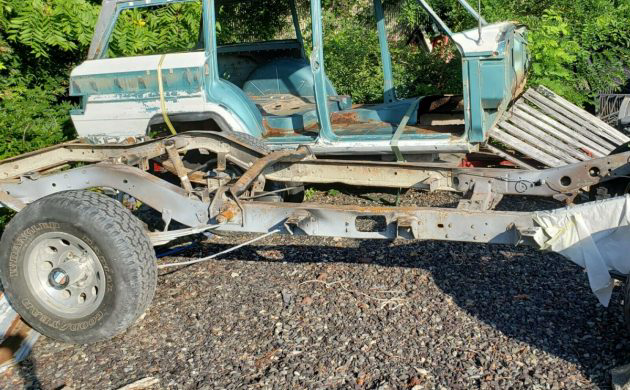 The Super Wagoneer was fitted from the factory with a high-performance version of the AMC 327, kicking out a respectable 270 b.h.p. The four barrel air cleaner is included, but the seller notes the carburetor assembly and smog pump were removed for a rebuild that never happened. The extra chassis is currently set up for a Buick 350, but can be modified back to the AMC setup if desired. While the spare body does have some rust issues of its own and previously had a very rusty roof section, the one remaining spot is isolated to the rear quarters and the roof has been previously replaced with stainless steel. It's an interesting package as there's lots of options for a path forward, but all of it will require physically moving a whole lot of metal.