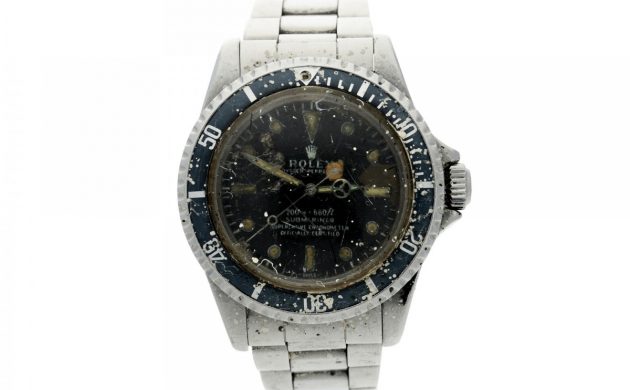 "Hey, why are you featuring an old watch on Barn Finds?" Well, if there was ever an object that had a "Barn Find" feel, it would be this Rolex. While it wasn't found in a barn, it was worn and enjoyed for years and shows amazing patina. You are looking at a Rolex Submariner 5512 from around 1967. It can be found here on Sotheby's with a current bid of $9,000. The pre-auction estimate was $5,000 to $7,000, so you can tell there's something special about this one. You won't believe the life this watch has led, have a closer look.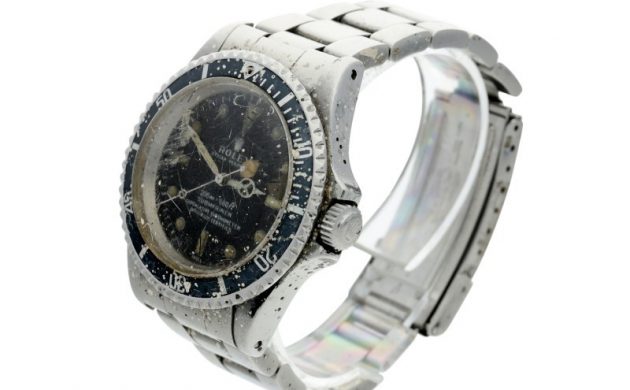 The stainless steel, automatic watch was designed for diving but the overall design actually began in the 1920s. According to FHH Journal: "The Submariner was first introduced in 1954, but its history really began in 1926, when Rolex introduced the Oyster, the first watch with a hermetically sealed case. In 1931, Rolex patented the world's first self-winding mechanism with a Perpetual rotor, thus elaborating the name to Oyster Perpetual. By the 1950s, Rolex was making watches with rotating bezels for divers, and continually improving water resistance. When the Oyster Perpetual Submariner was introduced in 1954, it represented the first commercially available timepiece capable of submerging to 100 metres."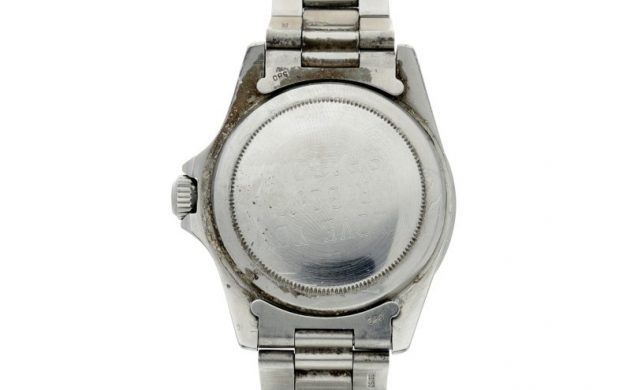 You can barely make out the upside-down engraving in this photo, but the back reads "I LOVE YOU MR. BOND SHARON." I'm not sure who Sharon is, but I know she gives nice gifts! According to FHHJ: "While the Sub was always a cult favorite among professional divers, its wide-ranging popularity may have begun, or was certainly reinforced in the U.S., by James Bond. In 1962's Dr. No, Sean Connery's Bond began a tradition of wearing a Submariner…" I don't think that Sharon's "Mr. Bond" was chasing down international criminals, but was probably working just as hard or harder. The Sotheby's ad explains a bit regarding the condition: "…was previously loved by an active painter who wore it daily without fail."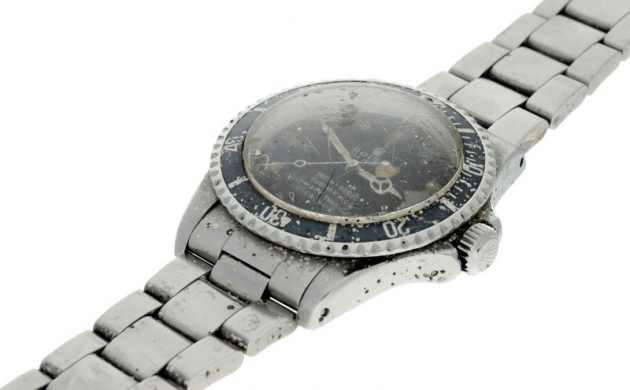 As you can see, the case and bracelet are covered in specs of paint. Sotheby's describes it as: "Case is worn with scuffing, scratches, and nicks consistent with daily use. Crystal glazing with heavy scuffs and scratches obscuring areas of the dial…The movement is NOT operating and will need service at the buyer's discretion." With the bidding already well over the high estimate, there's no telling where this watch will end up. How high do you think it will go and will the buyer restore it?