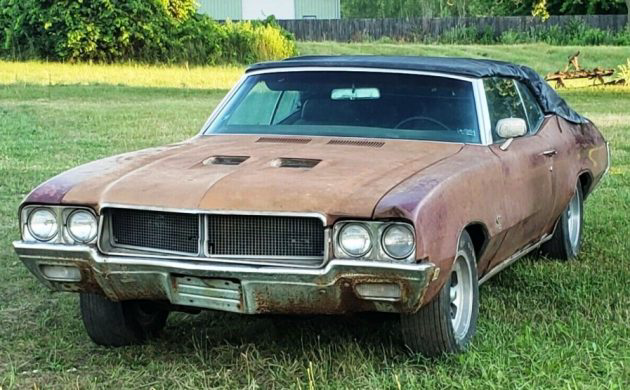 Few 1970 cars could take down Buick's torque-monster GS 455, and the powerful understated mid-size Skylark-derivative earns a spot on many enthusiasts' Top Ten Muscle Cars. This 1970 Buick GS 455 convertible in Rochester, New York left public roads in 1976, after what must have been a rough six years! With nearly every panel bent or rusted or both, the idle years have not been kind to this once-fearsome muscle machine. According to buickperformanceclub.com, Buick made only 1040 GS-455 convertibles with automatic transmissions, and there's no telling how few survive today. Sadly, an "early '70s" 455 replaced the original GS-spec 455, decreasing potential restored value. The listing here on eBay has driven bidding above $4500.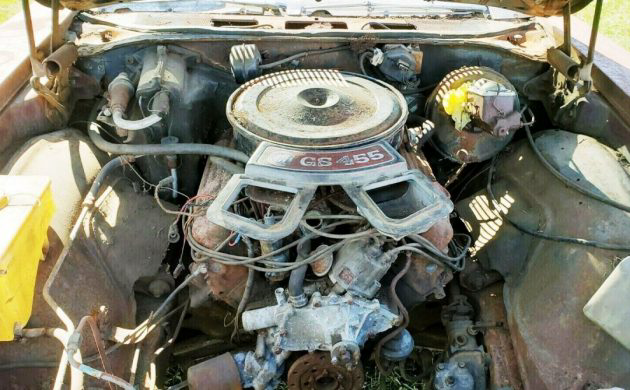 The GS Cool-Air Package fed the big 455 cid (7.5L) V8 plenty of fresh air. Some sources suggest the rating of 360 HP may be sandbagged. In a dyno test, hotrod.com found a nearly-stock '70 455 made an impressive 426 HP and a velvety 513 lb-ft of torque, the latter on par with the GS' 510 lb-ft rating. Thanks to hemmings.com for some details. This car's 455 is unlikely to match those numbers even if it is usable, and that's no guarantee. I'm no Buick expert, but I believe that's an air conditioning firewall. It may be hard to get excited about this car's potential, but I love the idea of the brown and black Buick laying waste to flashy-colored cars of its day.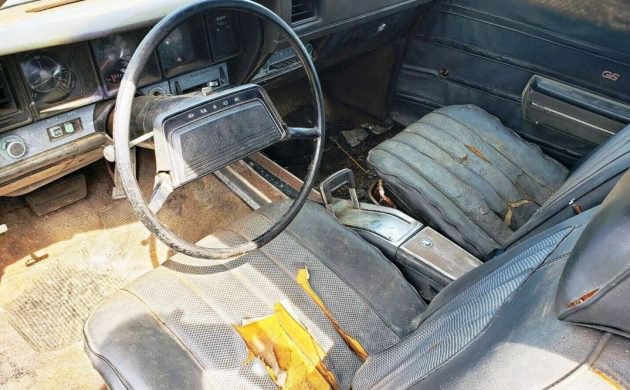 Though largely complete, the interior offers few salvageable-looking parts. The bucket seats and console look sportier than the standard bench seat. Buick offered the 455 GS with a bench seat and a three-speed column-shifted manual transmission, and sold only 18 such convertibles.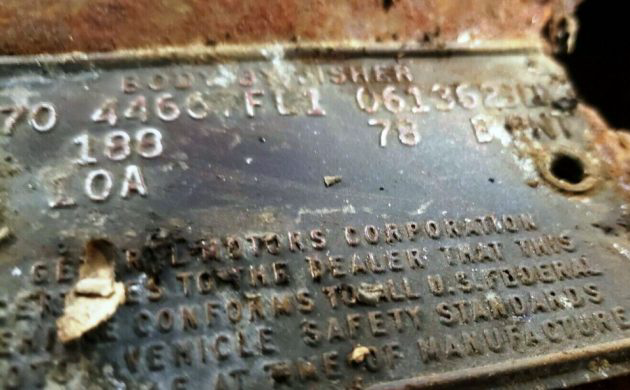 The listing features only one exterior shot, but several pictures show extreme rust in every area of the car. Here's one showing a horribly rusty cowl and body tag. Prospective buyers may cringe imagining decades of rain water having its way with this forgotten Buick. Numbers-matching GS 455 convertibles top out over $70,000, and this was one super-cool and powerful ride before sitting idle for decades. Do you think it will ever see a second life?