I would hate to have to calculate just how many words have been written about the Yugo GV over the years. Or how many jokes have been made at this car's expense. The reality is that it was not a great car when it was new, but you have to admit that any vehicle that can survive for 34-years can't be all bad. This 1986 model is a recent barn find, and while it is looking a little bit tired, it would also appear to represent a straightforward restoration prospect. Like so many automotive oddballs, the Yugo has now developed something of a cult following. If you would like to join that happy band of Yugo owners, you will find this one located in Hazleton, Pennsylvania, and listed for sale here on eBay. The auction has been set to open at $999, but there have been precisely no bids on the vehicle up to this point. It is also interesting to note that only 15 people are currently watching the listing. If you want to beat the possible late bidding rush, there is a BIN option. This has been set at $4,500.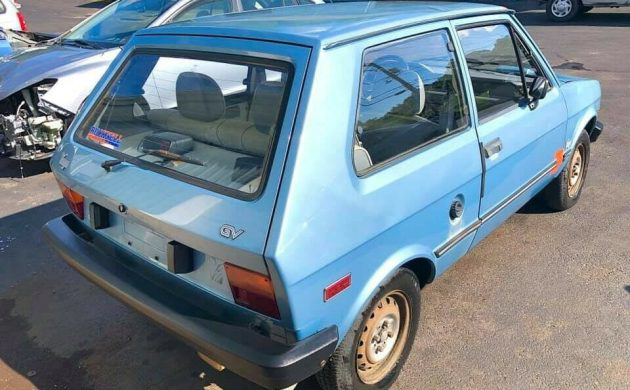 One of the defining characteristics of the Yugo GV was the minimal number of choices a buyer had when it came to options. This even extended to paint colors, with the company only offering five colors in 1986. Probably the most attractive of these was Crystal Blue, which is what we find adorning the panels of this car. The Yugo was recently found languishing in a barn, a spot that it had occupied since 1998. It wouldn't have had a lot of exposure to UV rays in that location, but the paint is now looking quite faded and tired. There is no doubt that a fresh coat of Blue would help this car to sparkle one again. There is some rust to address, but this isn't particularly bad. The worst of it is peeking out from under the lower edge of the windshield on the driver's side. It appears that someone has applied some Bondo over it, but the spot still only seems to be a couple of inches square. It looks like there might also be a spot in the leading edge of the hood, but a patch should fix that one. There are a few minor dings and dents, but fixing these shouldn't be difficult. The wheels will need to be restored, but all of the trim is present, and the glass looks good.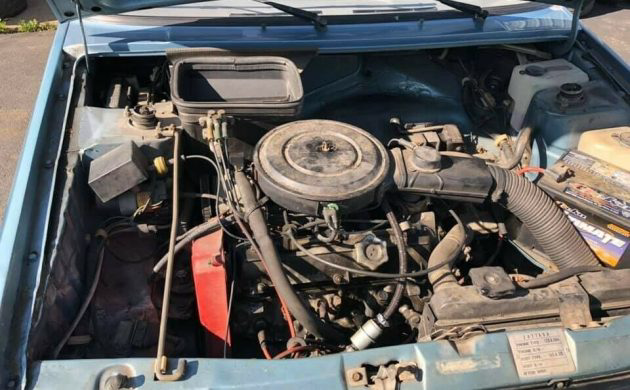 Now we get to the throbbing heart of this little car, and to the story of why it spent 22-years sitting in a barn. What we find residing here is an 1,116cc 4-cylinder engine that produces 55hp. These ponies find their way to the front wheels via a 4-speed manual transmission. That isn't a lot of power and meant that the "sprint" from 0-60mph took a full 16.1 seconds. Top speed was whatever you could get out of it, but the official figure was quoted as 90mph. This Yugo had been used as a commuter vehicle by a university student, who it is claimed loved this beast. In 1998 it came to a sudden stop, which was courtesy of a failed fuel pump. He parked the GV in a barn, and that's where it stayed. The current owner fitted a new fuel pump, a set of plugs and wires, and voila! The Yugo sprung back into life and is said to run nicely. It isn't clear whether it is now roadworthy, but that is a question that would be worth asking, as the seller appears to be quite approachable.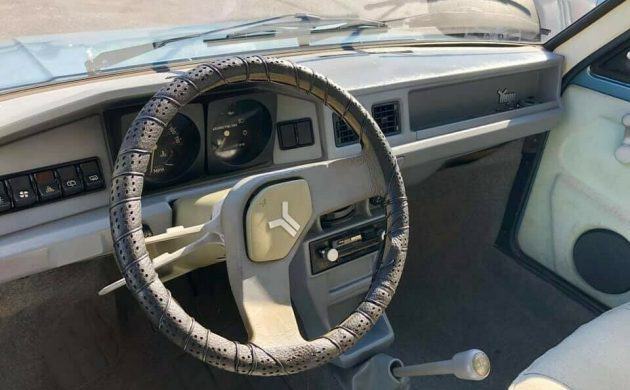 The fit and finish of a Yugo interior was something that was never going to cause the bosses at Rolls-Royce to have sleepless nights. The color matching wasn't brilliant when the vehicle was new, and things tended to worsen with each passing year. There is plenty of evidence of these problems inside this Yugo when you look at the plastic. Probably the best piece of news is that none of it has managed to crumble to dust at this point. Another positive point comes in the form of the ready availability of trim pieces. The fact that the GV sold in decent numbers means that there are plenty of donor cars hidden away as a source of spares. More surprisingly, eBay is littered with new or reproduction pieces, which means keeping the interior looking nice would not be that difficult. Apart from the plastic issues, the cover on the driver's seat is now quite wrinkled. However, I believe that this could be stretched back into shape without the need for replacement. The rest of the upholstery looks good, and the vehicle is fitted with a genuine Yugo AM/FM radio/cassette player.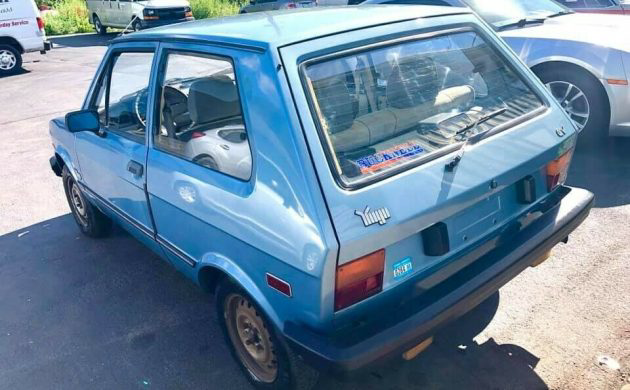 In 2017, the Yugo GV found itself on the Time Magazine list of The 50 Worst Cars of All Time. It shared the spotlight with all of the usual suspects, including the Pinto, the Corvair, and the Edsel. Many people would argue that they were designed to be cheap and cheerful, but that the company only got that part 50% right. In 1986, 35,959 people liked these little cars enough to slap down their cash for one. They developed a reputation as a car that was fragile and unreliable. The reality is that a surprising number have survived to this day, including this one. They are a car that now has a bit of a cult following, and even though there have been no bids on this one up until now, I wouldn't be surprised if someone decides to give it a new home.