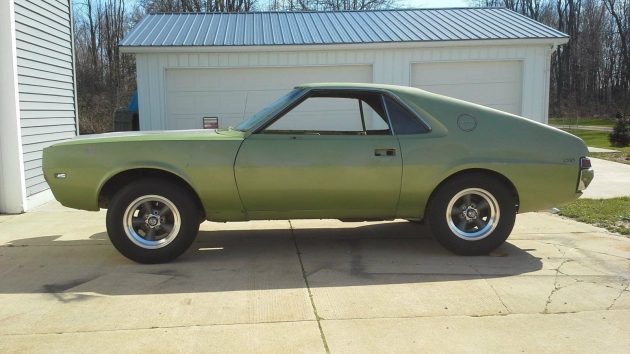 I was very surprised after my initial look at this 1968 American Motors AMX project car, which was sent to us by reader Clarke B. It sure looks like more car in this view than you would expect to find for an opening bid of $3,000 without a reserve here on eBay, or listed here on craigslist for $4,000. The car is located in Charlotte…Michigan (I live in North Carolina and would be far more excited if it were in our Charlotte).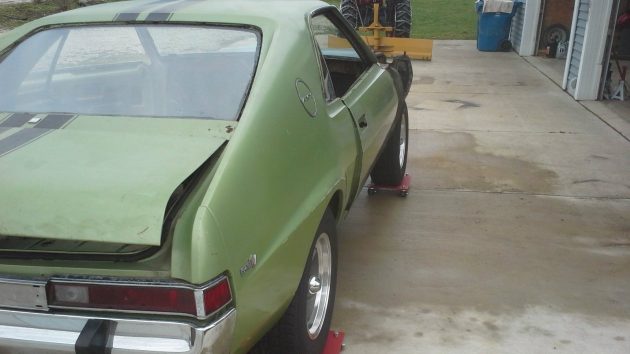 The seller is very straightforward about this being a parts car for a restoration that they have done on another car. This will mean you will have to source at least the following: "Tranny, bell housing, flywheel, shifter, clutch pedal, right front fender, dash, gauges, seats, most interior parts, grill, front bumper, power brake booster, spare tire, fan shroud, and other parts." You can see the missing right front fender in this picture.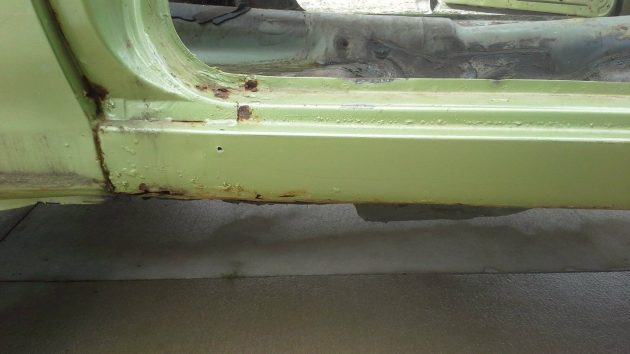 As the seller tells us, there are some rust issues. Specifically, they state "…major rust issues, including the front frame rails, the troughs, floor, trunk, rockers, etc." They did, however, drive it home in 2014 after purchase and report being surprised at how well it drove. They are also including some of the necessary parts for rust repair cut from a better bodied AMX–along with a lot of other parts.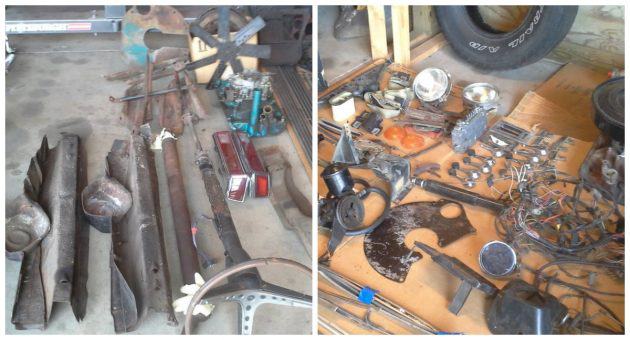 Here are just some of the parts that come with the car. Many of these are duplicates; I think the seller has finished their car and are selling off everything that they have accumulated while putting that one together. There are even two sets of wheels and tires; one is the set of Torq-Thrust types seen in the first picture with a set of tires that have only seen 500 miles, and the other set is made up of AMC rallye wheels that also look nice.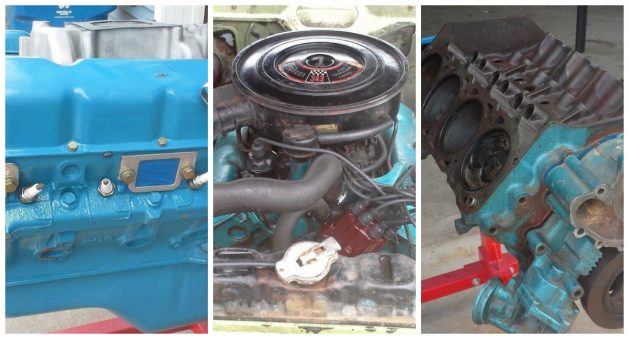 Of course, what would a project be without an engine–or two–or three? In addition to the 343 in the car that supposedly ran great and is the original engine, there's also a 290 V8 that is said to have 5,000 miles on it and another 343 short block. Both of the other engines are free turning, although the seller hasn't had either running. It seems to me that the parts alone might be worth close to the asking price, never mind the AMX. But I hope someone with a long-term point of view that does their own cutting and welding ends up with this car–and I get the feeling the seller feels the same way. Let us know if it's you!