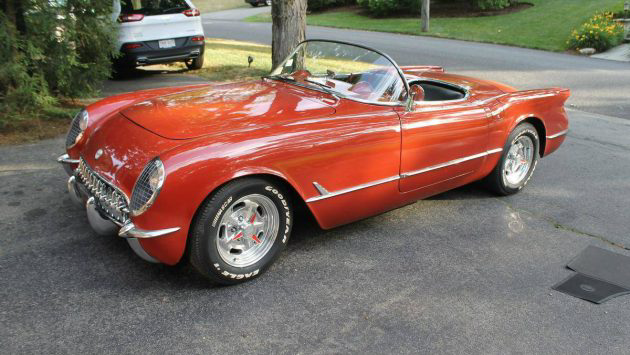 It's hard to believe that at one time Chevrolet considered discontinuing the Corvette, especially since it has been dubbed "America's Sports Car" by many enthusiasts, but in 1954 things were looking bleak for Chevrolet's fiberglass two-seater. Sales had not lived up to expectations, with many Corvettes languishing on dealer lots unsold, and mechanics and body-shop owners were baffled by the then-new fiberglass body clothing the Corvette. After a three-year (1953-1955) total production of 4,640 cars, Chevrolet considered dropping the 'Vette, but at the eleventh hour changed their minds (thanks to a push by Harley Earl, Ed Cole and Zora-Arkus Duntov, considered the godfather of the 'Vette). This 1954 model was modified back in the late 1960s and early 1970s to emulate early Corvette experimental sports cars. Find it here on Hemmings in Wellesley, Massachusetts, with an asking price of $43,000 obo.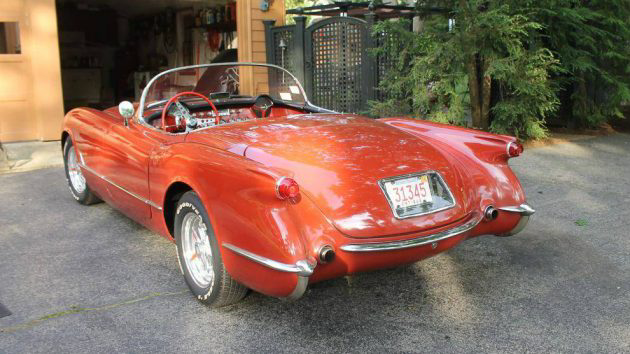 For 1954, the Corvette saw only minimal changes, the biggest being a shift of production from Flint, Michigan to St. Louis, Missouri, and the availability of new colors (Pennant Blue, Sportsman Red, and Black). There was supposed to be an optional three-speed manual, but it would not be made available until 1955. Buyers had to make due with the Blue Flame six cylinder and two-speed Powerglide, which disenchanted buyers due to the fact that most if not all of Europe's sports cars had a manual transmission at least available, if not standard. Factor in a poorly-made fiberglass body, water leaks, a lack of proper all-weather protection, and other issues, and Chevrolet struggled to sell its sports car. Chevrolet built 3,640 Corvettes for the 1954 model year, with nearly a third unsold and left to languish on dealer lots at the end of the year. This particular car was originally Polo White, but starting in 1968 the owner changed the color to Sportsman Red lacquer, which does have some crazing but polishes well overall. The chrome and stainless trim are original and in good condition, and though not currently installed, the original canvas convertible top and frame are included.  The canvas top in is poor condition and will likely need replacing, but the frame is in good condition. A period Scott hardtop is also included. American-Racing wheels with knock-off hubs are currently installed, but the original color-keyed rims and hubcaps are included with whitewall tires. I would swap the late-model Goodyear tires for a set of black wall radial bias ply-look tires.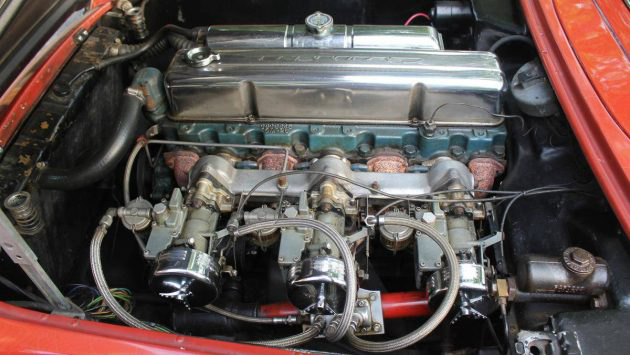 In 1974, the original 235 Blue Flame six was swapped out for a period-correct 261 Job-Master six. Since its installation, the engine has only been used for 5,000 miles. All of the original engine parts, including the water pump, carburetors, intake and exhaust manifolds and cylinder head were retrofitted to the 261 block without alteration. Aftermarket air cleaners dress up the original Carter carburetors, but the dual-filter air cleaner assembly, along with other original parts, are available. A custom exhaust is also currently installed, but a new OEM system is also readily available. The original Powerglide was also swapped for a three-speed manual using period OEM parts. A 6/12 volt battery is being used, which runs normally at 6 volts, but switches to 12 volts for starting.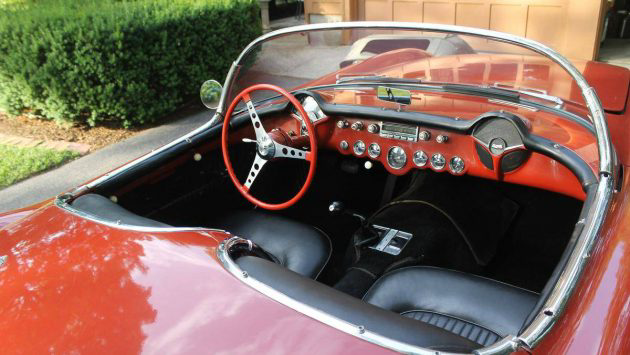 Originally red, the interior was changed over to black. The seats were rebuilt with new coil springs and recovered with black reproduction seat covers. The original steering wheel was swapped for a 1957 one, but the original wheel with original horn ring is included with the purchase. The dash and gauges appear to be in good condition, but some of the gauges are currently inoperable, so they should be inspected and repaired. I would swap the eight-ball shifter knob for this black one. Overall, this car is very solid, and with a little visual tweaking and a few repairs, this would be a great car to drive and show. What are your thoughts on this period-custom 'Vette?