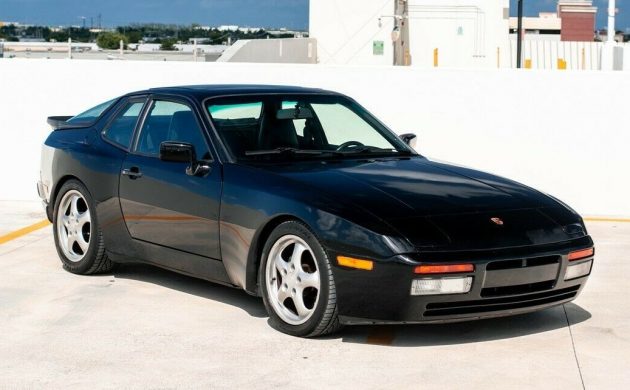 This 1986 Porsche 944 Turbo is a spotless survivor that is owned by a true enthusiast. It is a prize-winning vehicle, and it appears that it might even count a famous name amongst its previous owners. The current owner has decided that the time is right to part with this classic that is ready to be driven and enjoyed immediately. The Porsche is located in Miami, Florida, and has been listed for sale here on eBay. The BIN has been set at $21,950, but the option is available to make an offer.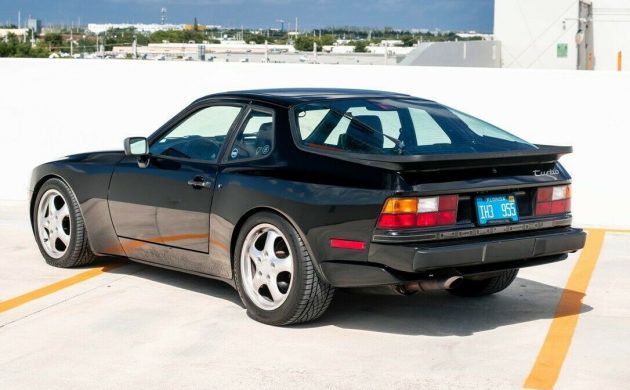 I have never shied away from the fact that I am not a Porsche enthusiast, but from the moment that I spotted my first 944, I was willing to make an exception. I'm not sure exactly what it is about the styling, but I do like these cars. It might merely be the bulging fenders, which give the 944 a tough and purposeful appearance. This particular vehicle adds to this impression by being finished in Black. The paint appears to be in good order, with only a few minor chips and marks. The panels are laser-straight, while the gaps are as tight and consistent as you might expect from a Porsche. There are no apparent issues with the trim or glass, but the wheels are one of the most eye-catching features of the exterior. These aren't original but are Porsche Cup II items. They suit the car quite nicely, and unless the next owner is after complete originality, I don't see any reason to change them. This Porsche has also been an award-winning classic. It picked up a trophy in its category at the 2019 Miami Porsche Concours By The Bay, along with awards at other shows. Tracing the vehicle's history also turns up a fascinating little fact. Amongst its prior owners was a gentleman by the name of John F. Kennedy, from Concord, Massachusetts. No-one has positively confirmed that this person was JFK Jnr, but that would be an interesting aspect of this car that could be worth investigating further.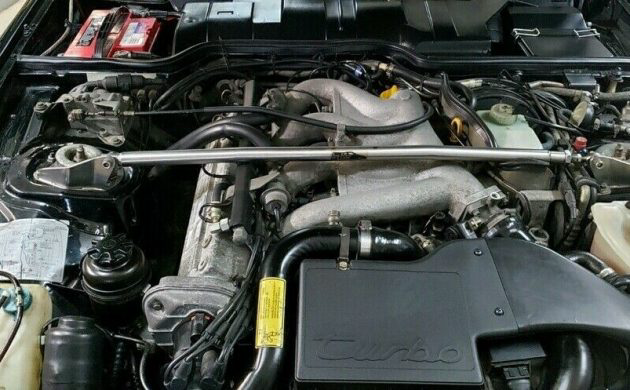 It is what occupies the engine bay of this Porsche that makes it something of a giant-killer. What we find is a 2,479cc 4-cylinder engine, which is backed by a 5-speed manual transaxle. Forced-induction was a growing trend amongst many manufacturers in the 1980s, and Porsche had a head-start on most in this area. This engine features a turbocharger, and while the normally-aspirated 944 produced 147hp, the Turbo pumped out an impressive 217hp. This meant that not only should this car be capable of storming through the ¼ mile in 14.4 seconds, but it will wind itself out to an ultimate top speed of 152mph. Those figures are impressive in anyone's book but are more so when you consider the engine capacity. When a classic is capable of that sort of performance, it is reassuring to learn that proceedings will be brought to a halt by big 4-wheel disc brakes, complete with ABS. The good news here is that it would appear that this is a classic that has been well maintained by a meticulous Porsche enthusiast. The tires have plenty of life left in them, and the vehicle is said to run and drive perfectly.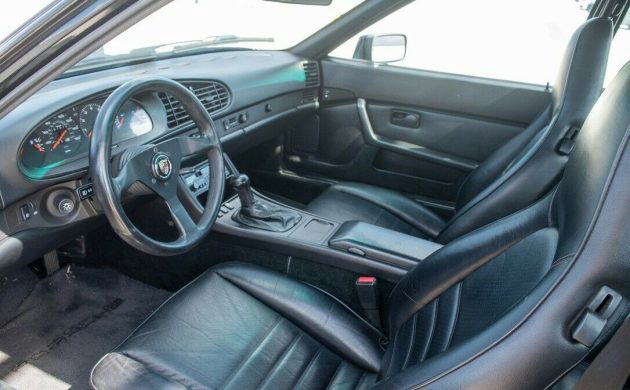 It is pretty hard to go wrong with a black-on-black car, especially when the interior trim is leather. The condition of this Porsche's upholstery is particularly impressive because this can be prone to deterioration if it isn't maintained correctly. The outer bolsters of the heavily contoured seats can be one of the weak spots, but these show little more than a few wrinkles. The rest of the interior trim and upholstery appears to be faultless, while the carpet also seems to be in good condition. The leather theme is enhanced by the inclusion of a Momo sports wheel, which would make life comfortable on the open road. Speaking of comfort, there is plenty of that in this car. It comes equipped with air conditioning, power windows, power locks, power seats, and even the original Blaupunkt AM/FM radio/cassette player.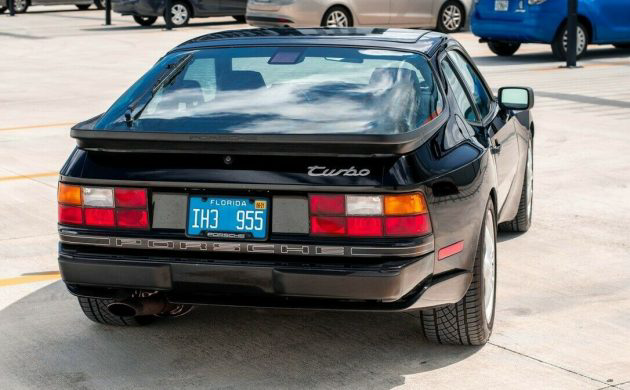 Buying any secondhand car is going to come with risks, and the Porsche 944 Turbo is no exception. As the years have passed, these are a classic that has become more affordable, which means that they have also become more accessible to people searching for a car to use as daily drivers, or on track days. That means that a good many have lived a pretty tough life, and it can also mean that some expensive mechanical repairs could be just around the corner. If I was hunting for a 944 Turbo today, this is the sort of car that I would be tempted to consider. It would appear that it is owned by an enthusiast who has treated the vehicle with the appropriate levels of care and respect. It is possible to find plenty of these for sale below the $20,000 mark, and occasionally they will pop up for around $15,000. However, those are the cars where potential buyers need to tread carefully because many of those cars are also potential time-bombs that are just waiting to go off. At the other end of the spectrum, it is also possible to find pristine examples that have sold for figures above $40,000, and this isn't that unusual. This particular 944 seems to tread the middle ground, and its ownership history is quite reassuring. If you are the sort of person who wants to include a 944 Turbo in their life, this one might be well worth serious consideration.