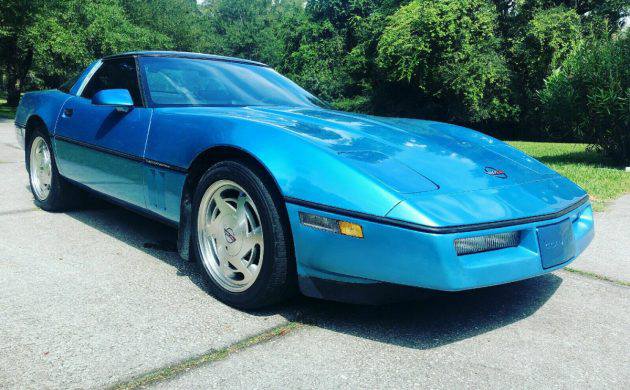 When it comes to C4 Corvettes, you really have to look into the details to find one that's worth spending some real money on. While everyone knows the ZR1s and pace cars are good bets, those also tend to cost more than $20K, which is big bite for a car that's meant to provide some cheap thrills during the good weather months. The good news is you can find a C4 with some added value in the form of rare options without breaking the bank, as this rare blue-on-blue 1988 example shows us. It also comes with the preferred manual gearbox, making it a winner all the way around. Find it here on eBay with a Buy-It-Now of $8,500 and the option to submit a best offer.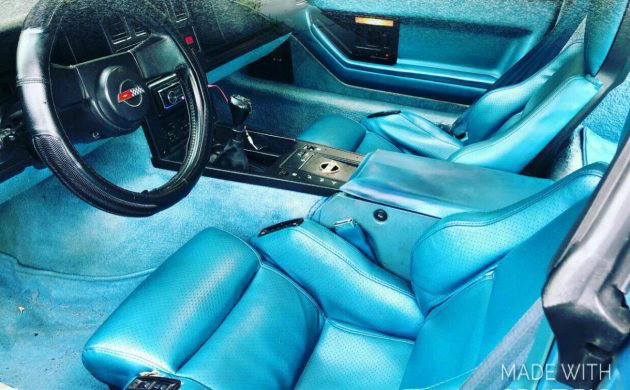 The seller notes that in addition to the paint, the Corvette came with "upgraded" factory sport seats, and I'm not sure what that means – perhaps some additional lumbar support or power controls? Regardless, they look to be in very good condition, and that electric blue interior is hard to take your eye off of. The carpets match the seats, and those look to be in good shape as well. I love C4 Corvettes with rare interior options, like tan cloth seats or the blue leather seen here. So many of them were seemingly ordered the same way; it's nice to see some owners wanted to stand apart from the crowd of red-over-black leather Corvettes.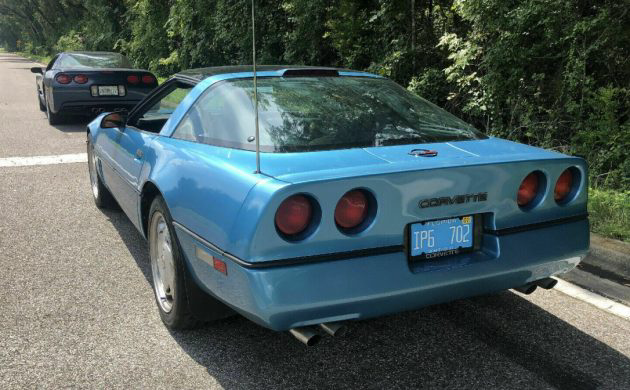 The bodywork looks quite clean, with no obvious signs of damage or clearcoat failure. The Corvette also appears to be mostly stock, too, with the factory exhaust and wheels still attached. The Corvette is equipped with the 4+3 manual transmission and has been fitted with a new clutch. The seller notes there are a few nagging flaws that the next owner will have to address, including a shifter button that gets jammed on occasion, a burned out seat motor, and a targa top that's showing some signs of age. The rear carpet is said to be faded and the ABS light is illuminated.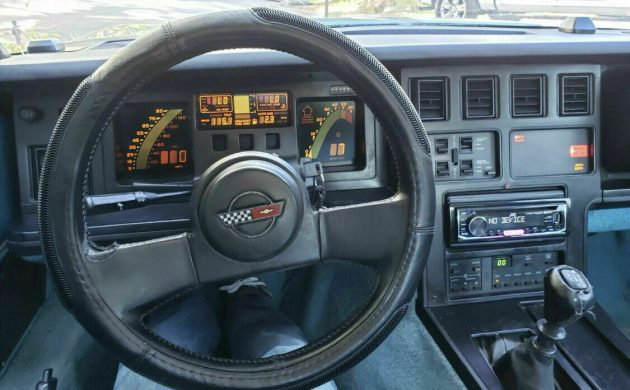 The digital cluster is one of my favorite features of any Corvette from this era, though this one has a loose wire somewhere causing some illumination issues, according to the seller. The aftermarket radio looks out of place, and I'd try and source a replacement that has faceplate more in keeping with a late 80s performance car. The radio does, supposedly, produce some pretty nice sound, and it has Bluetooth, so it's at least a functional upgrade. The seller presents the Corvette as an honest driver with nominal flaws, and the price reflects this as well. Great colors and low cost – plus the manual transmission – what's not to love? Thanks to Barn Finds reader Larry D. for the find.