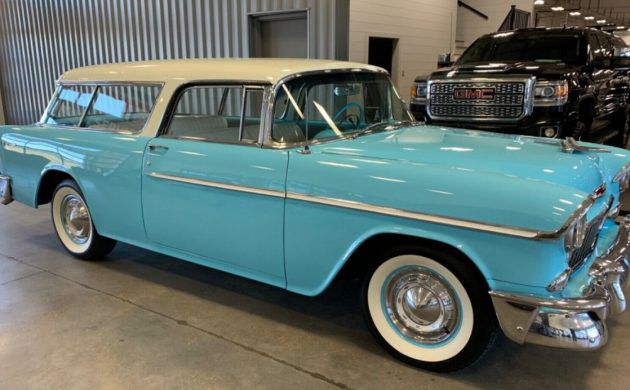 This 1955 Chevrolet Bel Air Nomad underwent a comprehensive restoration back in 2014, and it wears what is claimed to be a rare color combination. It has graced the cover of "South Mississippi Living" magazine and is being offered for sale by that State's former Governor, Phil Bryant. It presents superbly and is ready to be appreciated by a lucky new owner. Located in Hazlehurst, Mississippi, the Nomad has been listed for sale here on eBay. The BIN has been set at $67,500, and I have to say a big thank you to Barn Finder Larry D for referring this classic to us.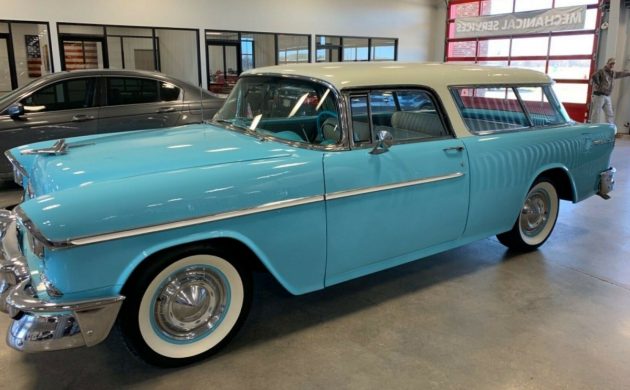 The Nomad underwent a frame-off restoration back in 2014, and it still presents beautifully in its combination of Cashmere Blue and India Ivory. The owner claims that this is a rare combination, but I've had no success confirming that. I don't know how many miles the vehicle has clocked since the restoration was completed, but I suspect that the number is pretty low. The paint still holds a magnificent shine, and there is no evidence of any significant marks or chips. The panels are laser straight, and the panel gaps are impressively consistent for a wagon from this era. There is no visible evidence of rust problems, and the seller doesn't mention any in his description. As a part of the restoration, all of the Nomad's glass was replaced, as were all of the seals. For me, the '55 Nomad brings back an interesting memory. Those who are old enough may recall an episode of the 1990s Tim Allen Sitcom, "Home Improvement." In that episode, Allen's alter-ego, Tim Taylor, accidentally drops a 3-ton steel beam on his wife's '55 Nomad. If you can't recall or have never seen the incident, this YouTube video is well worth a look. However, a word of warning: It is a scene to make grown enthusiasts cry.
Here is the Nomad taking its star turn on the magazine cover, and you would have to say that the owner looks pretty proud of his prized possession. The cover is from October of 2014, so the Nomad would have been fresh off its restoration. It doesn't appear that it has aged at all in the intervening years.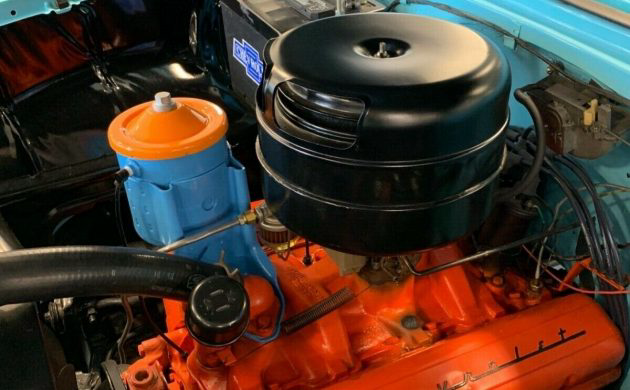 It isn't clear whether the Bel Air is numbers-matching, but I suspect that it probably is. What we find under the hood are a 265ci V8 and a 2-speed Powerglide transmission. I believe that this is the base 265, which means that it would be producing 162hp. That doesn't make it the fastest wagon on the planet, but the 19-second ¼-mile ET would have been considered pretty respectable in 1955. The owner doesn't indicate how well the Chevy runs or drives, but the listing suggests that it might be a bit of a trailer queen. In fact, the former Governor mentions trailering it to shows. If I bought the wagon, it would see the road from time-to-time. What's the point of owning such a beautiful classic if it remains hidden away?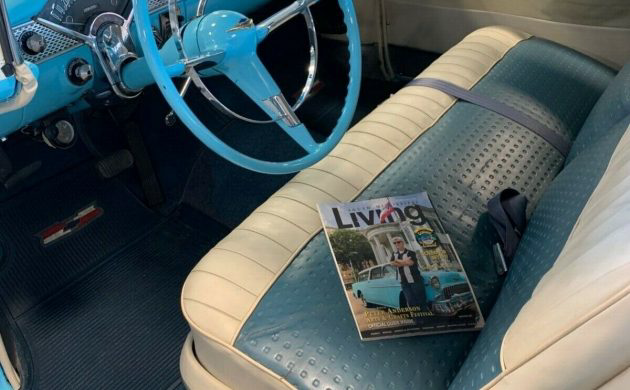 Moving to the Nomad's interior, we once again find more evidence of impressive presentation. It isn't perfect, because there are a couple of marks on the wheel. The trim plate at the bottom of the door frame appears to have some overspray on it, and the carpet doesn't fit properly. This should be easy to fix, but as I've said in the past, it is the little details that separate a good restoration from a great one. Otherwise, the painted surfaces look perfect, while the Blue Waffle Pattern and Beige vinyl upholstery is free from wear-and tear. The rear seat and headliner appear to be in excellent condition, while the damage-prone rear cargo is close to perfect.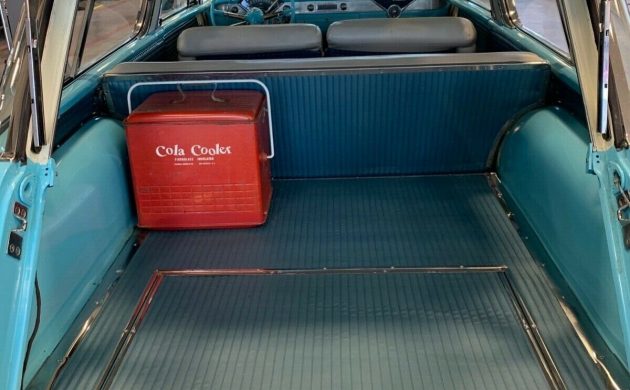 With vehicles like this 1955 Nomad, I tend to be a bit careful when assessing whether a famous owner has any impact on its potential value. Leaving this fact aside, the wagon presents as a tidy survivor, and I would be surprised if anyone would be embarrassed to park it in their driveway. I'm not going to pretend that it is a cheap classic because its BIN price represents a significant outlay. It isn't unprecedented, and while values did take a hit last year, they are rising once again. I don't know whether that makes this Nomad a great long-term investment, but it does make it a practical classic that the whole family can enjoy. I don't see that as being a bad thing.