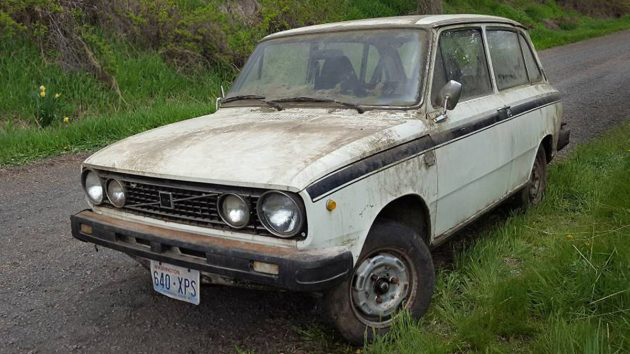 If you like unusual vehicles, it almost literally does not get any more unusual than this 1976 Volvo 66 GL Estate! I can hardly look at this car, I keep picturing it in our driveway and that's not good. This super rare Dutch-turned-Swede is on Craigslist with an asking price of $4,900. You'll have to line up shipping from beautiful Hillsboro, Oregon. Thanks to Luke for tracking down this rare one!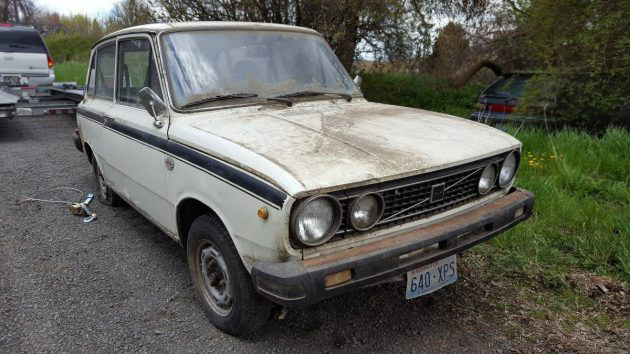 You Ph.D car-spotters may have noticed that this car bears an amazing resemblance to the DAF 66, or to DAF cars, in general. That's because it's basically a rebadged DAF 66 with Volvo trinkets and doo-dads on it. In late-1975, Volvo purchased a controlling interest in DAF and gave these cars a bit of a refresh, adding a Volvo grille and a few badges.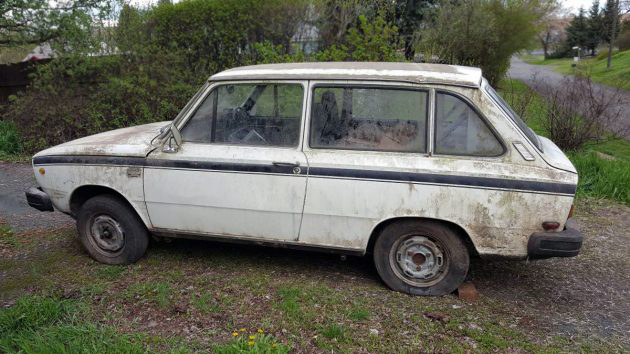 Isn't this thing fantastic?! Luke would have gotten me in trouble by sending in this tip if this car was in nicer condition – this sort of small, funky, awkward car is right up my alley. The Estate model added a bit more room in back for luggage, very, very small luggage. This particular Volvo 66 GL Estate was parked in the 1980s and it'll need to be towed, as with a winch onto a flatbed, because it hasn't even been started in three decades.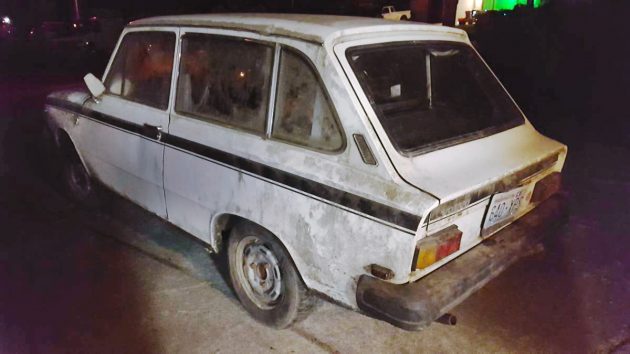 The body looks deceivingly solid, but I'm guessing that there is more than a little rust lurking under the surface. You can see rust on the hatchback in this photo. The rusty exhaust pipe sticking out of the back scares me more than a little, but a car like this will most like need a nut-and-bolt restoration which will be a labor of love, not an exercise in profit-making.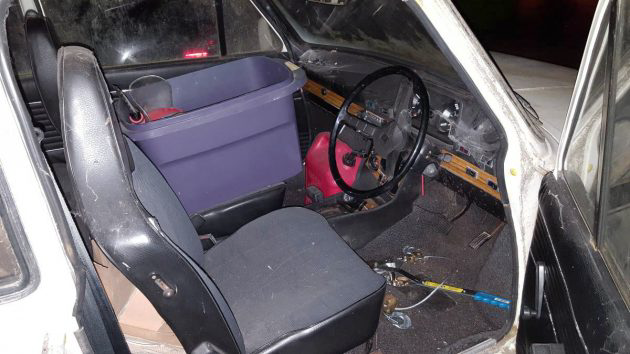 Unfortunately, there are no engine photos, as is more often than not the case with CL ads, for some odd reason that I will never understand as long as I live, and even after that.. This one would have had a 1.3L inline-four with about 45 hp. That's not a lot but this car weighs only 1,900-pounds and they were never made for US freeways in the first place. The interior on the GL is a little fancier than on the DL cars, but fancy is a bit of an overstatement. You'd think that a Volvo 66 would be a little more posh than a DAF 66 would be. This one comes with a few cobwebs free of charge. Have any of you seen a Volvo 66 or a DAF 66? This is one rare ride, there are not many of them left.