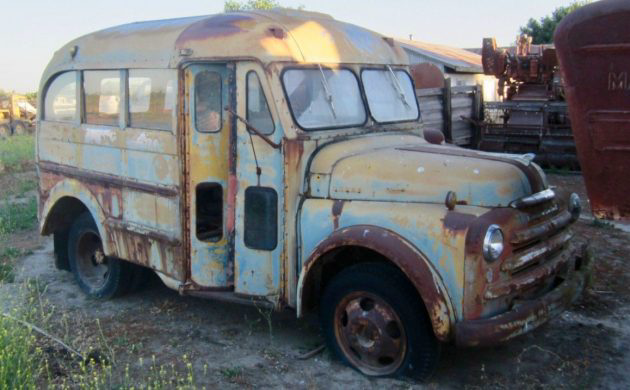 A vintage school bus has a certain allure to it that always grabs my attention. I always wonder who rode on it and where are those kids are today. Most people have a memorable school bus experience so maybe it's a nostalgia thing.  There were some unique configurations of school buses back in the day and most of the major truck manufacturers got in on the action. This particular bus is a 2 window version with a Dodge chassis which is unique and the fact that it has survived intact all these years makes this a rare find. Check it out here on eBay in Lake Oswego, Oregon with a BIN of $9,500 or a starting bid of $7,450.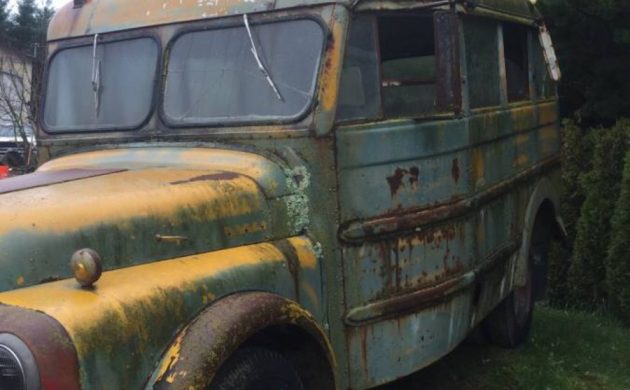 This bus is built on a Dodge B- Series truck chassis. The Dodge B-Series was built from 1948 until 1953 so if this bus is indeed a '48 model that makes it a first-year model. The B-Series had some improvements over the previous generation. Dodge bragged about their new model in advertisements. Improvements like a tighter turning radius, propeller shaft guards and improved brakes gave "maximum protection" for the passengers. The seller does not give any information about which company did the bus conversion or what school district it was used by, but it does have California Black Plates.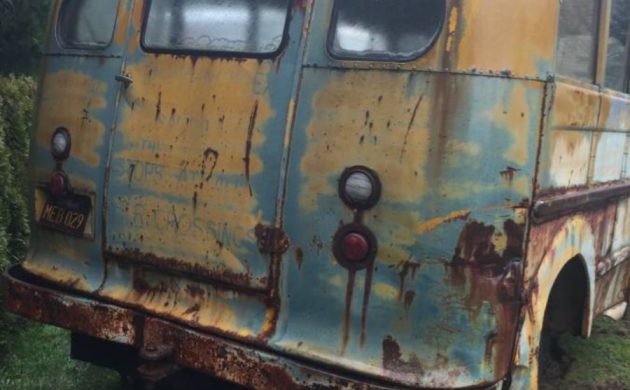 This thing is definitely not pristine, its got its fair share of surface rust, dings, and dents but the seller does say the bus is free of major rust. Some of the original paint is still visible and you can still make out some of the writing on the rear door. The owner seems to be a collector of old school buses, short buses in particular and says that these are a rare find, I don't ever remember seeing one of these so I can't argue with that statement. The bus has not run in many years, no engine photos are provided but the engine should be a flathead inline 6 probably connected to a 3-speed transmission.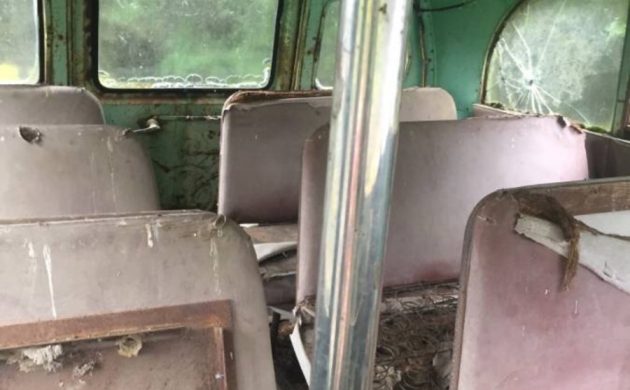 The interior is trashed but it's all there, the classic green/gray interior paint is still visible. Unfortunately, most of the windows are either in bad shape or broken, replacements will have to be custom made because there can't be many of those sitting on the shelf. This bus needs a total restoration, the question is what do you do with it? This would be a huge labor of love for someone to restore it to original condition, the cost of restoration would far exceed its value. The seller mentions a possible camper conversion or rat rod project, it's just to far gone to preserve and the price is high considering the shipping cost involved with a truck like this. Let's hope somebody saves it, what would you do?
Have something to sell? List it here on Barn Finds!