I blame Matchbox for making me not appreciate the years when a yellow Corvette Indy 500 Pace Car was an easy car to find. As a kid, this was one of numerous toy cars in my possession, making me slightly numb to their regular presence at cars shows and in driveways; hence, when I spotted this one here on eBay it occurred to me I hadn't seen one in the flesh in years, and that this particular example deserves to be restored back to its original replica condition.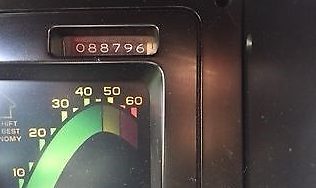 This particular car has clearly been used, due to the high-ish mileage for a Pace Car and the later Corvette wheels (that look awful as it is and are made worse with the black spray paint) that have been swapped on. Interestingly, there's a bit of controversy that surrounds the 1986 C4 Pace Car: Corvette decided to designate all '86 roadsters as "Pace Car replicas," driving many enthusiasts to ignore the seemingly unlimited supply of special edition Corvettes.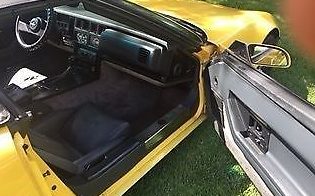 However, the yellow Pace Car replicas are considered to be a touch more desirable because the actual Pace Car was a yellow convertible and due to the fact that just over 700 yellow convertibles were made in 1986. So, if you wanted to own that year's Indy 500 tribute car but you didn't want just another 1986 model year convertible with some stickers applied, you could at least buy the car in the proper colors. This example is just such a vehicle, and it does come with the dealer-applied Pace Car graphics.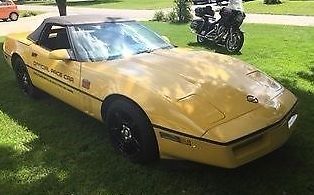 The seller notes this Corvette is far from perfect; supposedly, the clear coat is failing and the power antennae stopped working. As mentioned, the wheels definitely need to be swapped out. But it runs out nice and the A/C and power features still work. Swap on the proper blade-style C4 wheels and simply enjoy this Pace Car – my money is on it returning a modest gain off of the initial purchase price within a few years.