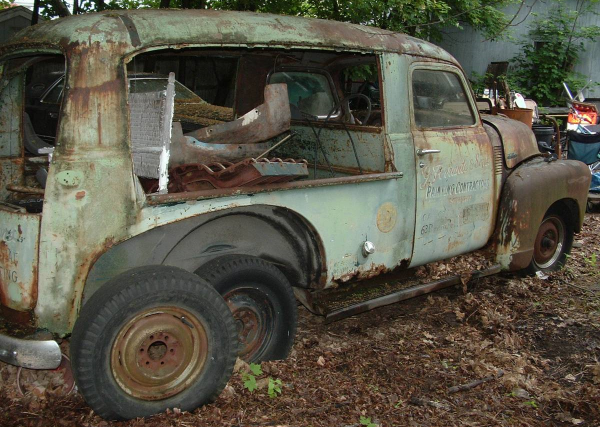 I know that I am supposed to be fair and objective as a writer, but this one just makes me want to cry.  Here sits one of the rarest postwar American trucks in absolutely deplorable condition. Only 843 of these 1948 Chevrolet Canopy Express trucks were built in 1948, and this body style is rarely seen today.  If you are braver than I am concerning restorations, you can find this unicorn for sale here on craigslist in Providence, Rhode Island for a price of just $3,200.  Title not included.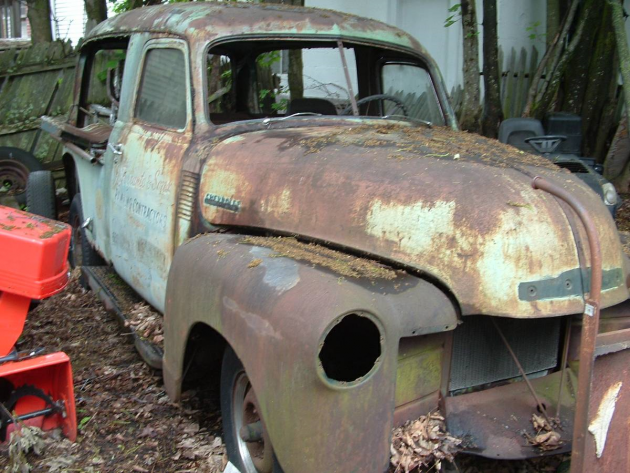 It is hard to tell just what went wrong here.  This doesn't look like a junkyard.  I think it is someone's back yard.  Was the truck stored here and never picked up?  Was a restoration started, then abandoned?  Are the missing parts still there?  Or, was this a parts truck for another restoration or rebuild?  What is so frustrating is that there seems to be no effort whatsoever to protect this truck from the elements.  Look where the windshields used to be.  Why would someone yank the windshields out?  They are made of laminated flat glass that can be replaced at any glass shop for a small amount of money.  Was the owner trying to replace the rubber gasket that surrounds the glass and just gave up on that frustrating job?  Who knows.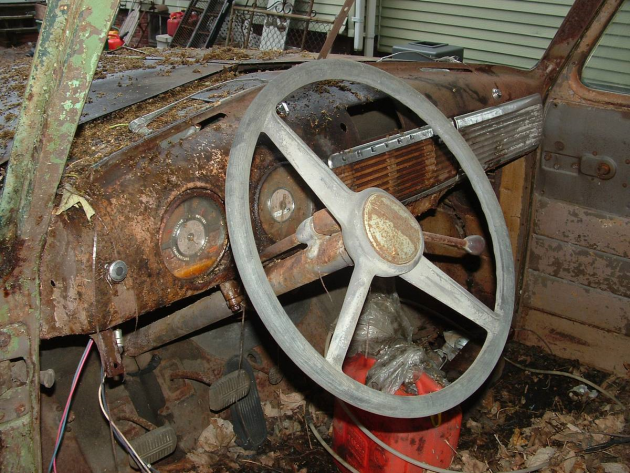 The above is what happens when you don't have a set of windshields in a truck like this.  In Rhode Island.  The home of poor weather.  Everything on and under the dash is shot.  You can see the water line at the bottom of the gauges to the left.  Hopefully the cowl isn't rotted out, but I am pretty sure the floor is a distant memory in many areas.  On the good side, it looks like the steering wheel is salvageable, along with maybe some of the dash trim and glove box door.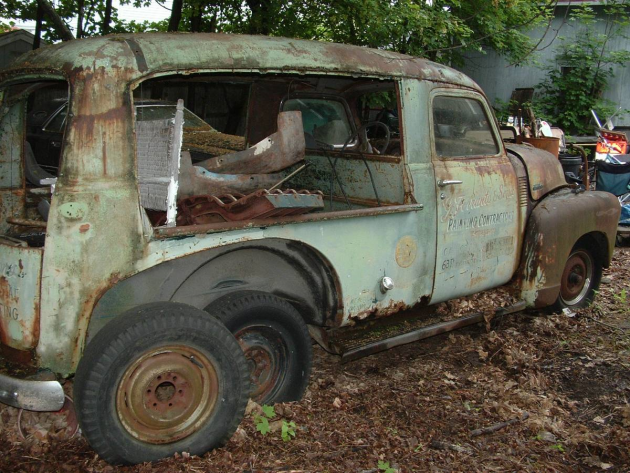 In this side shot, you can see what sets these trucks apart from standard panel trucks.  The sides and rear are cut out to offer easy access to your products, and are supposed to be covered with canvas curtains that snap in place to protect the inside of the truck from the weather.  These were used mainly by produce vendors, florists, and any other business that required rapid, easy deliveries.  We never see these things in the South, as I think they were better suited for larger, denser cities where many of the citizens didn't have cars to take them to supermarkets.  I have only seen one of these in my lifetime, and it was at the Turkey Rod Run in Daytona Beach.  If you've ever been, you can testify that anything and everything shows up there!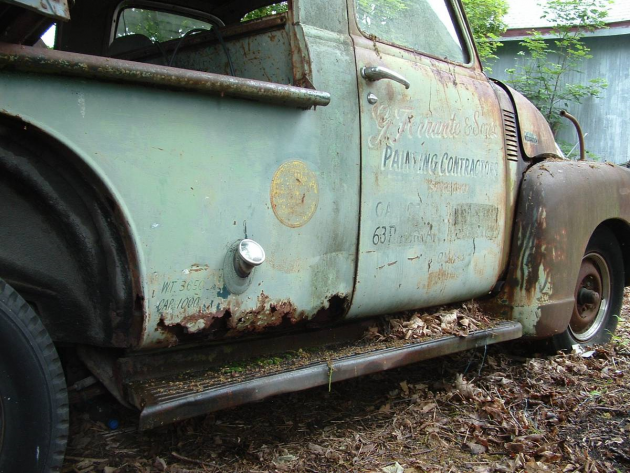 A closer look at the passenger side reveals the severity of the rust problem.  Being that this is a rare vehicle, finding a replacement panel is going to be a bear.  There are some replacement panels available for pickups and Suburbans, but I am unsure if any of those would fit this particular truck.  You may be able to cut out a patch panel from a panel truck, or a talented, old school body man may be able to form a panel to fit and weld it in.  That is if you have anything solid to weld to underneath.  Also, if you can find an old school body man.  They aren't exactly growing on trees any more.  Mention leading instead of using Bondo and watch the eyes of 87% of the current crop of body men go glassy and vacant.  Top quality repairs of metal like this can be done, but it is fast becoming a lost art.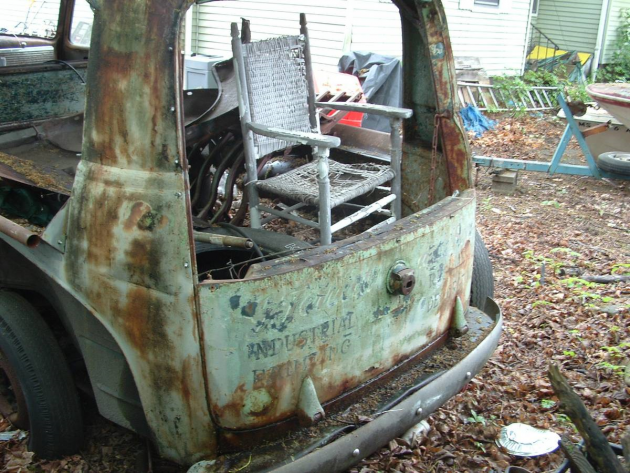 Another bit of good news is that the unique tailgate and rear bodywork seems to be in good shape. The bumper does look to be in good condition as well. Unfortunately the back fenders have flown the coop.  We can't see the rear floor area because of all the treasures inside (are the back fenders in there?), but I believe that the floor is made of wood.  Hopefully there is enough of the real wood left to use as a pattern.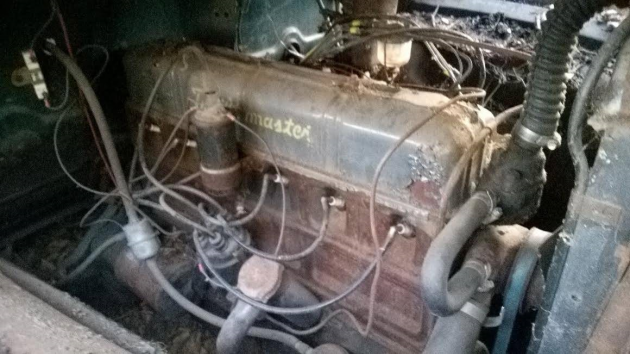 Finally, we have the best part of the deal.  The original Stove Bolt Six is still in the truck and it looks to be unmolested.  The only problem I see is the coil wire is off the coil.  Maybe they removed it to keep miscreants from making off with the truck in the night.  These are stout, reliable engines that were made for a very long time.  Parts wouldn't be a problem, and you could likely get this one running with a little work.
Perhaps I am a little too hard on the caretaker of this truck.  To them, maybe it was just an old junk truck unworthy of care.  However, to a collector, trucks like these have monetary and sentimental value.  One of these Canopy Express trucks sold at Barrett-Jackson for $27,500 during the 2017 Scottsdale auction.  I know, it was Barrett-Jackson and the truck that was sold was perfectly restored.  The point is that if this truck had received a minimum of care, it likely would be an easy restoration.  Trucks are usually simple in comparison to a car.
For sentimental reasons, these trucks are a reminder of the past for a lot of people.  Life was different then in that you had to rely on a lot more people to get your basic needs in life if you lived in the big city.  The people you relied on became part of your life and were the backbone of these old neighborhoods.  Butchers, fruit and vegetable vendors, ice men, and milk men exist only in memories.  I hope this truck gets saved.  We have lost enough of the things that made us great.  It would be a shame if another reminder of how good life was in America after the war ended up at the crusher.