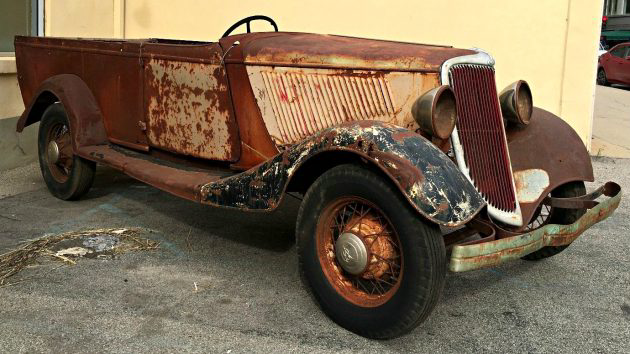 Are you a classic Ford enthusiast, but have become bored with all of the "run of the mill" rare and hard to find American Fords? If so, this Australian 1933-34 Ford Roadster UTE may be that extremely rare Ford that your heart has desired. It is thought that only 133 Roadster UTE's were built and that only a few have trickled to America. Most certainly rare and difficult to find, this Ford is currently bid up to $5,600 with the reserve not met. Check out this cool Ford here on ebay out of Altadena, California.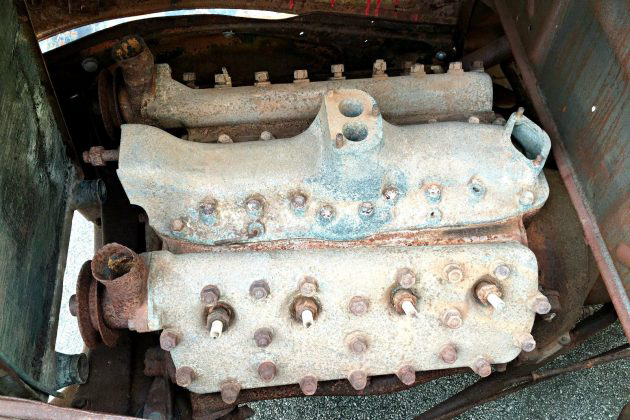 Packing a flathead V8 this is the correct 21 stud engine for this Ford. The condition of the engine is unknown, but this engine wears a set of aluminum "cheater heads" that are just plain cool. Most of the engine accessories and parts are missing other than the core engine itself. The radiator is present, and the sheet metal in the engine bay appears solid. The frame also appears promising, with no major rust or damage to make note of.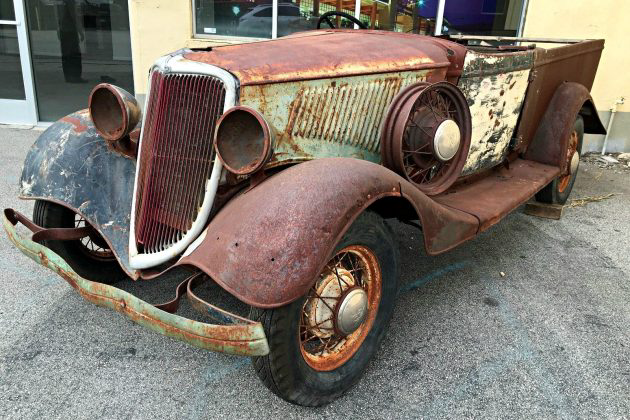 Rust is definitely present on this rare old Aussie UTE, but this Ford is not as rough as what it may seem. There are some minor dents and dings, and there are a couple tears in the driver side fenders. Although the fenders, the engine covers, and the front portion of the cabin appear to be in nice condition. The passenger fender has 2 small rust holes in the upper portion of the front fender arch, and the lower portion of the rear fender has a substantial dent. Also there appears to be a tear in the passenger side floor board, but no other tears are on that side of the car.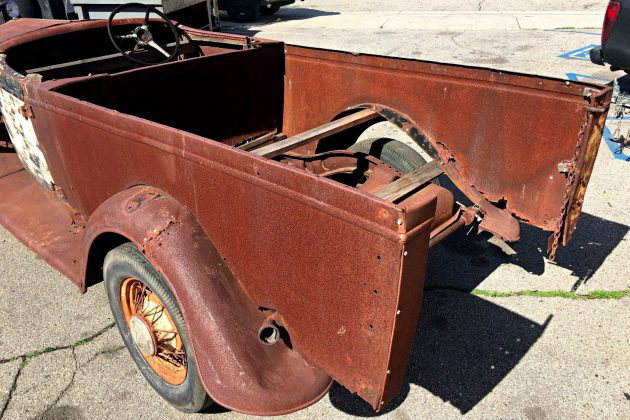 The bed section is crispy along the passenger side fender edge, but this appears to be the only real rot in this Ford. A reproduction tailgate skin is included with the sale, but it will need some work to be fitted obviously. The seller mentions that this car deserves to be driven, and I certainly agree with that statement. It is just difficult to see what the future will be for this rare gem. A full authentic restoration would be a dream come true, but parts sourcing, metal fabrication, and all of the other little details that add up would really make this a half a million dollar Ford. The seller mentions the possibility of it being a hot rod, which could certainly be a possibility for this Ford. No matter what may happen with this Roadster UTE, it will certainly not be a project for the faint of heart. Have you ever seen one of these rare Roadster UTE's before?