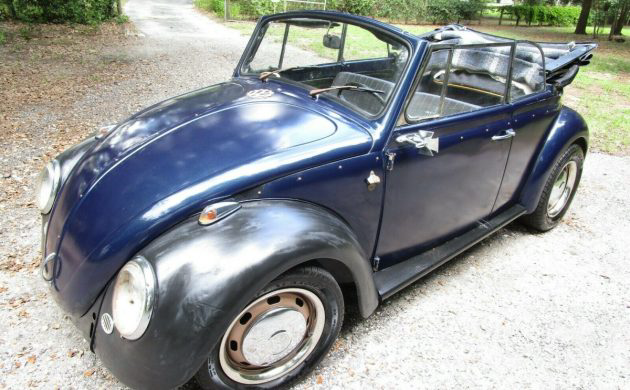 This 1965 Volkswagen Beetle convertible comes to us courtesy of a seller that has repeatedly popped up with some excellent barn finds and rescues from private collections. This Beetle falls into the latter category, having been part of a stash of vehicles that the seller seemingly has exclusive access to in terms of acquiring vehicles and then listing them for sale. This Beetle is at a crossroads of sorts, being not so far gone that it couldn't be restored, but also just rough enough that you may be tempted to leave it as-is and just drives the doors off of it. The Beetle convertible is listed here on eBay where bidding is just over $4,000 with no reserve.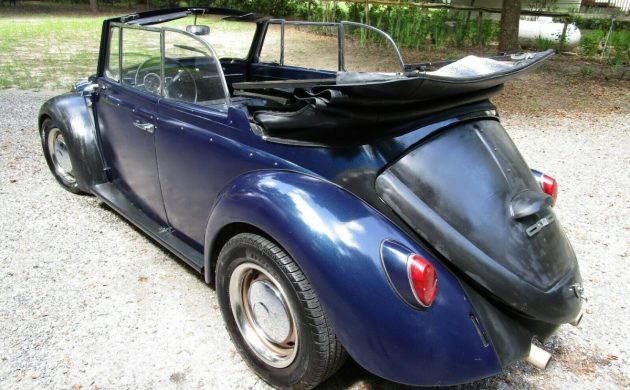 Personally, I dig how it looks right now, with the lowered stance, steel wheels with  chrome hubcaps and trim rings, no bumpers, and a less-than-perfect interior. It's just the way it should be if you're looking for a Bug with the right vibes but that's not so nice you're scared to park it in crowded conditions. Pristine Beetle convertibles of this vintage can trade hands for decent money, so it's also a tempting car to restore if you're into air-cooled perfection. The early convertibles look particularly choice when sporting factory two-tone paint, and I'd personally opt for yellow along the top-level surfaces and white or cream sprayed onto the doors and lower sills.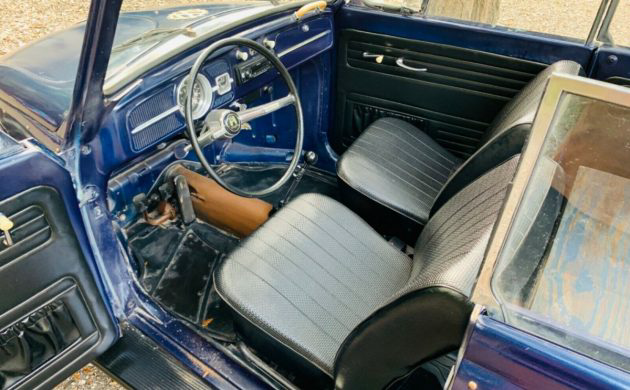 The interior isn't in terrible shape, but it's always hard to tell from angles like these. The floors look like they've been re-done, and while the seller does always include a ton of photos, it'd be nice to get some in-person opinions about what could use immediate attention and what can wait until later. The seats appear to be in good order along with the door panels, and I'm curious if the prevalence of blue paint inside has any bearing on the original color scheme. The listing notes that the side windows are just resting in place, so the next owner will have to install them and possibly ensure they are secured before shipping via car transporter. Upon closer inspection, it seems unlikely that this is original paint, as it appears to be an aftermarket/non-OEM paint job.
The engine is a 1700 that the seller did get to run, but he is listing it as a non-running parts car, likely to circumvent any broken hearts among potential owners that were expecting perfection when this Beetle gets dropped off in their driveway. Perfection is not what you're getting in a car like this, which I think is essentially a good thing – you can use it as-is and still get just as many thumbs up at cruise night as you would if it was fully restored (in fact, you may even get more.) Plus, as the listing notes, it's a total hodge-podge of eras, as it's titled as a '76 and the chassis is from a '70 model. I'd hop up the motor any way I could, tighten up the suspension, and otherwise change very little.