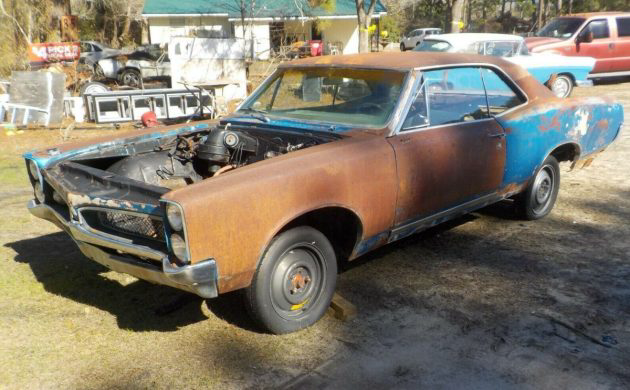 After a successful two years of being an option on the Tempest/LeMans, Pontiac promoted the GTO to series status in 1966. All of GM's A-body intermediates were restyled that year, gaining more of a curvaceous look with kicked-up rear fender lines for a "Coke-bottle" look and a slightly "tunneled" backlight. A year later, the models were little changed, with different taillight treatments being the big giveaway. This '67 GOAT is rough project, in the seller's own words. It's missing its engine and transmission and has some rust issues on the rolling body. Baxley, Georgia is its current domain, and the car is available here on eBay where the bidding has reached $1,675, but that has not yet triggered the reserve.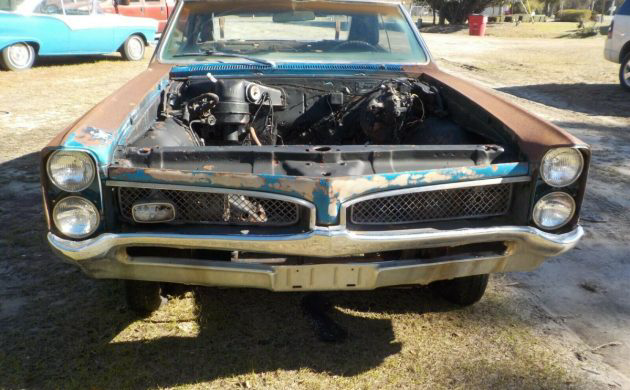 The fender tag confirms this car as a genuine GTO (VIN code 242). The GTO engine was upgraded from 389 to 400 cubic inch between '66 and '67, and a 4-barrel carb set-up (we assume) would have given it 335 hp. However, that engine and its automatic tranny are not available to go with the car. It seems to have been a well-equipped GOAT with factory A/C, power steering and brakes, and the "His & Her" shifter in the console.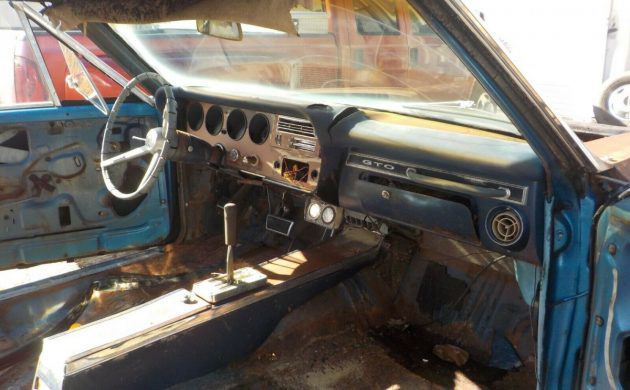 Rust is a big issue with this automobile, one that the seller doesn't want to undertake even though he's owned a body shop for more than 45 years. The floorboards are said to be decent, although someone started a DIY repair on the fronts and some holes still remain. We're told the frame is in good condition, though it does have surface rust. The trunk, however, is a see through model. The only parts of the interior that seem to be around are the dashboard, console and front bucket seats. If other pieces still survive, they're not pictured. And don't get your heart set on the hood scoop vent as that has since been sold.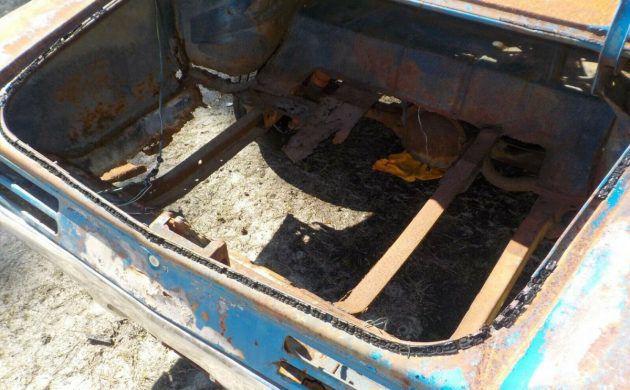 While the eBay listing says the car has a salvage title, it really should say there is no title. You'll have to take a Georgia Bill of Sale with you to the DMV to get a new title. This car looks to be quite the daunting challenge, from skill, time and wallet standpoints. Is this car too far gone to warrant a restoration or would you dig through it for pieces to use on an existing project?