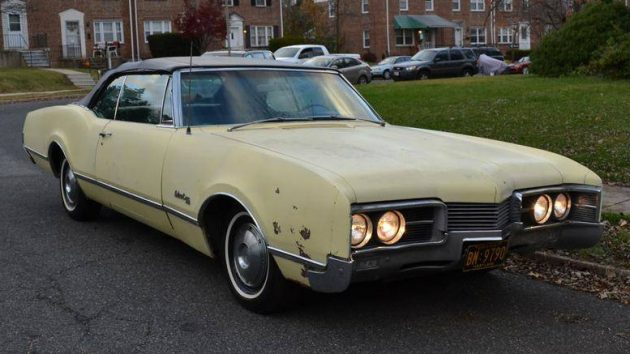 About ten years ago, my dad was driving around in Perkasie, PA, when he spotted a 1960s convertible for sale. When he stopped to look at the car, he discovered it was a 1967 Oldsmobile Delmont 88 convertible for sale for only $700. Powered by a 330 V8, the car needed a new transmission, but was otherwise in very good shape. Unfortunately, a few days later, the car was sold. I remember inspecting the car with him, and ever since then I've been on the look out for one. This 1967 Delmont 88 convertible is unrestored and features the optional big block engine. Find it here on Hemmings with an asking price of $4,680.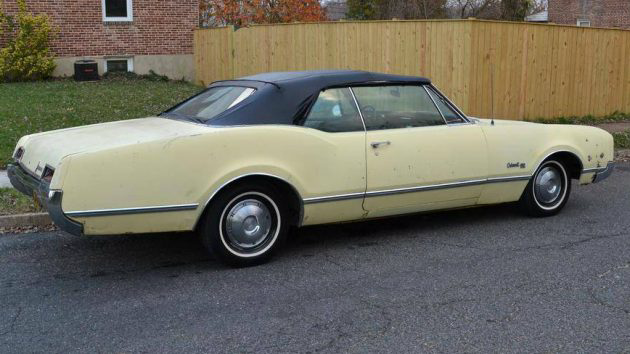 Introduced in 1967, the Delmont 88 was introduced to replace both the Jetstar 88 and Dynamic 88 model lines. Essentially the same as the Delta 88 and Delta 88 Custom (but without all the decorative trim and fancy interior), the Delmont 88 came in four body styles: four-door (pillared) Town Sedan; four-door Holiday Sedan (hardtop styling); two-door Holiday Coupe, and two-door convertible. The Delmont 88 returned for 1968, and then was dropped for 1969. Delivered on August 21, 1967, this 1967 model is a two-door convertible, and is one of only 3,525 built out of the 71,894 Delmont 88s built altogether for 1967. At first glance, the cosmetics are not perfect, with blemishes (most notably on the passenger side fender) throughout its paint job. The back bumper will need to be addressed, as there is some slight surface rust. If you look closely, however, there is not a speck of rust on the body. The Butternut Yellow is an attractive color, and the black top complements it nicely. I dig those wheel covers, and they really pop with the thin white line tires. If I bought this car, I would weigh the pros and cons of restoring the cosmetics or leaving it as-is.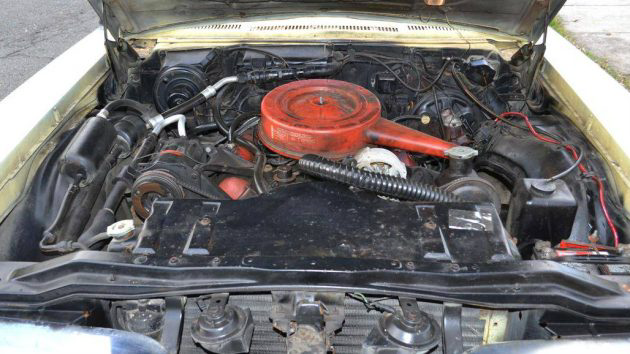 This Delmont 88 features the optional big-block 425 V8, which was in its last year for 1967 (it would be replaced by the 455 V8 for 1968). Rated at 300 horsepower and 430 lb-ft of torque, the 425 may not have the spirited performance of the 455, but should still have nice pick-up, especially with all of that torque. Backed by a three-speed automatic (most likely a TH-400), the Delmont 88's engine and engine bay could use a nice detailing, but with the exception of making sure that the engine and the rest of the drive train are mechanically sound, I would leave it alone. I would swap the generic battery for a more era-correct looking one.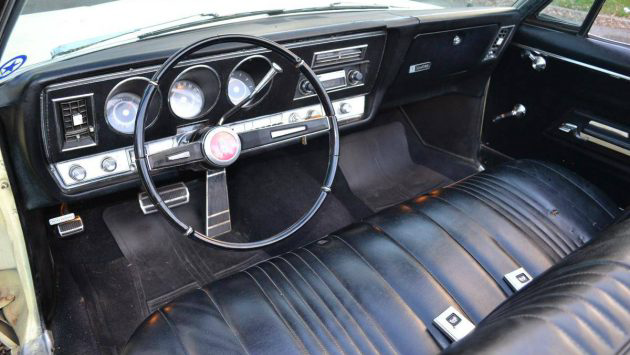 This Delmont 88 is spec'd pretty nicely with a split-bench seat and manual windows with vent windows. The front seat has a few tears in the vinyl, but I would try to repair them before re-covering the seat. I would also detail the interior, as it looks like it could use a cleaning. The rest of the interior appears to be in good shape, however, and I love that two-spoke steering wheel. Overall, this car is not perfect, but considering it is unrestored, I would have a hard time deciding whether or not it needs to be restored. I think the best route would be a cosmetic restoration, with a fresh paint job, re-chroming the back bumper, fixing the rips in the front seat, and detailing the rest of the car. The Delmont 88 is a rare sight today, and I've never seen another big-block convertible. Considering its price, this car is a bargain; I would address the necessary areas and take this car to cruise nights and Cars and Coffee events (I feel this car would be a nice conversation piece). What would you do, viewers: restore it, or leave it as-is?