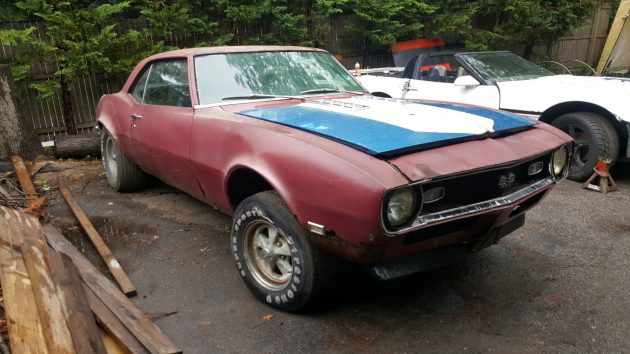 When the Ford Mustang came out in late 1964, everyone would agree it was a bases loaded home run.  Chevrolet was caught with their pants down, and it took until the 1967 model year for their response to hit the roads.  Usually, situations like this aren't very successful.  Chevrolet, however, did a fantastic job creating their own pony car, and the 1967 through 1969 Camaros continue to be the standard all subsequent Camaros are judged by.  Having seen better days, this 1968 Camaro, located in Islip, New York, is for sale on EBay.  Bidding is currently at $6800, with the reserve not having been met as of this writing.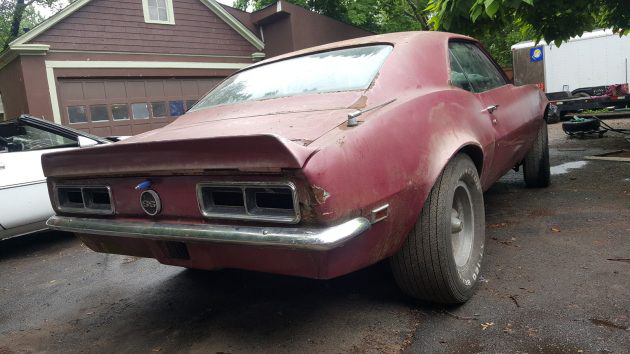 The fact that this 1968 Camaro, which needs a lot of work, has not hit reserve at $6800 is testimony to the love people have for these cars.  The styling is timeless, and in an era where excess could get out of control, the design of the Camaro is simple and pure.  It also helps that this one is packing a 396 cubic inch big block V-8, is an SS model, and has a four speed manual transmission.  The owner claims that it has just 43,304 miles.  They must have been some pretty hard miles.  Maybe they were racked up a quarter mile at a time.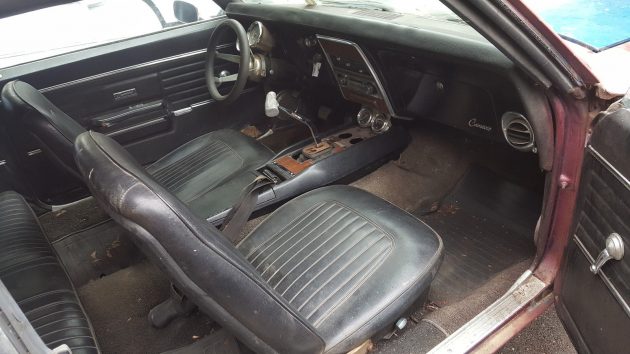 The 43,000 mile deal might be a bit more plausible when you look at the interior.  While a thorough detailing would help tremendously, much of the interior could probably be reused if the car were to be restored.  The vinyl seats are free from rips and separations, and the console and door panels appear to be in similar shape.  The dash pad seems to be curled up around the steering wheel, and is a bit lumpy throughout its length.  Under the dash, we see the usual hot rodder set of auxiliary gauges and a Hurst shifter that was almost always added to hot cars back in the day.  The same goes for the monster tachometer strapped to the steering column.  If you are looking for a car that was well taken care of, these are things you just don't want to see.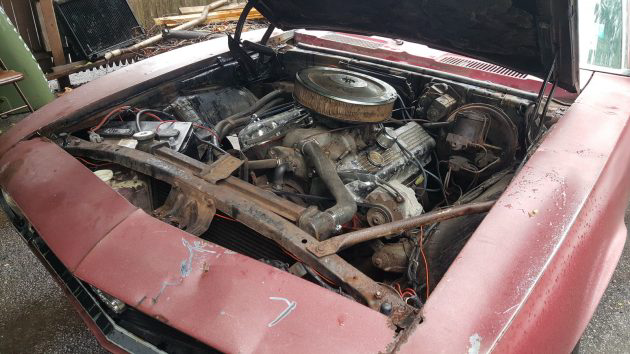 Under the hood is the big block 396 V-8 that is driving the price of this car up.  It looks like it has seen better days here, and the old, crumpled air cleaner isn't doing the owner any favors as far as making it look good.  We can see that the car has power brakes, but it did not come with air conditioning.  The nest of wires resting along the driver's side inner fender doesn't look factory, and could be a problem down the road.  We can also see a lot of rust, dings, and dents in this picture, and they will give the new owner plenty to do when trying to get this car looking good again.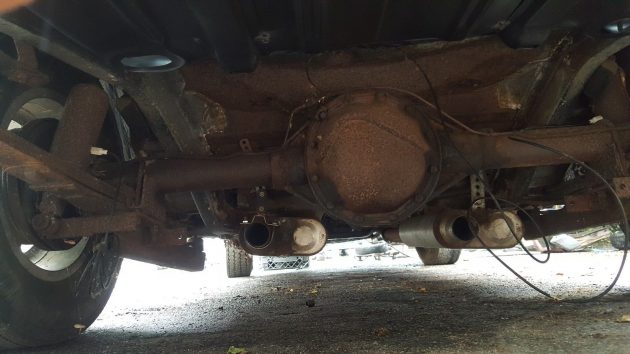 Underneath, we can see where the current owner has replaced the trunk pan, but the rest of the underside needs attention as well.  The Flowmaster mufflers suggest again that this car made some demonstrations of speed, and the straps they are held up with gives you some clues as to the quality of the work done to the car.  The owner says that it needs floor pans, which isn't a surprise for a sixties GM car that probably spent most of its life in the Northeast.  As long as snow and sixties cars exist, body men will always have job security.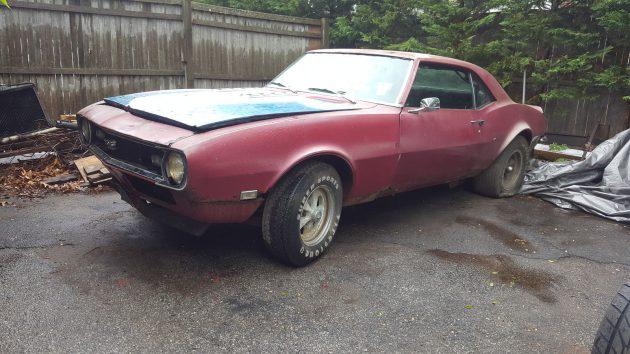 As you look around the car, you see that rust has taken its toll in a lot of places.  Fortunately, Camaros of this vintage are insanely popular, and the restoration parts industry makes it possible to almost build one from reproduction parts.  With the damage shown in these photos, that may be your best option.  When it comes down to it, replacing a panel with a reproduction piece is almost always cheaper.  Especially if you are paying for someone to do the repair.  You could argue that it takes away from the car's originality, but a lot of that originality has already left through oxidation.
Overall, if you are specifically looking for a car with these options to restore as a fairly rare factory original, it is not too bad a choice.  It does have an interesting and desirable list of features going for it.  If you are going to make a pro-street car, or just want a car to tailor to your needs and desires, then there are likely better candidates out there.  Originality only counts if you are going to chase points.  You also have to factor in the difficulty of replacing the floor pans correctly, and handling whatever other damage you may find when you go digging into a car in this condition.  Regardless of mileage claims, there is probably a lot of mechanical wear and tear in the drivetrain based on the go fast goodies we see attached to the car.  As always, noting takes the place of an in person inspection to see what you are getting into.