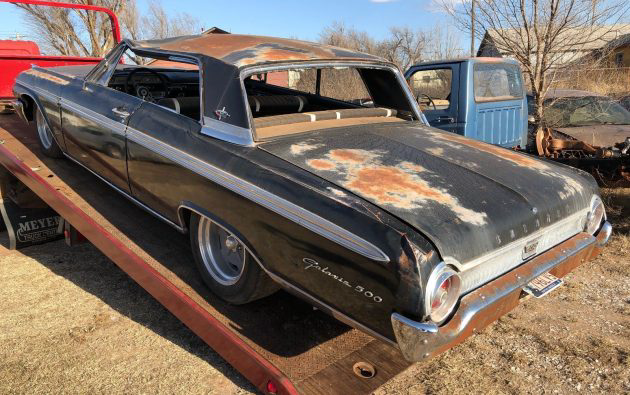 Upon first impression, younger readers may see this Ford as a gussied-up family coupe from the early '60s. However, by 1962 (and before the 1964 Thunderbolt), the Galaxie was Ford's big stick in the world of drag-racing. This 1962 Galaxie 500 may not have begun life as a drag-racer, but it might have! The 406 cid V8 and floor-shifted manual transmission certainly emulate one of the hottest quarter-milers of those days. Ford even made a "lightweight" version of this car to answer complaints that the Galaxie needed a diet to remain competitive. This 1962 Ford Galaxie 500 hails from Hennessey, Oklahoma where it apparently suffered the indignity of a crash, roll, or some other random and inconvenient roof-damaging accident. Listed here on eBay, bidding has surpassed $2500.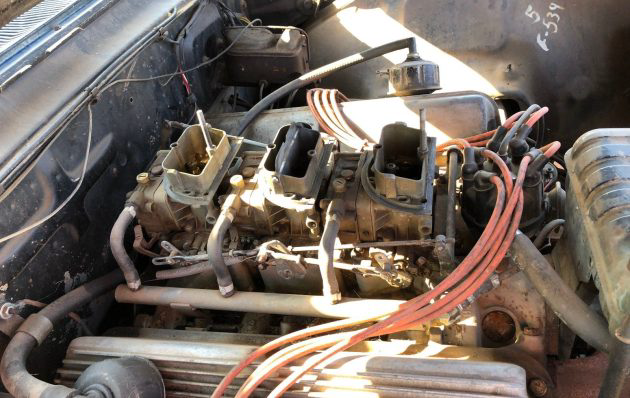 The seller knows little about this motor, but was told it's a 406 (matching this car's badges) and a "five-speed," a phrase I've learned can mean simply "standard transmission" in the same way that "Coke" simply means "a sweetened carbonated drink" in certain areas. According to this excellent write-up by dragzine.com, the $379.70 high-performance package included the new-for-'62 Thunderbird 406 with 11.4:1 compression ratio making 385 horsepower and 448 lb-ft of torque. While the 406 would have come with a dual-quad setup, this Tri-Power setup (three two-barrel carburetors) is even more interesting.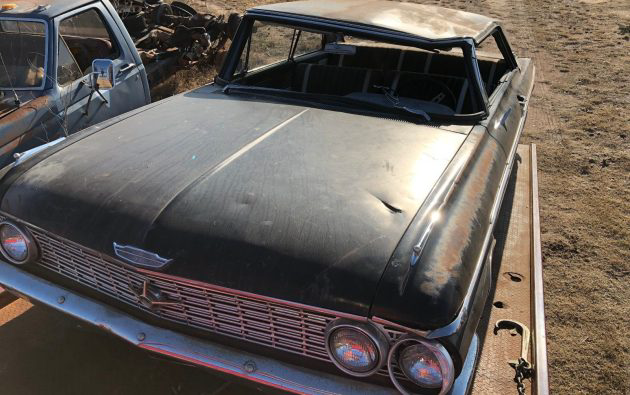 This view is mostly showing some bad news including a punctured hood and the unfortunate bending of the greenhouse that evidently smashed every window. Make sure you have a line on a reasonably priced donor car before going all in on this black beauty, and remember to weld X-braces throughout the interior before sawing off the top.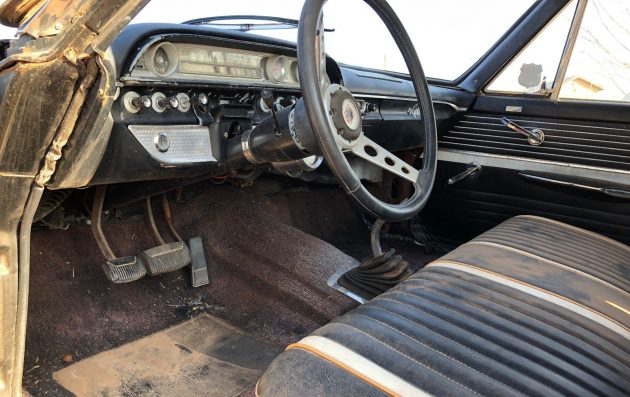 The black and chrome theme continues within. Apparently the tremendous force of the roof-damaging accident caused the shift knob to be ejected and it could not be recovered. All joking aside, this dusty mostly-original interior backs up the exterior's street-fighter looks. Nothing says Budget Butt-Kicker like a bench seat and a no-nonsense floor-shifter. A radio delete kit would complete the look. The listing says "JUST HAD NEW INTERIOR BEFORE WRECKED." Don't get me started on the ridiculous ALL CAPS, but I'm wondering if the "new interior" is code for "swapped in from another old Ford," or perhaps the wreck occurred in 1971. Either way, I wouldn't change a thing. Is this a parts car, or would you put it back on the road?
Have something to sell? List it here on Barn Finds!