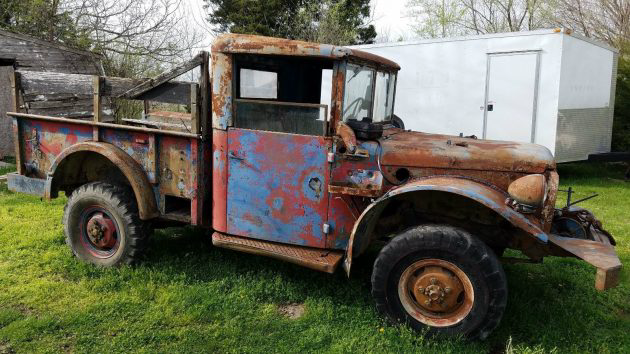 Ok, maybe it will need a little bit of work to get it roadworthy, but this ex-Air Force 1953 Dodge Power Wagon could be one heck of a work vehicle! It's being sold here on eBay where bidding as I write is at $510 with no reserve. That's right, someone could end up with this behemoth of a truck for less that $1,000! It's located in Lenexa, Kansas.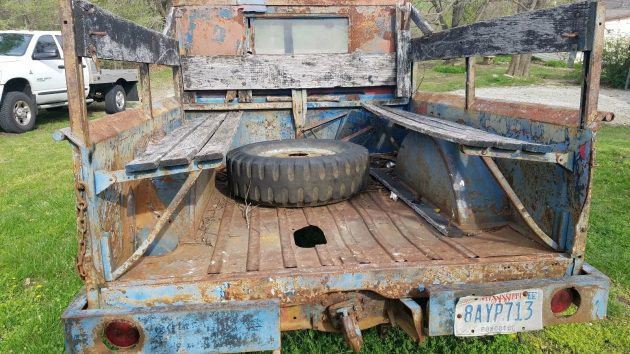 Now that's a truck! I'm not sure what the hole is for in the bed, but it obviously had a hatch cover at some point. Anyone know what it's for? Although the paint is in truly awful shape, the metal actually doesn't look too bad underneath it. Even the frame pictures look good.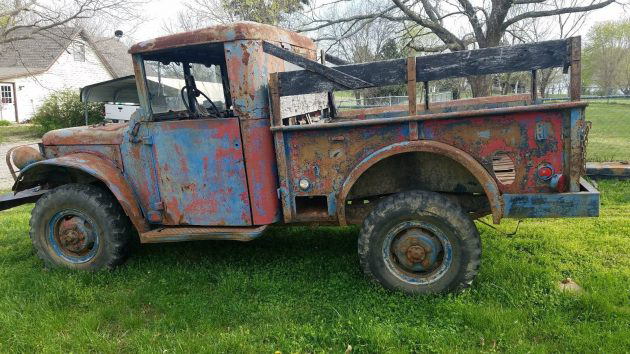 Now you're probably thinking that this truck isn't made for highway use, and you'd be correct. However, when the seller talks about it climbing hills while it's idling, believe them. Wait a minute. Idling? This thing runs? For less than $1,000? Yes!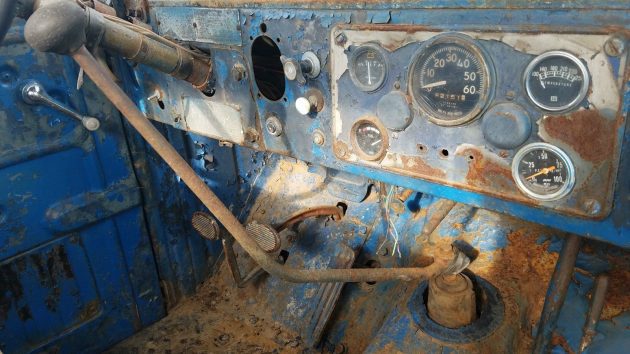 This is truly a frontier type interior, isn't it. No pansy carpet here, no air conditioning, heck, we don't need no stinking radio even! And if it gets dirty–hose it out–yeah, my kind of truck!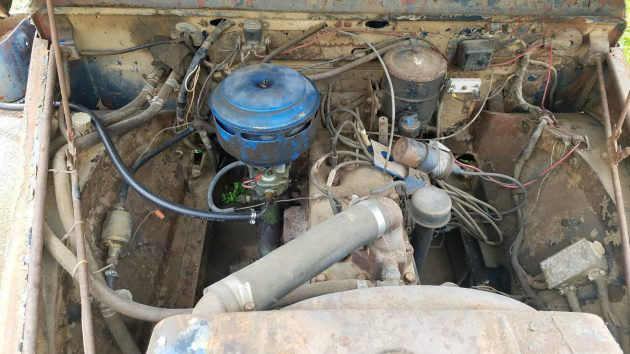 Here's that original flathead engine, which as I noted previously, runs. Now, it runs on an auxiliary fuel tank, as the factory one needs cleaning (but it is included and is already removed from the truck. Maybe that's what the hole is for in the bed? Anyway, a local shop does that around here for around $100, and for another $25 or so they will coat the inside of the tank with something impervious to ethanol based fuels. I know it works, because we had it done to the Austin Marina race car and had no problems with it until my son-in-law blew the tank up by welding too close (don't DO that, and yes, he was okay). Back to the truck; the seller tells us the brakes are soft and that it could use a new master cylinder. I found one here on eBay for $45. Why not? I keep asking myself that–I even travel to Lenexa on a regular basis for work. Somehow, driving this one back to North Carolina doesn't seem like a great idea, though! Are you interested?