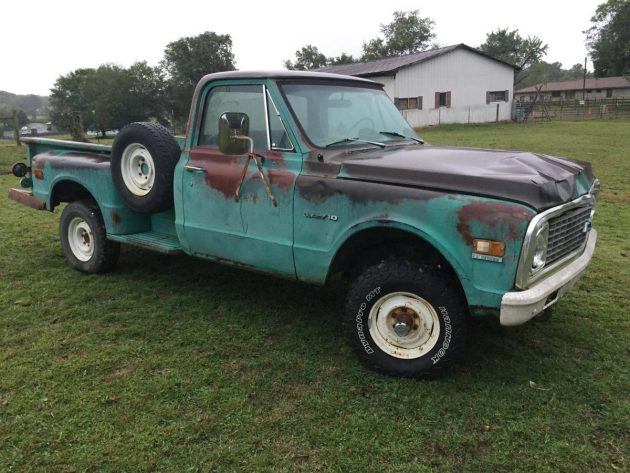 I know this one is rough.  Not as rough as some of the junkyard rejects that I occasionally wax poetically about, but this one has what even Helen Keller could see as patina.  However, there is a lot of good news on this one.  First, it hasn't been hosed down with cheap glossy clear coat by some Gas Monkey wannabe as of this writing.  Not yet, anyway.  Second, it still runs and drives.  Third, it is a factory original four wheel drive.  Fourth and finally, this is not just any step side bed.  It is the hard to find long bed step side.  This 1971 Chevrolet K/10 step side 4×4 is currently for sale on Craigslist in College Grove, Tennessee, and can be yours for just $6,000 or best offer.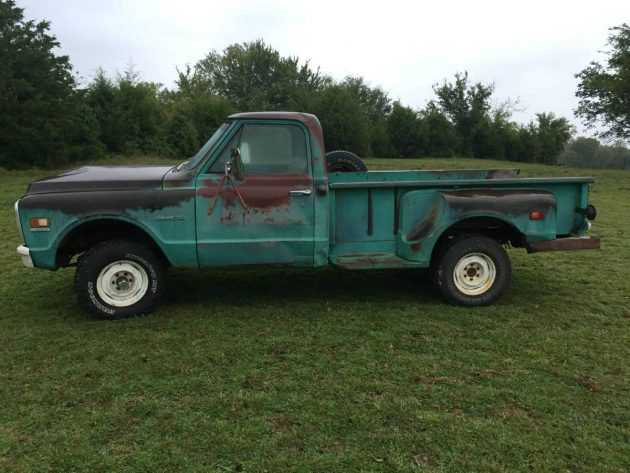 As many of you are aware, sellers often play games with rarity claims.  One such stunt is claiming a car is "one of five" in the ad, but finding out with a little research that the vehicle is one of five cars painted majestic fuschia cream or something similar out of 87,000 built in total.  While some of this is nice to know, my standard for rarity is the number in a particular body style, desirable option, or package of options (especially for racing).  This truck is one of just 364 long bed step side trucks built with four wheel drive that year.  That goes a long way in explaining why you haven't seen many of these tooling around.  Even if you include the long bed step sides in two wheel drive, you can only add another 7,269 to that number.  Considering that Chevrolet made 293,409 pickups that year, this is a pretty rare truck.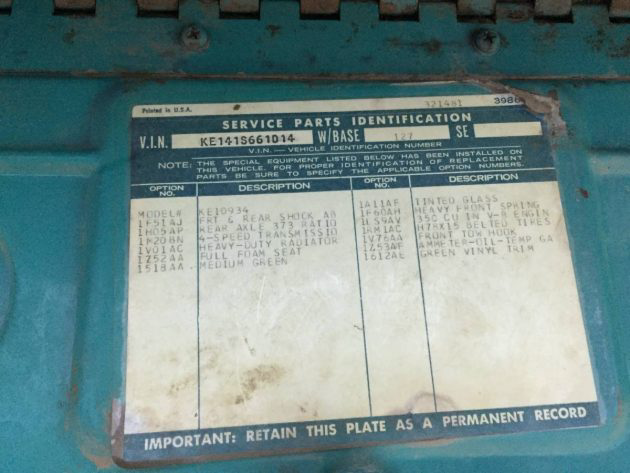 Looking at the Service Parts Identification Sheet, you can see that this truck also was equipped with some desirable options.  Powertrain wise, it packs a 350 cubic inch small block V-8, a four speed transmission, and a 3.73 ratio rear end.  The suspension boasted front and rear shock absorbers (I thought that would be standard, but maybe they mean heavy duty shocks.), and heavy duty front springs.  Other options include a heavy duty radiator, a full foam seat, tinted glass, a front tow hook, additional instrumentation, and green vinyl trim.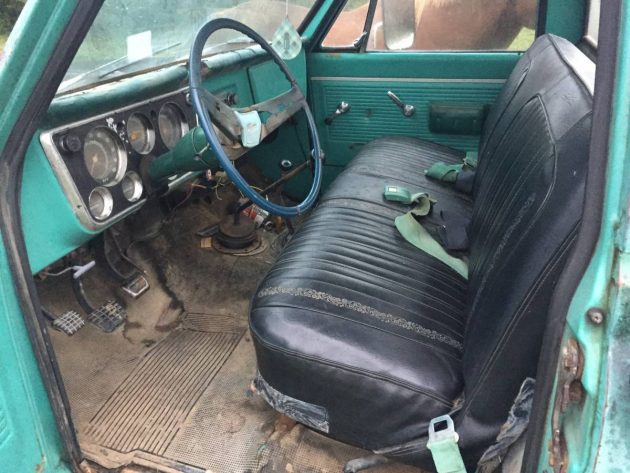 Inside, things don't look too bad.  My guess is that it came from the factory with a green vinyl seat, but that has been replaced by this black cover.  The camo duct tape in the lower front and on the seat back likely cover up cuts or rips.  The floor mat could use a replacement, as will the dash pad.  The steering wheel's center portion looks to be damaged, and the dash needs to be repainted.  Oh, and you are going to need to re-attach the gas pedal and the rubber for the brake pedal.  On the good side, the door panel we see on the passenger side looks good enough to use again.
Outside, as you can see from the pictures above, this truck is going to need a lot of work to bring it back to showroom new.  The hood is the biggest problem, but the various areas of rust and dents are all fighting for second place.  The color looks to be medium green, and the choice compliments the lines of the truck well.  However, the general appearance is far more on the work side than the play side.  The inclusion of four wheel drive wasn't as seamless as it is today, and trucks so equipped from that era look a bit gangly.  One plus is that this particular model year Chevrolet truck is sought after, mainly because of the egg crate grill that collectors love.  One other question I have is whether or not the Custom/10 badges on the front fenders are correct, given that it is a K series.  Can any of you enlighten me on this?
The seller tells us that it was brought in from "dry" southwest Kansas, and that there are a few issues.  The original 350 has been replaced by a rather weak 305, and the truck has the usual dents, scratches, rust, and even some bullet holes!  However, it does come with a new carburetor, and the four speed manual transmission and the four wheel drive work without issues.
The real issue here is the price.  For a truck needing a full restoration, $6000 is a lot of money.  Remember when your daddy told you that you would have to pay if you want to play?  Well, this is one of those times.  Restored, this truck would be stunning, and its not like parts for C/10 and K/10 trucks of this era are hard to come by.  What is hard to come by is a truck ordered like this.  Of the 364 built, how many do you think are still on the road today?