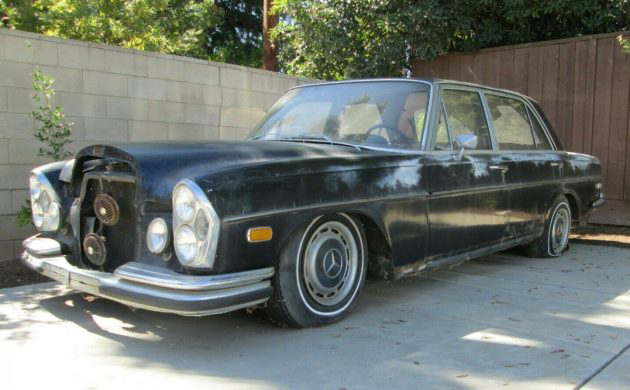 Despite its haggard condition, this 1967 Mercedes-Benz 300SEL 6.3 still looks incredibly stately sitting on its deflated suspension with flat tires and faded paint. The seller notes it is a project that never got off the ground, and one that has some rust issues that will need to be addressed. The engine still runs, so you have that much going for you – but it's not entirely surprising given the car's reputation for being overbuilt when new. Given the odometer features kilometres instead of the typical miles that U.S. cars have, it seems likely this is a gray market example, which is absolutely worth restoring back to good health. Find it here on eBay with bids approaching $8,000 and the reserve unmet – and just a few hours left in the auction.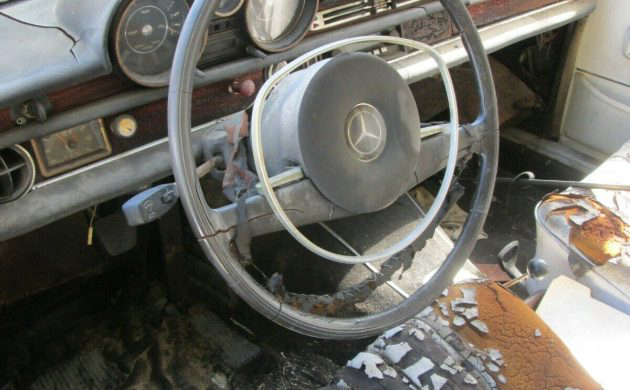 The 300SEL 6.3 is a benchmark of the Mercedes brand and its ability to produce highly reliable luxury cars that could pound interstates for years in complete comfort and quiet speed. The interiors were never what you'd call ornate, but they were well finished and extremely durable. Still, that hasn't stopped the interior of this car from falling into disarray, with a cracked dash and seats that have had their leather upholstery destroyed by longtime sun exposure. The seller doesn't provide any explanation for how it got so rough inside, but this kind of damage usually stems for being parked outdoors for years and rarely moving from what had to be a spot with zero shade.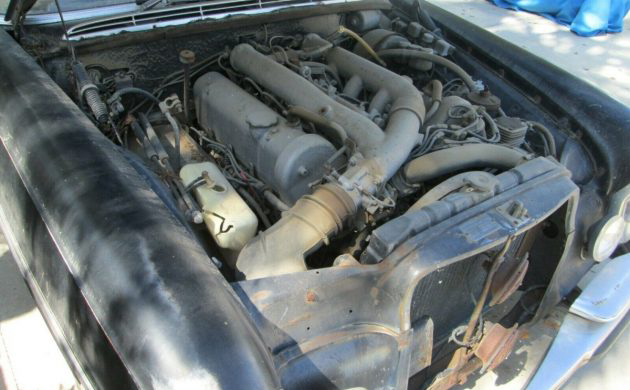 The mighty 6.3 V8 is one of the most overbuilt engines ever dropped into a production sedan, and also had a reputation for delivering impressive straight-line speed – certainly the likes of which had not previously been seen in a mass-production vehicle capable of carrying five adults in total comfort. The seller notes his friend (the owner) has had the Mercedes transported to a local German automotive specialist and gotten the car to run using an external fuel source (figure that the tank is full of nasty old fuel and needs to be professionally drained and resealed), so at least the next owner has the comfort of knowing there's a running engine under the hood. Still, the M100 is not exactly cheap to refurbish, and I'd still count on the installing the usual array of engine service parts before driving.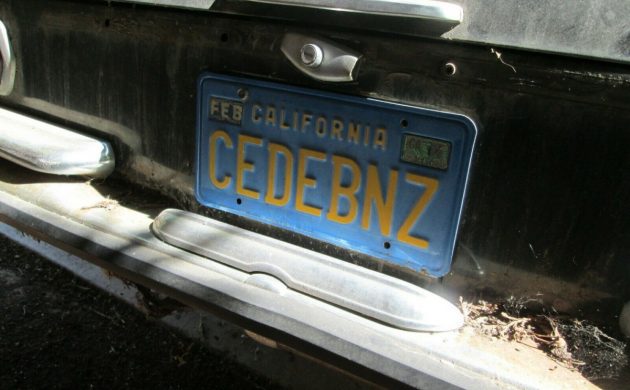 One of my favorite details about this tired Mercedes sedan is that it still wears its California blue plate, complete with vanity inscription. You have to be a codebreaker sometimes to determine what the meaning of the inscription is, but it's still a cool feature nonetheless. These are prized collector's items among Mercedes-Benz fans thanks to low production numbers and impressive performance, certainly a classic you can drive while keeping up with modern traffic. The seller notes some rust in the bottom of the doors, but doesn't disclose any other major hotspots of corrosion. An expensive restoration, yes, but one that seems completely worth it.