By 1957, the Ford Thunderbird was firmly entrenched in the American new car market. While many people today perceive the 1st Generation Thunderbird as a sports car, Ford aimed to produce a comfortable roadster. They succeeded in this aim, and 21,380 people happily handed over their hard-earned cash to park one in their driveway. This particular example is a solid vehicle that is just begging to be restored. Its single strongest attribute is the fact that it appears to be rust-free. That makes it a strong contender for anyone who is searching for a project that they can tackle in their home workshop. The T-Bird is located in Lititz, Pennsylvania, and has been listed for sale here on eBay. It has a BIN of $18,500, but there is the option available to make an offer.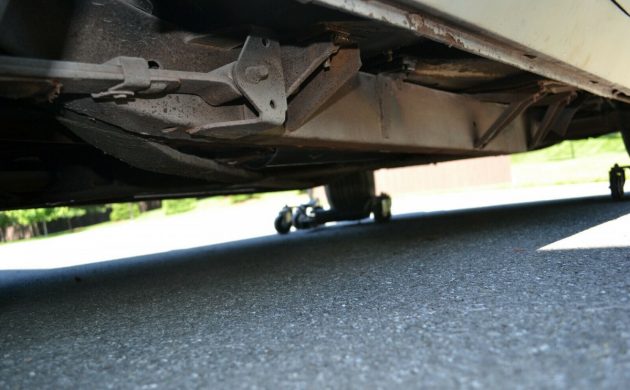 The owner supplies only a few exterior photos of the Thunderbird, but I chose to include this one of the underside. The Ford is said to have spent its life in California. That would help to explain the fact that there is little beyond a light dusting of surface corrosion to be found underneath the car. The floors and frame appear to be sound, while there are no issues visible in the trunk. Externally, there are no signs of any rust problems, and there is no evidence of any prior rust repairs. It would appear that the majority of the trim and chrome is present, although it is hard to determine its condition. There is also a factory hardtop, and both this and the tinted glass look to be in good condition. I do believe that this is a classic that might have quite a story to tell. When it rolled off the production line, it wore Gunmetal Gray paint. Since then, there is evidence visible to suggest that it has received several repaints. The color palette involved includes a shade of light blue, then dark blue, and finally, its present shade of white.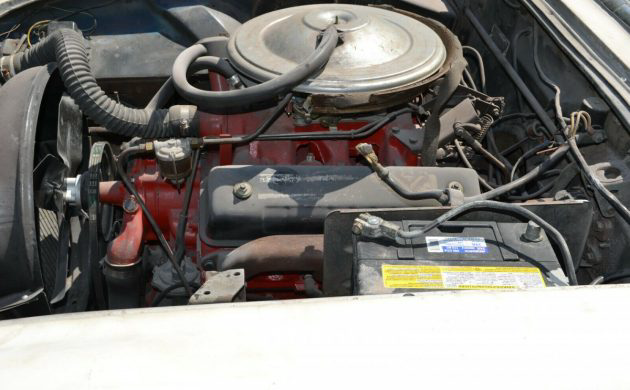 The T-Bird features a D-Code 312ci V8, backed by a 3-speed Ford-O-Matic transmission. This engine would have produced 245hp and allowed the vehicle to cover the ¼ mile in 16.4 seconds. Of course, Ford wasn't marketing the Thunderbird as a sports car, so they weren't focused on outright performance. However, this level of performance is still very respectable. It is made even more so when you consider the fact that the Chevrolet's Corvette was supposed to be a more sporting vehicle. The best that it could muster in automatic form was to match this car's ¼ mile ET…and this wasn't even the most potent version of the T-Bird available in 1957! More positive news comes in the form of this classic being in a mechanical state where it runs and drives. It isn't clear whether it is roadworthy, but this isn't a bad start. There are no interior photos, but we do know that it originally would have been upholstered in a combination of black and white. It would appear from a distance as though it is complete and that the dash might be in good condition. Beyond that, I can see that the door trims and carpet will require replacement. It is impossible to ascertain the state of the seat.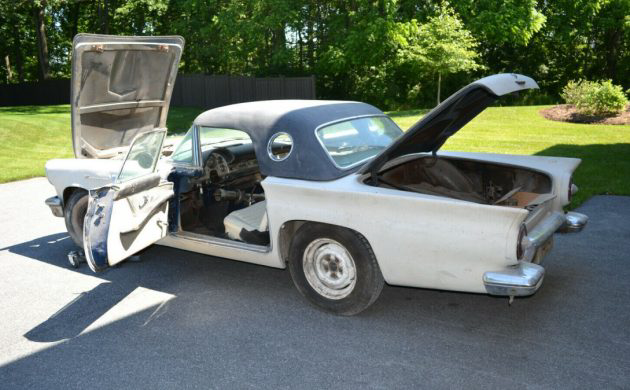 It is pretty common to find 1975 Thunderbird project cars with at least some rust that requires attention. This one doesn't have those issues and would seem to represent a fairly straightforward restoration project. That is why I feel that it could potentially be tackled in a home workshop. Clean examples can currently sell quite readily for $40,000, but $60,000 for a pristine example is not out of the question. Even if you consider that lower figure as you ballpark, that leaves a lot of room to move on restoration at the BIN price. That makes this car an exciting proposition.