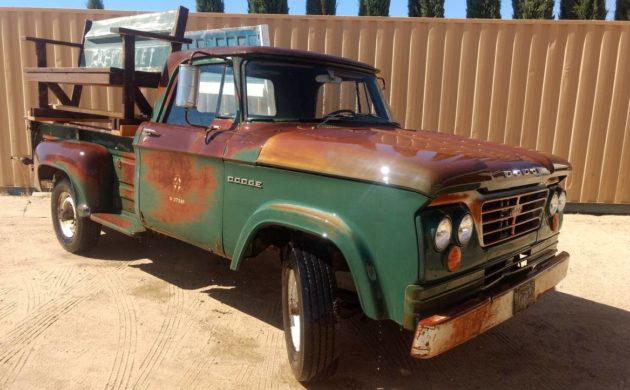 I was a railroad worker for many years and in spite of that, I never liked the hammed-up tune, "I've Been Working on the Railroad." Today's Barn Find, a 1962 Dodge D300, has been working on the railroad too, no word regarding how it feels about that old song. I guess it doesn't matter because it's now retired, residing in Lancaster, California and available here on craigslist for $3,500. Thanks to Ikey H. for this tip!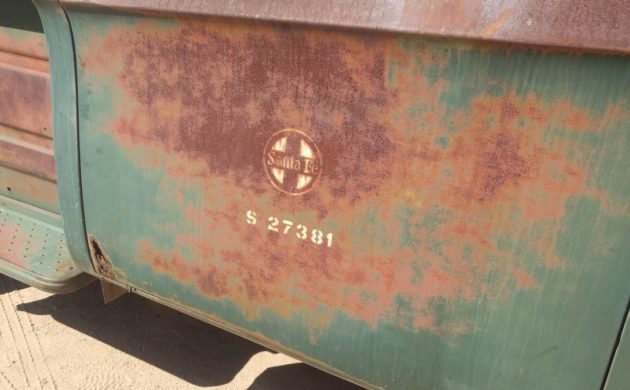 As the seller informs us and the not too legible logos on the doors indicates, this Dodge, at one time, belonged to the Santa Fe Railway, better known as the Atchinson, Topeka and Sante Fe Railway which today is known as BNSF Railway and is part of Warren Buffet's Berkshire Hathaway fund. That's the railroad lesson for today.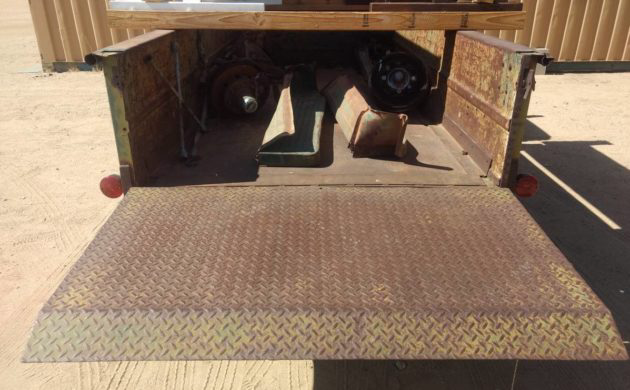 Railroad life is really hard on vehicles. They are maintained well but expected to do things frequently they were never designed to do; mishaps run aplenty. This D300, however, looks like quite the survivor. It has the "P" word going on (Patina) and it was either photographed wet or has had its "P" clear-coated. The body is in pretty good shape overall but there is some invasive rust in both doors that should be attended to at some point. The body is surprisingly straight which tells me that it hasn't crossed the tracks too many times in places where there isn't a grade crossing (which is where you are supposed to cross them). This Dodge's most useful feature is probably its nine-foot bed equipped with a liftgate. Speaking of the bed, it has a bit of a "Beverly Hillbillies" vibe going on with the two attached benches but the seller says that they are not part of the sale.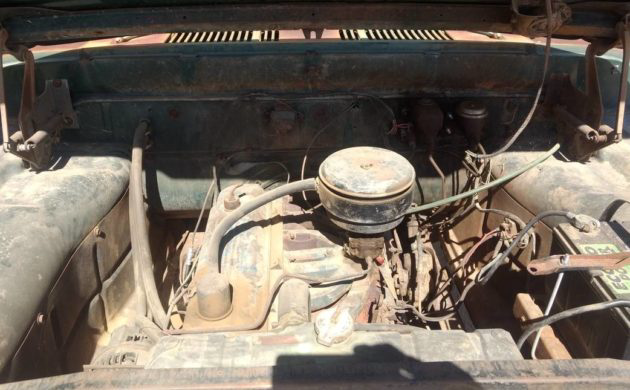 Under the sunbaked hood is an oldie but a goodie, a Mopar 225 "Slant-Six" inline motor capable of 140 gross HP. Power to the rear wheels is courtesy of a four-speed manual transmission. As the seller observes, " It's slow but lots of fun to drive". I'll take that to mean it runs OK.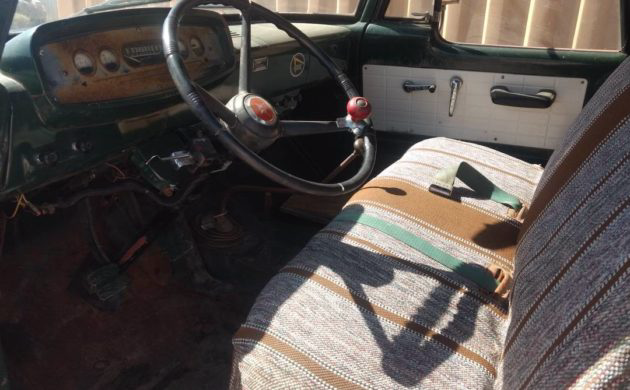 Moving inside, what you see is what you get and that's generally the case with a truck of this era. The seat has some sort of a discount auto parts store cover (can you even get those anymore?) and a period-correct steering wheel spinner, fortunately, a "G" rated one and not like those sometimes seen at car shows on deuce coupes and the like. The bare floor, which probably had a rubber mat at one time, is, well, bare but you can see that it looks intact. The door cards are surprisingly clean and there may or may not have been a headliner at one-time. I can assure you that "quiet operation" was not a planned trait for a truck like this in 1962.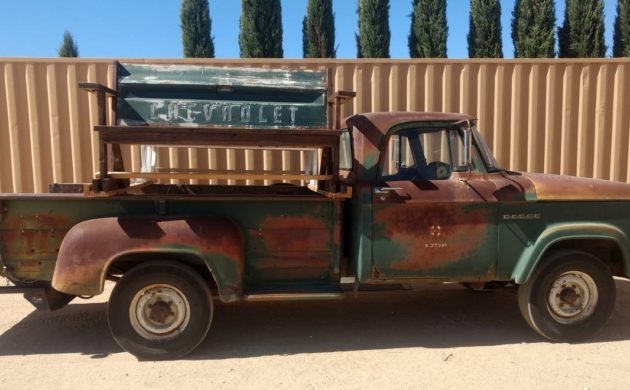 This Dodge is a bit of a conundrum, probably too big and slow for the kinds of things that most of us "retail" truckers would use a truck for and probably too light-weight and just plain old for any serious commercial activity. One thought is that it could be very useful as a prop or an ad for a business. Nevertheless, it's pretty neat and the fact that it's a more rarely seen Dodge as opposed to the ubiquitous Chevy or Ford adds to the interest level too. I like it, I'm just not sure what I would do with it. How about you, how can you see yourself using this retired railroad worker?
Have something to sell? List it here on Barn Finds!