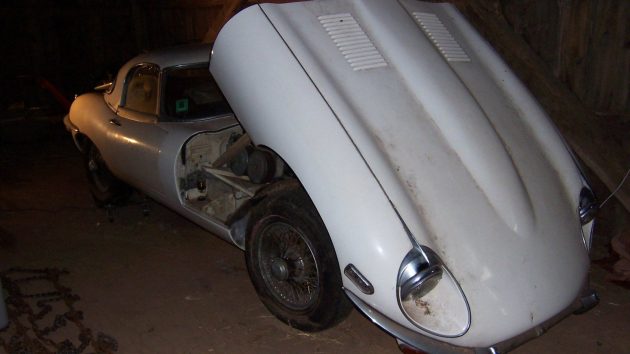 As the seller stated in the auction listing here on eBay, "I wish…the barn find authors would come see it." I wish I could go! Being an E-Type fan, especially ones with the optional hardtop, I think this would be a great find to see in person. The seller has left the 30 year stored find alone for the moment–and that means it's on the second floor (!) of a dry barn in Philadelphia, Pennsylvania. Bidding is up to $34,500 and the seller states the reserve is south of $45,000 in the ad.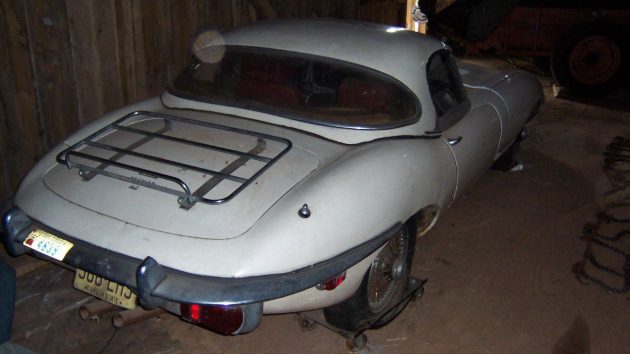 I know, everyone wishes it were a Series I car and didn't have the luggage rack. Okay, now that is out of the way, take a look at what you do have here. The car has a remarkable lack of rust and comes with a complete history. The original owner bought the car on their way back from Vietnam and owned the car until earlier this year. There are a few places that have been repainted and a bit of previous body work, but compared to the usual completely ravished kitty this looks like a terrific place to start.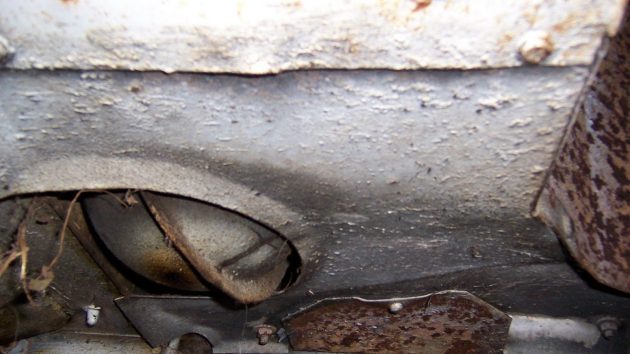 Again, not perfect, but not bad either. I've sure seen worse!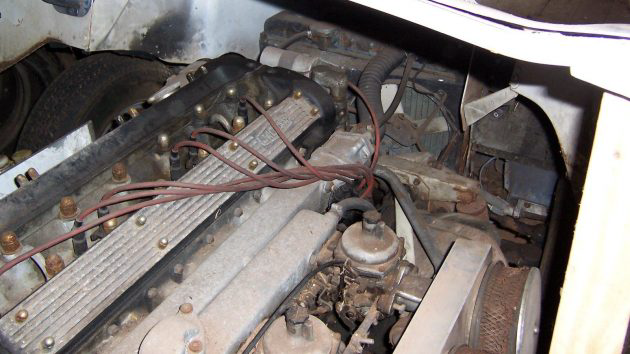 Under that beautiful bonnet sits one of my favorite engines ever, the XK inline six. There really is something special about these engines, although I have to admit I prefer the earlier polished aluminum valve covers versus these later finned versions. As I've stated before, I'm one of the very few British car enthusiasts who prefers these Stromberg carburetors over the earlier SU's, mainly due to the replaceable throttle shaft bushings. I'm sure some of you will argue with me, and that's fine.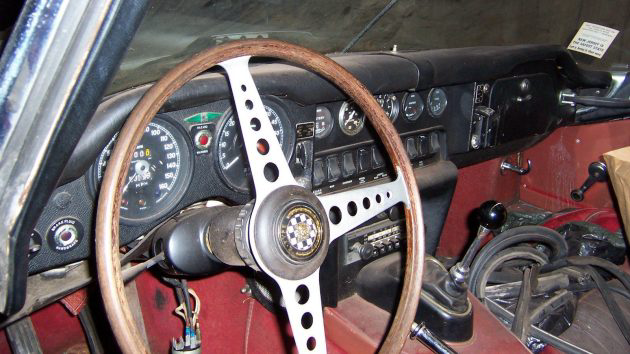 Although the electrical component (ignition switch?) hanging down from the dash doesn't give me warm fuzzies, the fact that it's a manual transmission car, has a nice dash and even a good condition steering wheel fills me with hope that this car could be put back on the road with far less work than most E-Types seen on this site. Sure, you'll be paying Jaguar prices for those hydraulic components, but you should be excited at the thought of putting one of these big cats on the road for under $55,000. I just wish I could go see it in person! Perhaps one of you will go and report back to us?