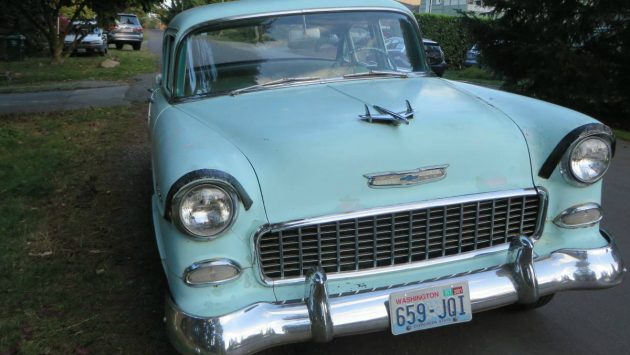 This cool 1955 Chevy sedan (and go on to the next post already, you four-door haters) has been with it's current owner for 29 years. I would call it in decent 10-year old used car condition–not an immaculate survivor, but certainly respectable and a car that could be improved over time with a little TLC. Frequent finder Rocco B. was kind enough to send this one in to us, and it's the kind of find I like to see. The owner, who lives in Wedgewood, Washington has listed it here on craigslist and is asking a reasonable $5,000 for the Sea Mist sedan.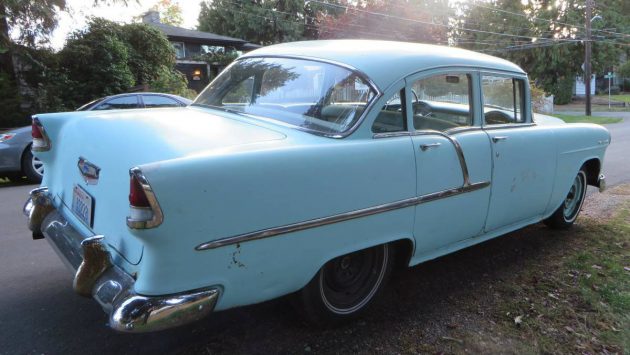 The seller says they have driven it for all 29 years and that it's been kept under cover when it wasn't motoring the Pacific Northwest roads. The seller tells us that the basic body is straight, but that there is a "soft dent" in the trunk lid and "some surface rust around the fender eyebrows and on the sides along the rocker panels." It looks like they have covered the fender eyebrows with tape; I'm not sure about the logic behind doing that.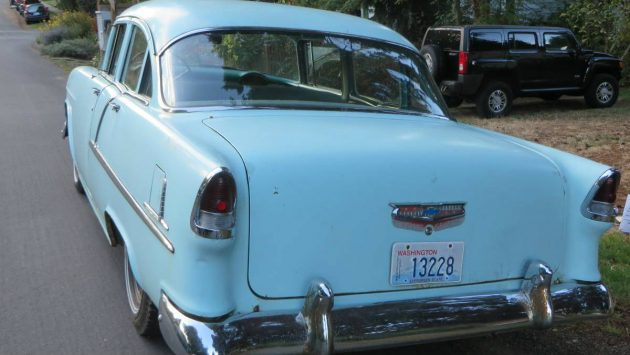 The fact that it has the brightwork on the rear doors and fenders means this is a "210" model; not the upscale Bel Air or the base "150". There were 340,222 1955 210 four-door sedans produced, or a little over 19% of 1955 Chevrolet production. In case you're wondering, that's the second most popular configuration, with the Bel Air four-door being the most popular. The seller wants you to know that despite them not being shown in the pictures, the four original hubcaps are included.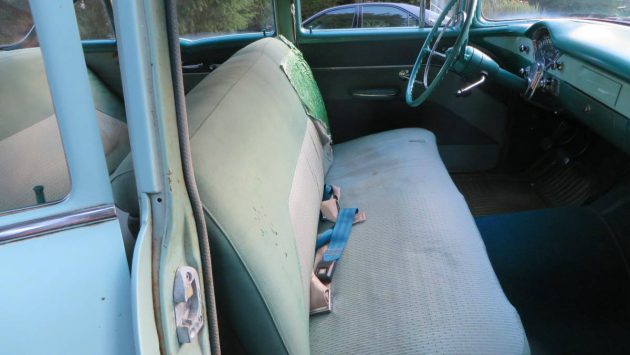 The seller tells us that there is new carpeting throughout, and that the one seam separation in the driver's seat has been held together with cloth tape (for later stitching, perhaps). The interior floor and trunk are said to be solid, and the picture of the trunk floor bears that out.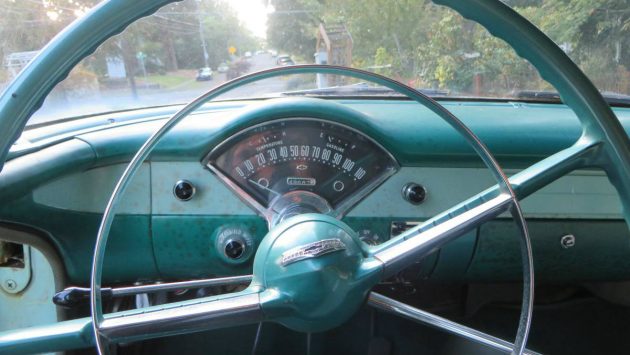 One odd thing is the discoloration blotches throughout the painted dashboard. Could it have been mildew covered at some point? And this ad also comes with a pet peeve of mine; no under hood pictures. We're told that the car has covered 49,000 original miles, which is plausible given the minimal interior wear, especially if it's original exterior paint. Although it's just the inline six cylinder and a three speed manual drive train, I'm really intrigued by this car and I wish it were closer; I'd check this one out in person. It would be a nice car to drive the family around in! The seller has even replaced the wheel cylinders and parking brake cable; it really does seem like this would be a great driver classic. So even without the iconic 265 V8, would you consider this relatively inexpensive Chevrolet for your classic car collection? I sure would!