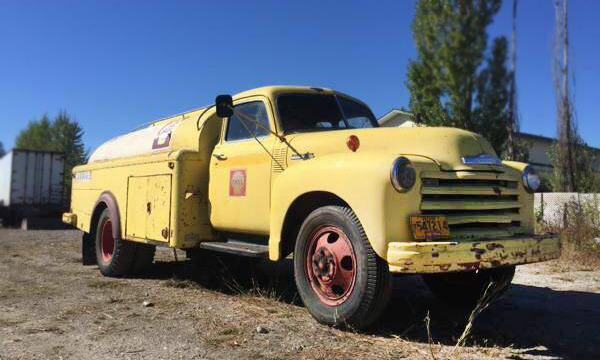 I've been known to collect (hoard?) things: matchbook covers, post cards, guitars, cars, and probably other things that I can't think of now. If I were to ever start hoarding 1,100 gallons of gasoline at a time, this 1948 Chevrolet Loadmaster Tanker would do the trick perfectly. This super cool project is listed on more than one site, as is often the case these days. It's on Craigslist in Sandpoint, Idaho with a $1,900 asking price and it's also listed on ClassicCarsMarks.com with more photos. Let's gas it up, chickie, and check out this cool fuel tanker.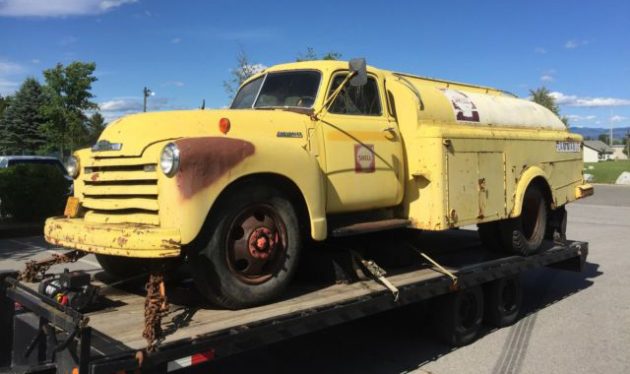 One of the sales sites shows it on a trailer and the other one shows it on the ground, so whether they're from the same owner or it was a post-flipper-photo session, I'm not sure. In either case, it looks like it's in pretty good shape for being probably twice as old as the average Barn Finds reader is. I have more rust on me than this thing does, but it does have rust. Most of it looks very fixable and who wouldn't love to have this in their collection all freshly painted in that bright Shell Oil yellow and in perfect condition? I know I would, for what reason I have no clue, but it would be great at car shows. Well, maybe I'd have one reason.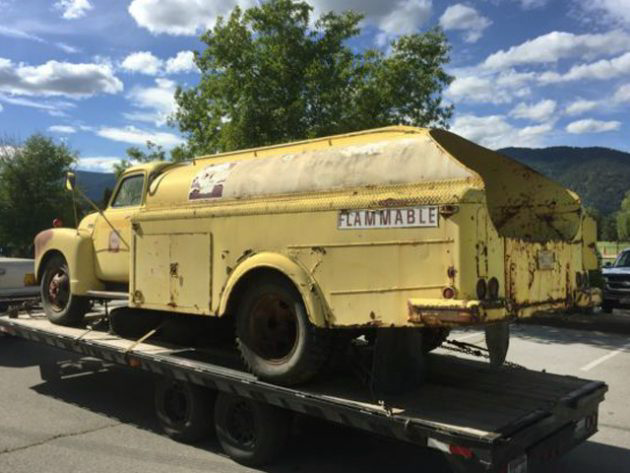 I need something like this to tow behind my '66 Lincoln, it would get me across the country a couple of times without having to stop for gas every 200 miles. This tanker holds 1,100 gallons but I'm not sure if it'll be hauling anything flammable in the future, unless the next owner hauls Tabasco with it. I could be wrong, but I'm guessing that the amount of money that it would take to get this one back to meeting modern fuel-tanker regulations may be cost-prohibitive. Do any of you know what the regulations would be for using a classic/vintage fuel tanker to actually haul hundreds of gallons of highly-flammable fuel on public streets?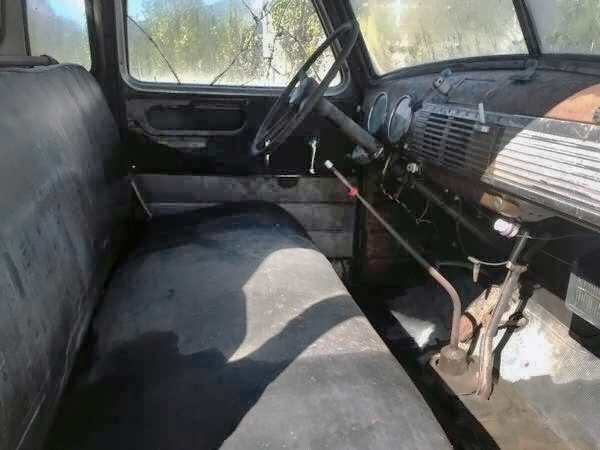 Supposedly, in 1948 the Chevrolet Advance Design trucks went to a column-mounted manual shifter, but this one clearly shows a floor shifter. The interior looks serviceable, but like the body, the interior will probably need to have everything restored. This rig has its "original meters, pumps and two hose reels", according to the seller. The "steps and floors are solid", which is nice. Just drive it to your local Maaco and in just two weeks and $1,200 later, collect first prize from your local cars and coffee event! Ok, it'll take more than $1,200 to restore this truck, of course, but hey, a guy can dream.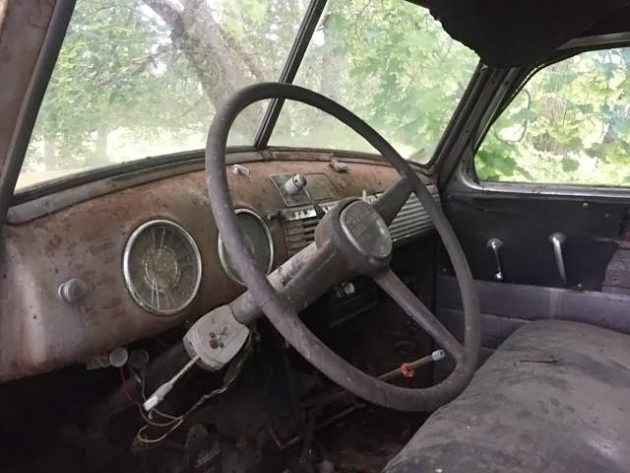 There are no engine photos but the seller says that it's "all original and complete except for the radiator (someone probably scrapped it for $3)" And, the "engine and other mechanical conditions are unknown. Though the brakes seem to pump up." They say that it's 23-feet long which coincidentally is the same length as the 1948 Chevrolet Loadmaster School Bus Chassis. Would you rather haul 1,100 gallons of liquid dynamite a foot behind your head, or 72 screaming kids in a school bus? I thought so, me, too. Do you know anyone who has an old fuel tanker like this? What would you do with this one?