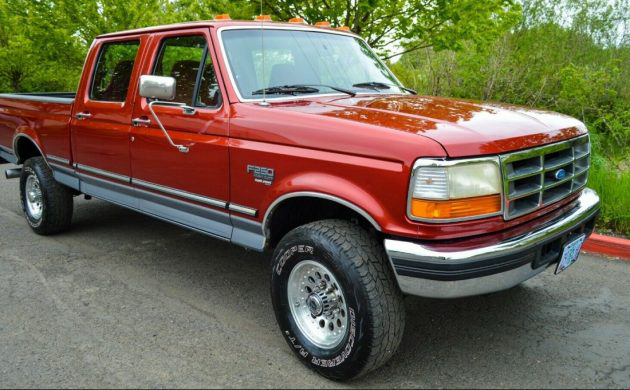 This 1997 Ford F-250 may have over 170,000 miles, but that's not all that significant on a truck of this vintage powered by the 7.3L Powerstroke diesel mill. The cosmetic condition is impressive for a truck of this era and with that kind of mileage. It's clearly been loved, with sharp paint, no major body dings, and an interior to match. The seller notes that the four-door pickup is fully loaded with the factory towing and XLT packages, and that the interior features all of the standard power and convenience features. Overall, a great towing rig that is far cheaper than anything new with the same type of options on a Ford dealer lot. Find it here on eBay with an asking price of $17,999 and the option to submit a best offer.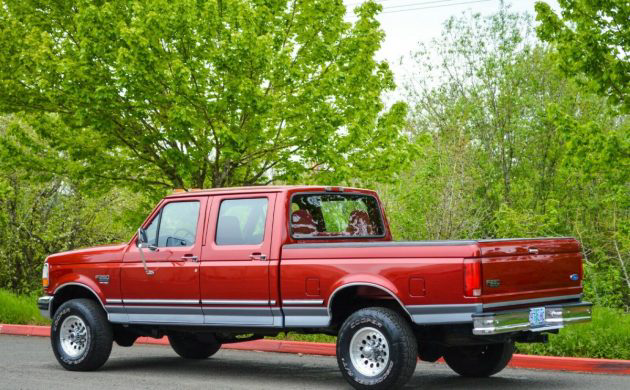 While the short bed isn't the most practical feature, it speaks to the aesthetics most pickup shoppers are looking for. When you combine the quad cab with the long bed, the truck can almost look too long, whereas with the short box and four doors, it looks just right. The two-tone factory paint remains in nice shape, and the aluminum wheels still present nicely. The bed features a full bedliner, and despite being the perfect tow rig, the body doesn't show any damage related to hard use or being banged up at a marina. The chrome bumpers look sharp, too, and glass is clean and clear.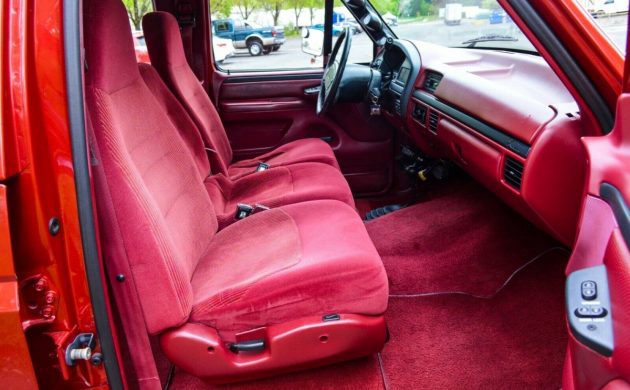 The interior is from a time of transition in automotive styling, and the F-250 clearly harkens back to the earlier times when red plastic and cloth upholstery dominated automotive cabins. A short time later, we'd see the contrasting tones that continue today, but this Ford's cabin looks like it could have come from a truck made in 1986 as much as one sold new in '97.  Door jambs look super clean, with nicely matched paint inside. The dash shows no cracks, and the carpets and OEM floormats appear to be in great shape. The interior features cold air conditioning along with AM/FM stereo and a CD player.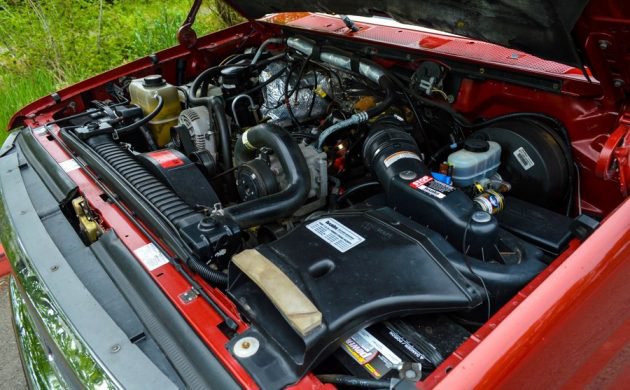 The 7.3L Powerstroke turbo diesel V8 is a somewhat legendary engine these days, known for its impressive torque, everyday livability, and tremendous towing capability. Trucks in far worse condition are snatched up if they have this powerplant under the hood, so finding one with impressive cosmetics and low mileage by this engine's standards is a very good find. Obviously, with their reputation for doing hard work, they can be ridden hard and put away wet, so I'm not surprised to see the seller's asking price for an example that has clearly been loved. The engine bay presents incredibly well, and the Powerstroke-equipped F-Series trucks continue to emerge as a modern-era collectible when found in survivor-grade condition like this.