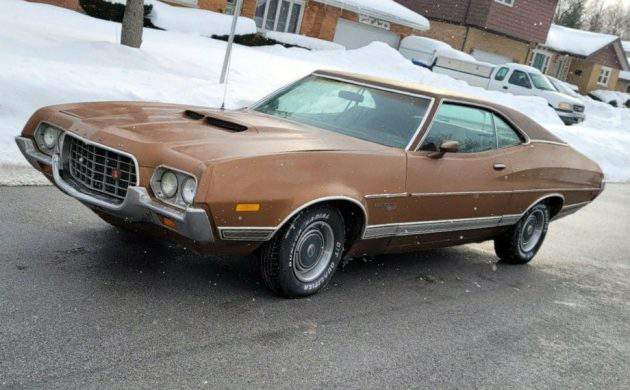 Everything comes into its own eventually. I had to admit surprise when the Clint Eastwood smash hit film, Gran Torino, actually featured a '72 Gran Torino in a supporting role. I guess that makes sense right, otherwise, what's the purpose of the title? The movie was about a lot more than an old Ford but a '72 Torino seemed like an unusual car choice considering how rarely they are found any longer – they're just not that collectible. Anyway, let's see what the script is here. This Gran Torino Sport is located in Bridgeview, Illinois and is available, here on eBay for a current bid of  $7,600 with 41 bids tendered so far.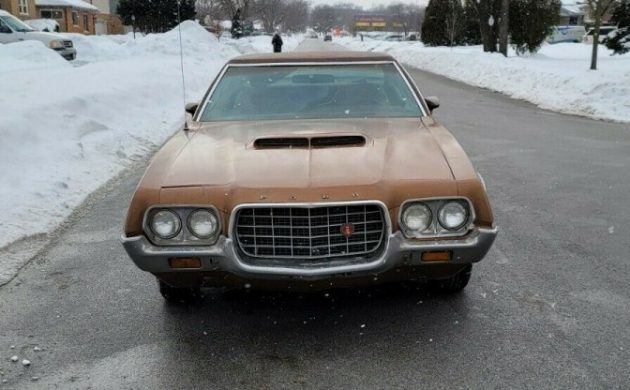 As a subjective matter of taste, I gave the '69 & '69 Torino two-thumbs up, thought the '70 & '71 got good marks for its progressive aero flair; the '72? Not so much so.  It is really a substantially different design than its predecessors, most noted by its body on frame architecture. But I'm not really focused on that, I thought the big, oval grille looked too much like a front-loading washing machine – I think it was just a comparative thing. And of course, as with every other manufacturer, power was on the way out in '72 so that didn't help either. So, how did the '72 fare when compared to the '71? The '72 production volume for Torinos, of all stripes, was about 496K units vs. 588K assembled in the previous year; down but still a very respectable number.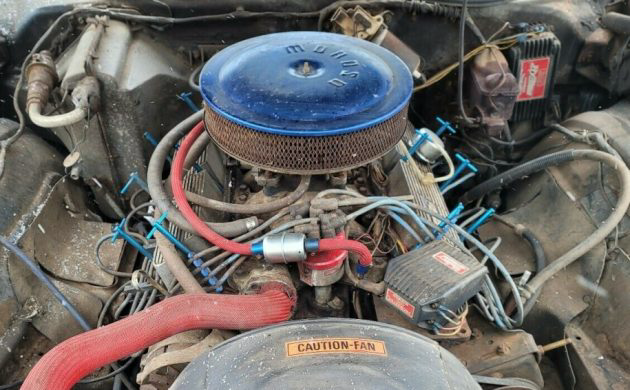 The seller advertises this Torino as being powered by a 5.7-liter engine but the VIN indicates that it is, or originally was a 140 net HP, 5.0 liter (302 CI) V8 engine. It appears to have been modified with a four-barrel carburetor on an adaptor/spacer, aftermarket distributor and ignition box, an open-element air cleaner, aluminum valve covers, and a dual exhaust system. The seller claims that this car, "Runs and drives good". Gear changing is handled via a three-speed automatic transmission. Of note, some of the A/C componentry is missing.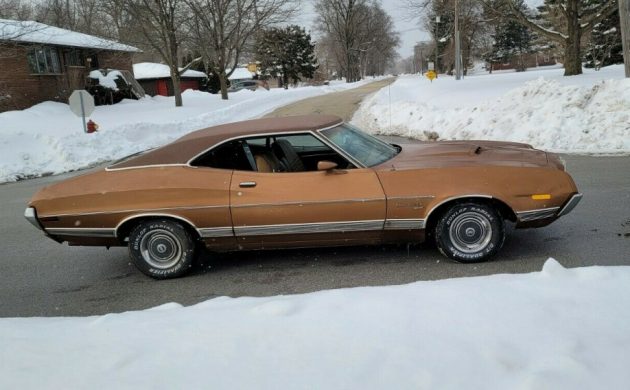 The seller suggests that since "this particular vehicle is finished in brown exterior over brown interior which is a very classy combination".  Well, it's certainly period correct, it looks like 1972 and I'll leave it at that. He further states that the paint is experiencing some fade (trunk lid) as it is the original finish, but all in all, it doesn't look bad. He further adds, "Car is very solid, frame looks good, trunk looks good rockers look good". There is an image of the underside included and it bears out his claim. The images were all shot at a distance so it's hard to focus in on the bodywork, but what's visible looks OK. One thing observed is that the rear roll-pan looks to have encountered a little action with something else. Obviously, based on the pictures and the surroundings, one may have concerns with this Torino being domiciled in Illinois, a notorious rust-o-rama state, but this car may not have spent much, or all, of its life at this locale. Notably, the original vinyl top has been removed and the roof has been painted with brown-hued primer to go with the rest of the exterior. The seller claims that the roof is solid and has not suffered the kind of fate that worn vinyl tops frequently inflict.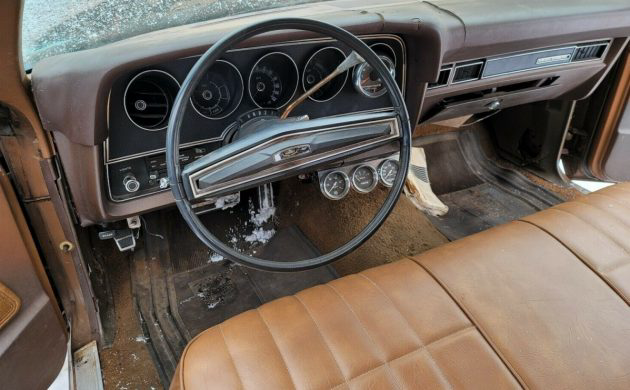 Inside is about as one would expect. This 126K mile Ford has had its front seat recovered and it's looking sharp! The dash pad has suffered some typical cracks but the instrument panel is certainly presentable. Auxillary gauges and an aftermarket tachometer have been installed but they fit in and are not ouvert. The carpet, what can be seen of it, looks a bit dirty but not heavily worn. Even though the front seat has been recovered, my recollection of Ford's interiors from this era is that they were covered with pretty tough materials that hold up well with accumulated miles and age.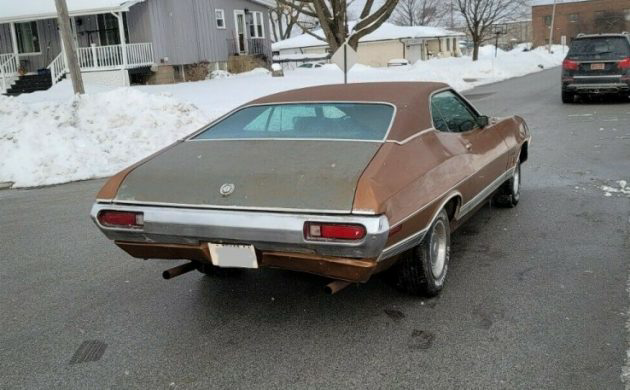 This is a nice find if for no other reason than the fact that a Gran Torino Sport from this era is not found that often anymore. And if you're a real Ford fan, you can probably appreciate this car that much more so. Well, Clint's car doesn't have anything to fear from this example but isn't that usually the case with movie stars vs. the rest of us?