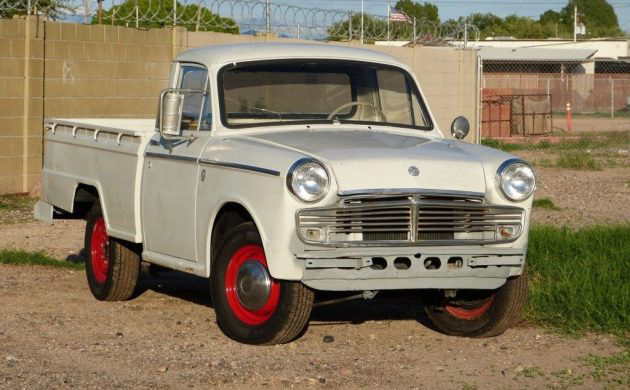 It's hard to believe that there were small, basic pickups like this at one time. I think that it's time for a small pickup to be made again and I don't mean a $35,000 small pickup, I mean a cheap, small pickup like this 1965 Datsun L320. Or, maybe not just like this, but one similar in size and features. This little hauler can be found here on eBay in Mesa, Arizona. There is an unmet $2,500 opening bid and a $10,000 buy it now price on this example. Thanks to Ikey H. for submitting this tip!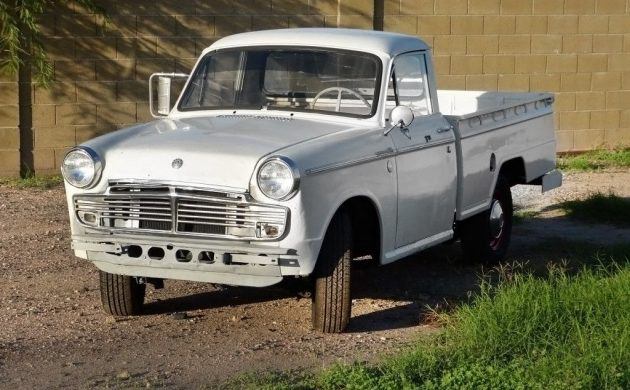 I really like small pickups like this. It doesn't have to be a Japanese truck, give me a first-generation Ford Ranger, that's a good size, too. After that, things got so bloated and rounded and puffy, I guess like most of us do in our old age. Now, I see a "small" pickup in a parking lot and it's about the size of what a full-size pickup used to be. I looked up the price of a Toyota Tacoma recently and was surprised that it was almost $40,000. Hopefully someone, anyone, will offer a small, inexpensive, basic pickup again someday.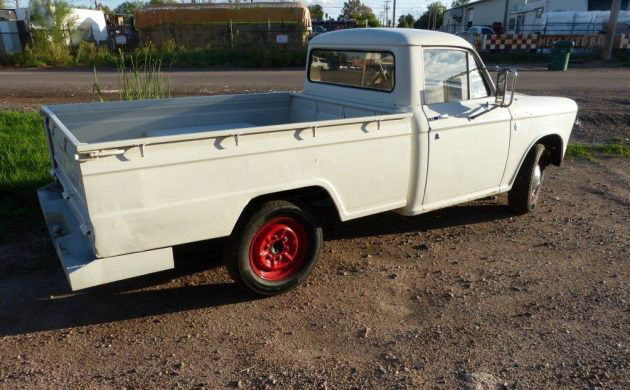 This is the last year for Datsun's L320 truck and they were a bit ancient compared to the 520 that came out in mid-1965. I prefer the look of the L520 but that's just me, this box "design", such that it is, always threw me off a bit. Unless, of course, it's the NL320 with integrated bed, that would be the ultimate, one of the best looking small trucks of all time, in my opinion. This example "is in the beginning stages of a restoration project. The frame and chassis has been pressure washed and lightly painted So its like a cleaned up version of a barn find", according to the seller.
The seller says that this Datsun has "been sitting for 20 years or so" and "all the usual stuff needs to be checked like brakes, master cylinders, hoses, wiring, gaskets, etc." The interior is a work in progress even though the body appears to be in good condition. The bed seems like it's in good condition but without seeing it in person it's anyone's guess. It appears to have been painted and really painted, as in painted over gaskets and wires and things like that. This one doesn't appear to have the optional 4-speed floor shifter which would have been nice, that was new for the 1965 model year.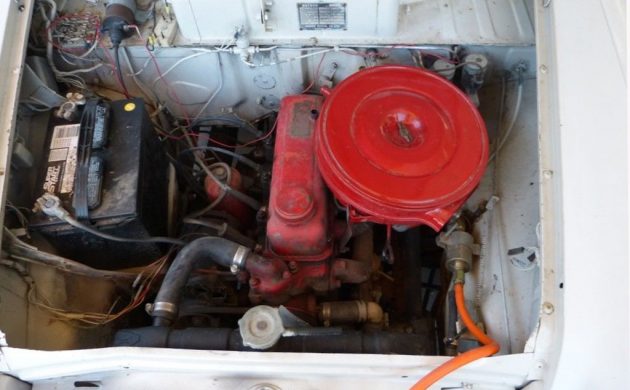 And, more white paint over things in the engine compartment, too. That's really unfortunate that someone has tried to pretty-up this truck, hopefully not cover up but spray it to make it look good. It's always nice to see a vehicle in original condition to be able to tell what you're in for. When they've been painted with a spray can or uncareful masking, it's hard to tell. The engine is Nissan's E-1, 1.2L inline-four with around 60 hp. It "starts and runs" according to the seller. This could be a great starting point for a nice restoration, it looks pretty solid under that fresh paint. Do any of you miss small, inexpensive pickups?
Have something to sell? List it here on Barn Finds!