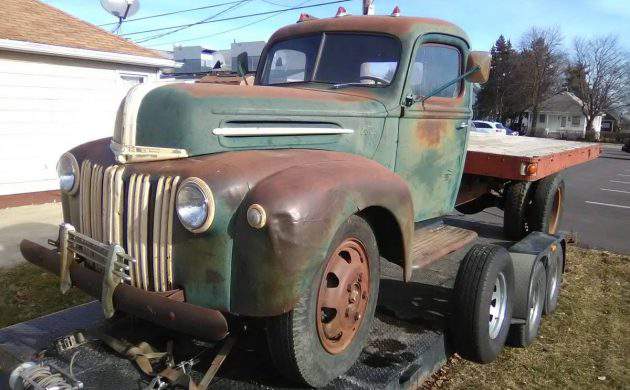 2019 may well end up being the year of antique and classic vehicle bargains.  2018 saw falling process in a number of areas to the point that some fear the future of the hobby is grim.  Despite all of this gloom, optimists are seeing buying opportunities at bargain basement prices.  Take for example this 1947 Ford flatbed offered for sale on craigslist just outside of Chicago, Illinois.  While the overall solid condition of this dual rear wheel hauler is noteworthy, the cost of entry is a big eye opener on this one.  Can you believe the asking price for this green giant, found for us by Ikey H., is only $2,900?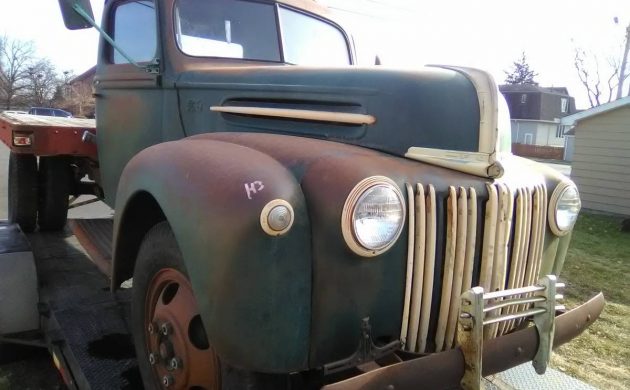 Yes, I am well aware that this is a pretty big Ford.  However, this truck seems to be in great condition for the price.  The seller tells us that it was a farm truck, and that the old hauler performed its duties in Holcombe, Kansas.  The best part of the story that it was always stored indoors in presumably the barn it was found in.  Sadly, they forgot how valuable legitimate barn dust is, and must have either washed it or left it out in the rain.  The good news is that the truck looks perfect as it sits.  It would be a shame to restore it.
No matter what you do, you will likely get there slowly relative to a modern vehicle.  This truck, which I believe to be a 1 1/2 ton after looking over some pictures in the book Ford Trucks Since 1905 by James Wagner, does have a two speed rear end though.  55 MPH is likely doable, even with a load.  Or, you could re-gear it to get the revs down and install some speed parts to help with the needed oomph.  Stopping the beast might help build up your leg muscles.  There are ways to update the brakes on older vehicles, but the folks who used these when knew didn't know they were missing anything then.  Somehow they made it and I am sure you can too.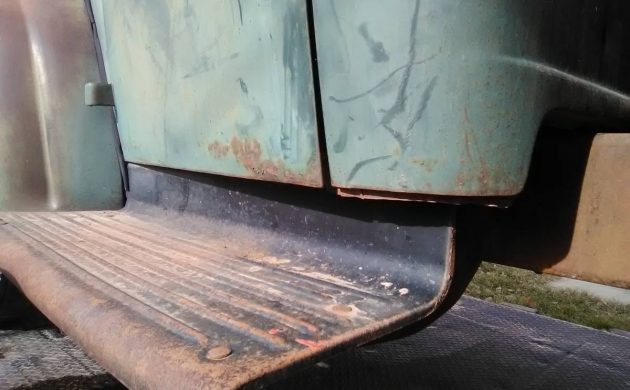 The cab corner you see above is good proof of the stored indoors claim.  Cab corners are the Achille's heel of old trucks, and even a lot of new trucks.  While patch panels are often inexpensive, it takes a bit of talent to put them in seamlessly.  At any rate, there are no signs of heavy rust in any of the pictures.  There is a fair amount of surface rust, a few dings here and there, and a slight rip in one of the fenders.  To offset that damage, the truck does come with a power take off hoist and a cool set of cab lights.  Big trucks just look better with cab lights.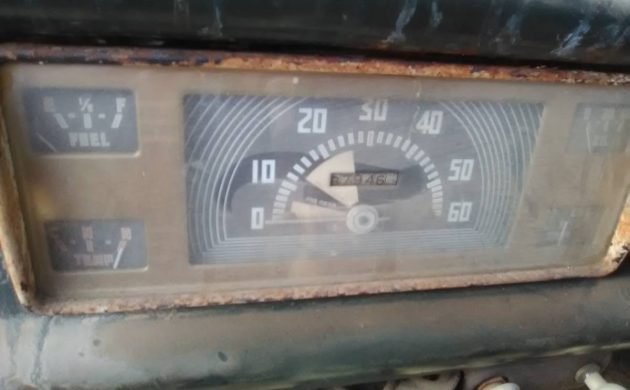 So, even if it it a bargain, what do you do with an old truck of this size?  While I would hate to destroy its historical value, there are a lot of options for getting it down to a manageable size. I have seen trucks like this bobbed and put on smaller wheels and tires. Even if you left it as is wheelbase and axle wise, there is always the option of creating your own period correct camper on the back. A lot of swap meets allow vendors to camp on the grounds. Why not bring a few parts to put out and enjoy a long weekend of hanging out at a swap meet?  At this price, you can afford to have a little fun and make it into something cool!