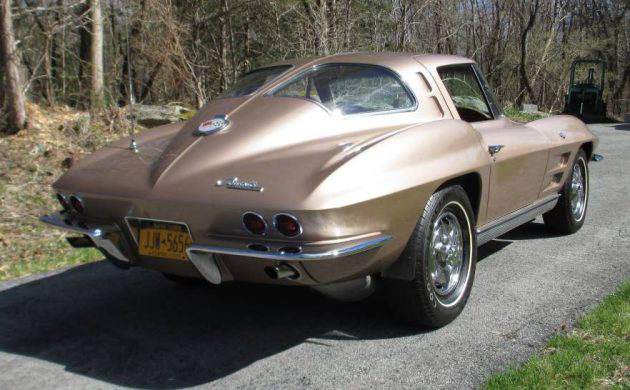 Of the 21K Corvettes produced in 1963, just about half, or 10,500 were the famed "split-window" coupe with the remainder being convertibles. That said, sometimes it seems like of those 10,500 built, only 15K or so are still in existence. We see them all the time, not only here on Barn Finds, but on many other sites too as well as at most of the high dollar televised auctions. For a one-year-only design, it is extremely well represented! Well, here's another and this one is an attention-getter, it's in magnificent shape and finished in a hue not commonly found. This Corvette is located in Newburgh, New York and is available, here on craigslist for $99,000. Thanks to Anthony M for this beautiful discovery!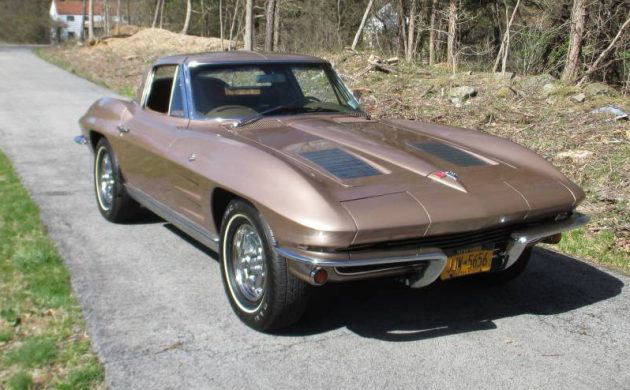 While similar to a '63 Corvette coupe that my colleague, Adam Clarke, reviewed in February, this is not the same car. The similarity is the Saddle Tan finish, a color often overshadowed by the more commonly found Tuxedo Black, Ermine White, Riverside Red, Silver Blue, Daytona Blue, and Sebring Silver. And news to me, there were only these seven colors available in '63. Having been restored and repainted in 1997, this Corvette still presents beautifully. The frame-on restoration included a re-chroming of the hood grills, bumpers, and emblems. The spinner wheel covers are original, standard equipment but the tires appear to be radials – a good upgrade. Though a life-long New York car, an environment known for causing rust, the seller claims that the frame is "great"!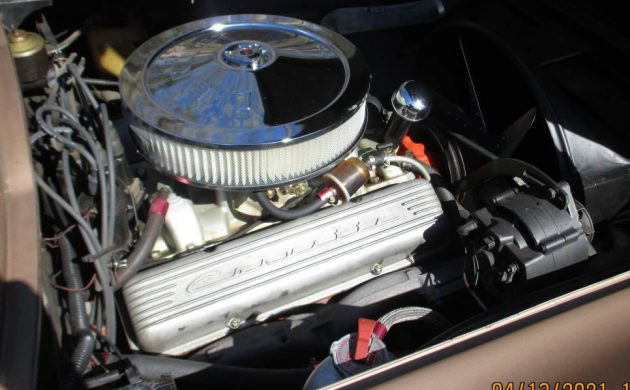 Under the hood is the standard 250 HP, 327 CI V8 engine. Offered between 1962 and 1965, this engine is equipped with a four-barrel Rochester carburetor, not a two as is sometimes claimed. A two-barrel carburetor 327 engine wasn't introduced until '67 and the 210 gross HP motor was only used in the Camaro. Equipped with a new exhaust system, the seller states, "327-250hp motor that was completely rebuilt in 96 or 97 with all stock original internals".  That said, the engine's externals do not appear to be stock original as the cast valve covers and aluminum intake manifold would not be correct for a 250 HP engine and the open-element air cleaner is from a later year. It all looks fine, just not correct for how this car is advertised. Gear changes are courtesy of an M20, four-speed manual transmission. M20 is the designation given to a wide-ratio gearbox though it could be either a Borg-Warner T-10 or a Muncie as the Muncie unit was introduced mid-model year '63. The seller does not elaborate as to how this Corvette operates, he states that he only drives it to auto shows.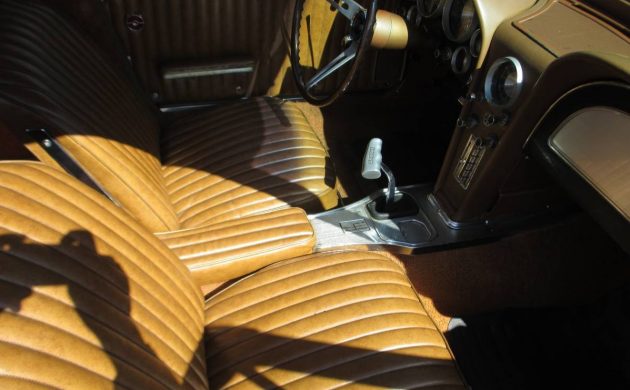 The interior is referenced as a nice "roll and pelted" environment. My thought is that he meant "roll and pleated". Whatever the case, the saddle upholstery presents beautifully – actually the entire interior presents beautifully. The dash, instrument panel, carpet, and headliner are all perfect. The only change from originality spied is the tee-handle on the gear shift.
Considering this Corvette's condition, the price is not surprising, many examples that are listed for sale are destined to be auctioned so we won't know the actual price until after the fact. It's thought-provoking to think what would have happened if Zora Arkus-Duntov had won his argument with Chief Stylist Bill Mitchell and the split-window design had never seen the light of day. I for one, am glad that Mitchell prevailed, how about you?