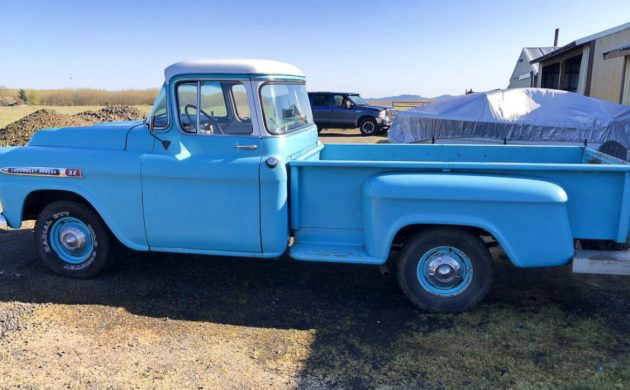 The Apache was Chevy's light-duty pickup truck as part of the Task Force series between 1955-59. They were the successor to the Advance Design collection which went into production after World War II. This edition from 1959 is an Apache 32, which means that it's a ½ ton truck with a long bed (8 feet) and a "step-side" set-up. The original owner kept the truck in storage for 30 years and more recently it has been put back into running condition. Located in Junction City, Oregon, it's available here on Barn Finds Classifieds for $20,000 OBO.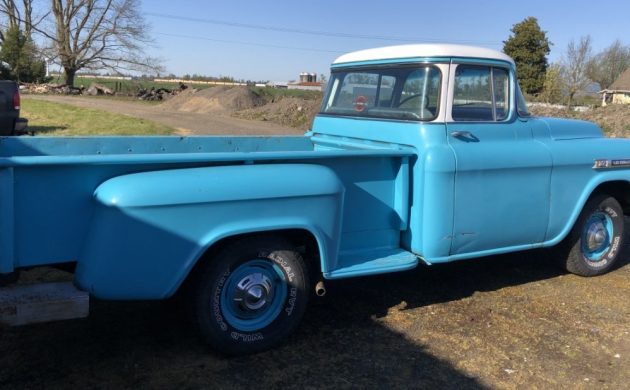 Apaches had a wrap-around windshield, which was a truck industry first. A wrap-around rear window was optional on the Deluxe cab, which appears to include the seller's pickup. The trucks now had a 12-volt electrical system. The most visual difference between the 1955-57 models and the ones for 1958-59 was that the latter trucks wore quad headlights, something new to the U.S. auto/truck market. Chevy pickups had both six and eight-cylinder power available to them, but we're not told what's under the hood of the seller's truck.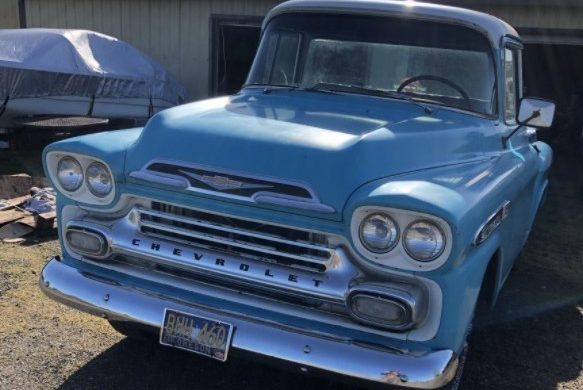 As the story goes, the original owner of this truck stored it inside for the past 30 years and it was not in running condition for the last 10. But after adding a new battery and redoing the brakes, the pickup is said to "purr like a kitten" now. The two-tone blue and white paint appears to be wanting for nothing, according to the seller, which equates to turn-key to me. It's possible the Apache could be wearing its original finish that the seller says has some minimal rust, but we don't see it unless it maybe has to do with the bed.  The rear bumper looks huge and is one that you could stand on and lean over the tailgate.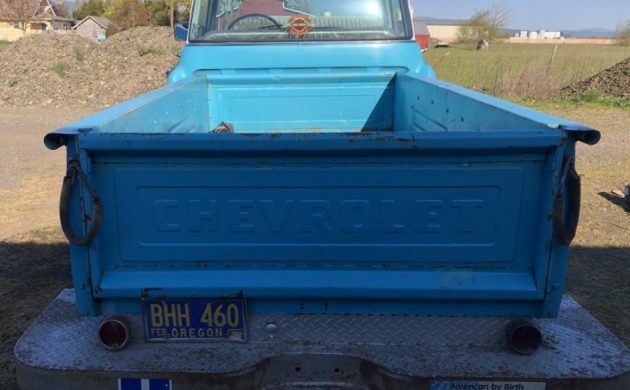 BTW, the other numerical designations for the Task Force Apaches were 31 for a short-bed ½ ton, 36 for a ¾ ton and 38 for a 1-ton. Task Force trucks were made in smaller numbers compared to the previous generation of Advance Design trucks, so fewer are likely available today. That may have some bearing on resale value as Hagerty says premium examples can be worth as much as $50,000. More realistically, though, is one in Good condition for under $20,000. That seems more in line with the seller's expectations.