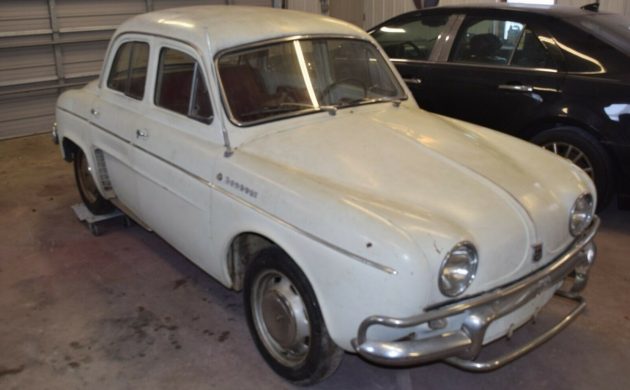 When it comes to automotive design, the French have always marched to the beat of a different drummer. This is not a bad thing, because it has allowed them to produce a number of unique and groundbreaking small economy cars. The Citroen 2CV is one great example, while the Renault Dauphine is another. This 1963 Dauphine has been squirreled away in a shed for more than 30-years, but the time has come for it to find its way to a new home. It is located in New Albin, Iowa, and is listed for sale here on eBay. It has been set to open at $800 in a No Reserve listing, but there have been no bids up to this point. I really have to say thank you to Barn Finder Ikey H for spotting this great little car for us.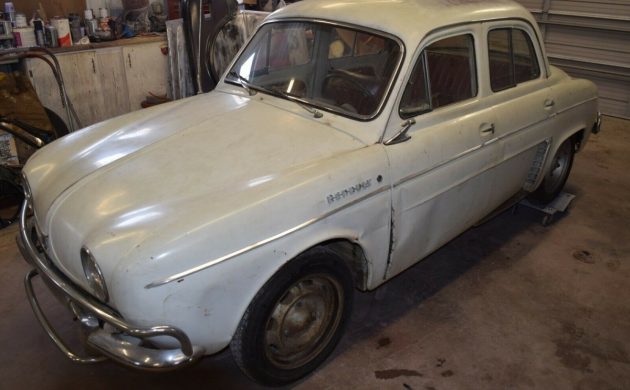 The Dauphine remained in production from 1956 until 1967. During those years, a total of 2,150,000 cars rolled off the production line. This particular 1963 model has been parked for more than 30-years, and on the surface, it looks like a promising project. The white paint, officially called "Blanc Kilimandjaro," is showing its age, and the panels also wear a number of dings and dents. What the car does seem to be short of are major rust issues. This is a relief because that is something that these little cars could be very prone to in their early days. There is a small spot in the front floor, along with a small spot in the trunk pan, but the rest of it appears to be quite solid. Speaking of the trunk, for a car as small as the Dauphine, the trunk is actually quite cavernous. As with the Beetle, it is located in the front of the vehicle. The spare tire slots into its own housing accessed through the center of the front bumper. That means that the only things occupying this area are the tools and the battery. The dings and dents on the body aren't too bad, and all would seem to be repairable. As an added bonus, the owner is including a decent stash of parts, and amongst those are quite a few replacement body panels which might help out in this area. All of the trim and chrome appears to be present, and it would be interesting to see how well it would respond to a polish, while all of the glass appears to be in good condition.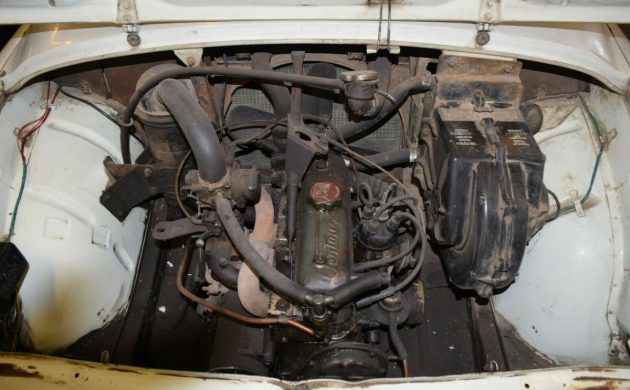 If you are searching for brute acceleration, then the Dauphine is most definitely the wrong place to commence that search. The rear-mounted, water-cooled 4-cylinder engine has a capacity of 845cc and produces a mere 34hp. Those horses find their way to the rear wheels via a 3-speed manual transmission. Acceleration is all that you would expect from such a car, with the leisurely stroll from 0-60mph taking 35 seconds. In fact, the Dauphine will not have achieved 60mph by the time it reaches the end of the ¼ mile! The owner says that the engine will require attention, and I would think that after 30-years, that won't be the only part. With that in mind, it might be well worth the effort to see if an engine and transmission from a Dauphine Gordini can be located. These both slot straight in and do offer some advantages. While the engine might be the same size, it does produce an additional 6hp. That isn't much, I know, but in comparative terms, it does make a difference. The transmission is what will offer a major performance boost to the car. Instead of three gears, it comes with four. The difference it makes is like the difference between night and day. A Gordini will romp from 0-60mph in a mere 21.7 seconds, which is a massive improvement over a standard Dauphine. It also adds a full 10mph to the vehicle's top speed and does make it a happier and more relaxed car to drive on the open road.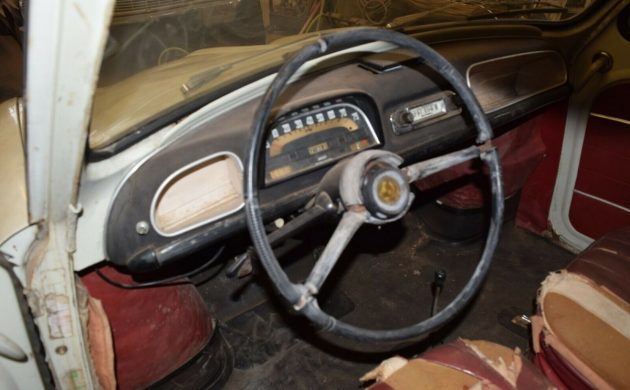 The Dauphine was designed as a 4-seat sedan, but it will seat five at a pinch. The interior of this car has its good and bad points, but there is some good news to be had. The rear seats and door trims don't look bad, but the front seats and steering wheel are looking quite dilapidated. That may not be a problem, because included in the sale is a spare set of front seats, along with a replacement wheel, and a full dash. The existing dash looks to be in quite decent condition and features the cool cubby-holes in either side in place of a glove compartment. There is also a radio fitted to the vehicle, which is a nice little luxury touch. This photo also exposes one of the great design flaws encountered by those who drove a Dauphine. It isn't immediately obvious, but the shifter is very short and is also a long way from the driver. On a low-powered car that does require a reasonable amount of rowing through the cogs, that did present more than one person with problems. I can remember my father buying a Dauphine Gordini for my mother to use as a daily driver. It was finished in Jet Black and was a great looking car. Now, my mother could drive just about anything, but the shifter on the Renault completely defeated her. As a result, dad eventually sold the car. It was only years later that mum admitted that she probably would've been fine if an extension had been welded to the shifter to bring it easier to hand. Still, hindsight is always 20/20 vision.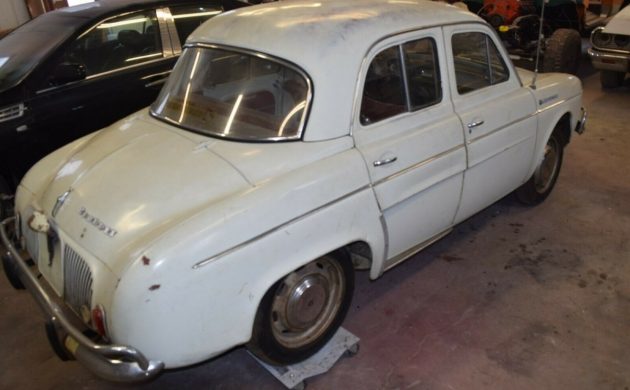 There is no doubt that the Renault Dauphine is a quirky car, and for someone searching for something a bit unusual, this one could represent a potentially inexpensive project. These are a bit of a rarity today because so many of the early examples dissolved like a soluble aspirin. This one appears to have only minor rust, and due to its simplicity, it is a car that could conceivably be restored in a home workshop. It might not be your first choice as a project car, but it is still one that is worthy of consideration.