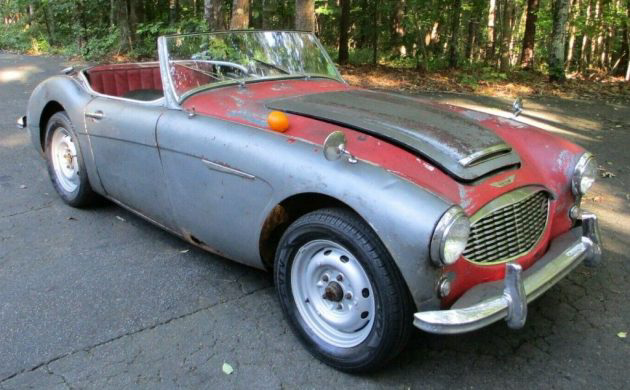 I have never owned a British sports car but I'll admit, I'm fascinated by them. I think it's the rawness and simplicity that holds my attention – imagine building something like that today. And besides the existential aspect of what comprises a British sports car, it's the number of different manufacturers that were in the mix. And then there's the fact that most of them have gone by the wayside – sad. But there are many examples that still grace our shores so let's take a look at this 1959 Austin-Healey 100-6, located in Canton, Georgia, and available here on eBay for a current bid of $16,355, reserve not yet met.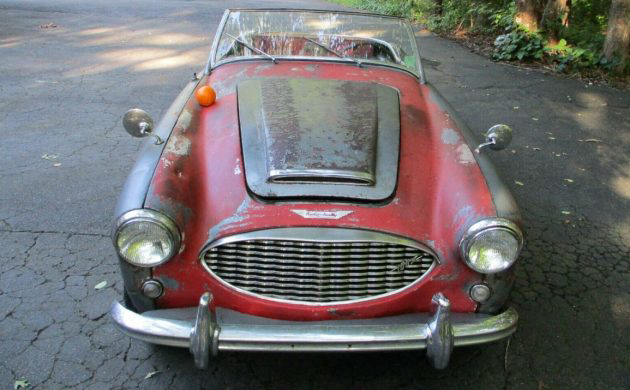 Austin-Healey was in business for twenty years, between 1952 and 1972, and the 100-6 model was produced from 1956 until 1959. Two different body styles were offered, a 2+2 and a two-seater. It is thought that about 14K 100-6 copies were assembled during its four model years.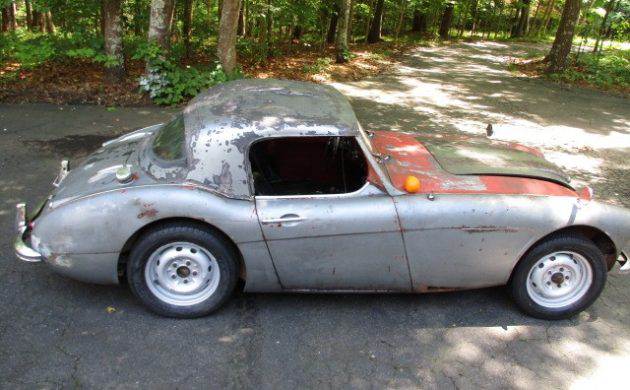 The seller cautions prospective buyers by stating, "Looks fairly ugly but don't let the photos fool you. All it needs is paint and some interior work – or drive it as it stands". There is something oddly chic about the appearance, at least you wouldn't worry about parking lot rubs. But an esteemed roadster like this Austin-Healey deserves better. The seller states that this Healey has been off the road since 1969 but it is a rust-free example (one of the most rust-free that he has encountered) and admittedly, the floors and underside look fine. There is rust manifesting itself, however, in the lower, passenger side fender but it's hard to make out how extensive it is. The seller adds that this Healey was a California and then a Georgia residing car so those geographies may have lent a hand in preserving the body. Interestingly, this roadster comes with a removable, fiberglass top that fits well, though the reseller does not know its origin. There is no folding convertible top, frame, or side curtains and the windshield needs to be replaced. The seller concludes that this Austin-Healey was repainted silver about 200 years ago, it looks it! I think he means 20 years ago but I'm not sure why one would paint a car that had been sitting and continues to sit, for such a long period of time. Anyway, the silver has flaked off revealing a red under- finish but apparently the car was black at its inception.
Under the hood, the original 2.6 liter, in-line six-cylinder engine has been replaced with a 1967 vintage Austin-Healey 3000 motor, which is a 3.0 liter, I-6 configuration and capable of generating 150 HP. The seller claims that this Healey runs perfectly and the oil and valve train are very clean – the engine supposedly has only experienced 3,600 miles of operation. The running perfectly has been limited only to driveway carousing. Apparently the metallic brake shoes need to be "broken in" and the handbrake is not connected. The transmission employed is a four-speed manual and the seller adds, "The transmission is an original Austin Healey 4 speed side shift with overdrive. Everything works perfectly. The transmission was removed and partially disassembled for inspection and it was like brand new inside. Shiny clean with clear oil, needing nothing. Actually looks like it had been rebuilt yesterday – probably at the same time the engine was installed. Clutch and throwout are new, having been replaced when the new engine was installed. Overdrive works fine." So we'll go with the assumption that the older gearbox is perfectly adequate for the larger, more powerful engine. The new clutch is a definite benefit.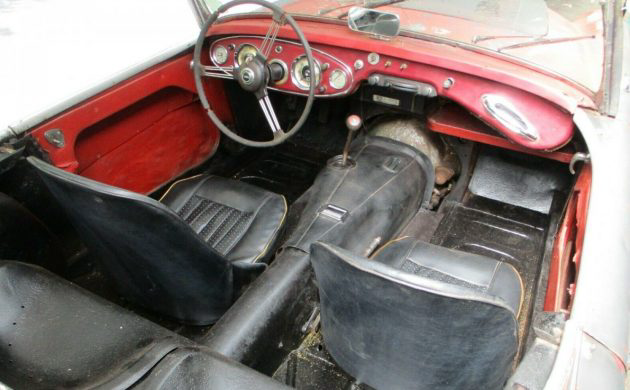 Inside needs help and the seller as much admits it. He recommends new upholstery for the seats which are apparently "BJ8" seats meaning that they are from an Austin-Healey 3000; whether it's the one that donated the engine is unknown. While the dash auxiliary gauges work, the speedometer and tachometer don't. The speedometer is missing its cable and the tachometer needs to be modified, or its connection, to operate properly with the larger engine. The steering wheel is missing a chunk or two as well. But all in all, it's not too bad, the floors, in particular, are very solid.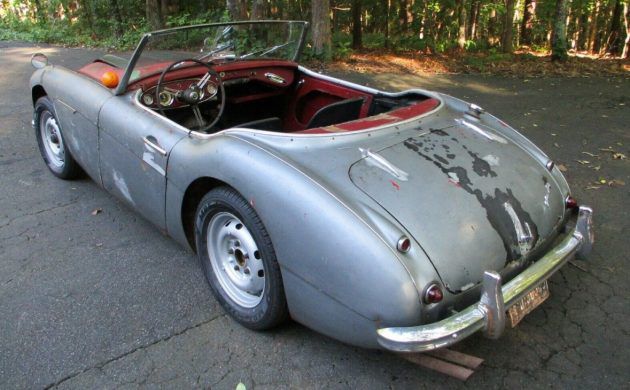 It's important to not judge a book by its cover. I was completely prepared to say, "OK, here's another that might be salvageable with a wing and a prayer, but this Austin-Healey has had all of the tough-stuff performed. It seems that it is down, or mostly down, to cosmetics. Mostly down because there are still plenty of things that can jump up and bite you with a car that has had this much reconfiguring and is still an unknown in real-world driving. And there is wiring and accessory operation still to consider. That said, this Healey appears to be a pretty solid base that is well beyond the project stage, but it's not at the completed stage either, there is still work to do. The listing and images are very comprehensive, one of the best that I've encountered, I suggest that you check all of it in detail. There is the statement included in the seller's description section, "This is a low reserve auction". Hard to say how "low" low is. There are five bids tendered so far and three days to go so we'll watch this one and find out. What's your opinion, worth taking on, or are there still too many unknowns?