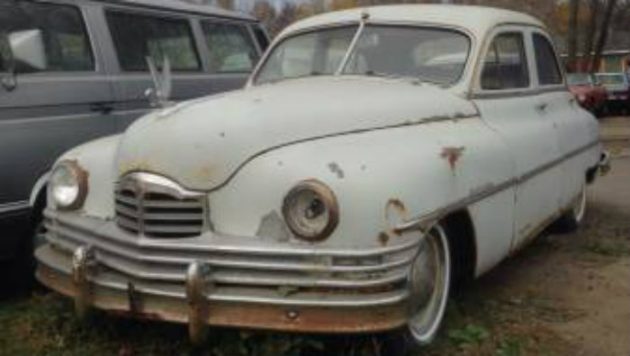 Looking at this sadly rusting but still recognizable 1950 Packard Deluxe Eight Sedan, I'm reminded of Norma Desmond in Sunset Boulevard thinking she's ready for her close up at the end of the movie. I can't really see an economical way that this post war stop gap for Packard will ever end up back on the road. It's listed for sale here on eBay and is located in Savage, Minnesota.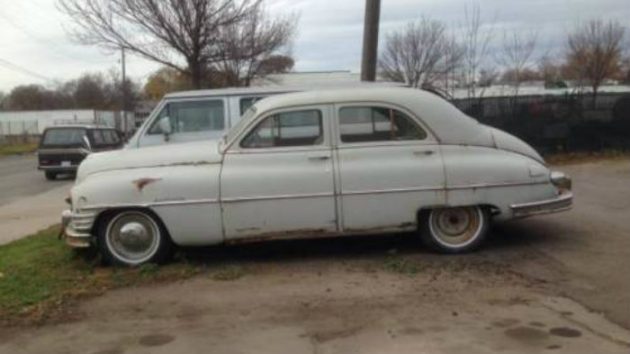 Like Norma, this Packard was once young and gleaming. Dutch Darrin designed this body originally in 1941, but the middle down area was redesigned for the 1949 and 1950 models as a make shift measure to carry the company on while a new body could be designed for 1951. Unfortunately, those ended up being the last all-new Packards produced.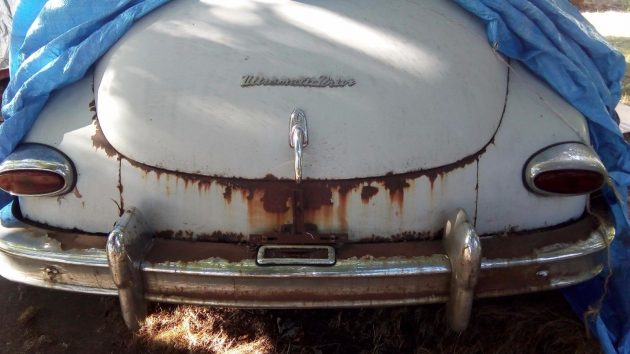 This car is equipped with the Ultramatic drive, which was the only fully automatic transmission ever developed in the US completely outside of the big three automakers. Amazingly, it had a lock up torque converter for efficiency, something that only really took off many years later. Sadly, the extensive rust the car is showing probably has something to do with that blue tarp you see folded back in this shot. We are told that this is the original paint, so at least there's no rust hiding–but there's plenty in plain sight.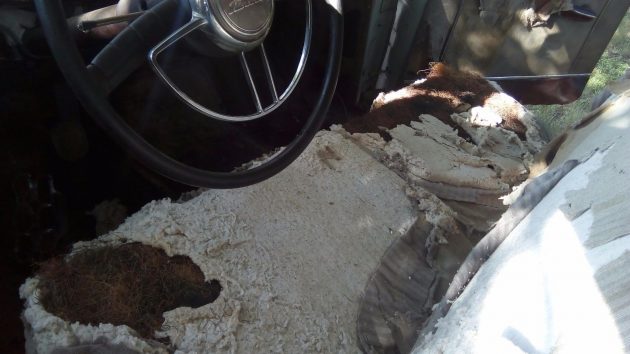 As far as the interior goes, the seats are going to be a construction project, unless you go the time-tested Indian blanket route. That would be a shame in a car that could look like this one could, though. The sad thing is, these lower-level post-war Packards simply aren't worth enough to make a whole lot of sense to restore. It would have to be a labor of love. If you know the plot of Sunset Boulevard, what this car needs is a Max–someone willing to do illogical, self-sacrificing things out of love and devotion.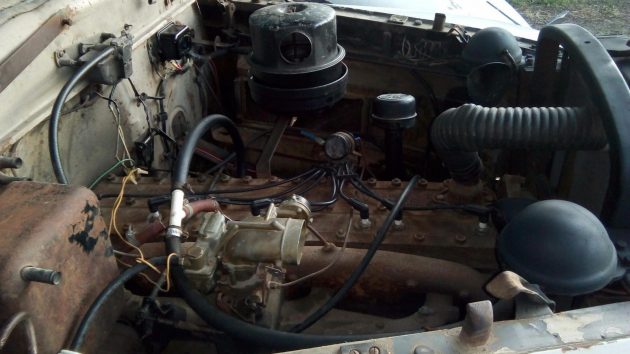 I'm guessing this is the original 288 cubic inch, 135 horsepower inline eight cylinder engine. The seller tells us it's free and that it has a new fuel pump, but that the carburetor needs work. They also mention that they are continuing to work on the car with the parts they have, presumably to try to get it running. Is there a Max out there with $3,500 in their pocket for this Norma?