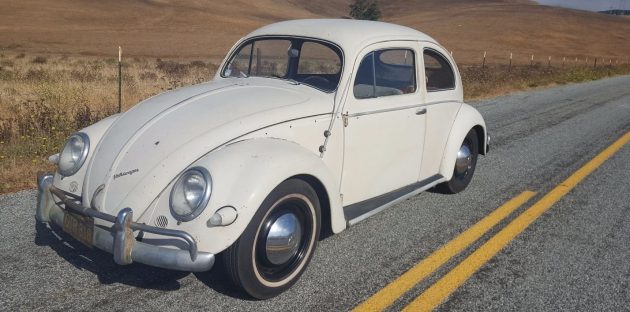 This 1957 VW Beetle is a desirable oval window model, representing a distinct design phase in the Beetle's history that incorporated a number of features not found on later cars. Bullet-style turn signals, chrome bumpers and recessed headlamps are all distinctive qualities of an early model, but the oval rear window is what really sells it. Find it here on eBay where bidding is approaching $7,500 with four days left. 
These early models also featured a more petite taillight design and a matching rear chrome bumper. Later cars evolved to an overall more "chunky" design, and this one has survived nicely with no accidents to report and no previous attempts made at restoration. The seller claims he isn't an aircooled guy and just fell into the ownership of this Bug, which is what's claimed to drive the sale. No word on if body panels are original but the paint appears consistent from stem to stern.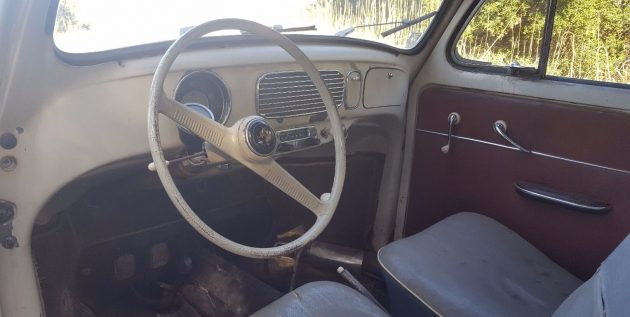 California black plates are a nice touch as seen above, as is the pleasingly simply interior of an early Beetle.Other pictures show a dash with chipped paint but retaining original switchgear and a period Motorola radio tuner. The seller claims the Beetle runs and stops well and drives straight down the road. Originally purchased in Arcadia, California, it has never left the West Coast, which helps explain its impressive cosmetic condition.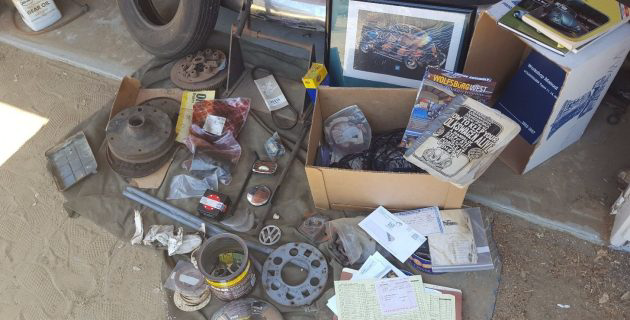 An assortment of spares is included with the sale. The seller also claims to be in touch with the original owner who can fill any prospective buyers in on the car's overall history along with any other questions. It's always comforting to see someone still relies on the classic John Muir title, How to Keep Your Volkswagen Alive – this is the kind of person you want to buy one from. Bidding is active so we'd expect to see the current number go higher before the auction concludes.