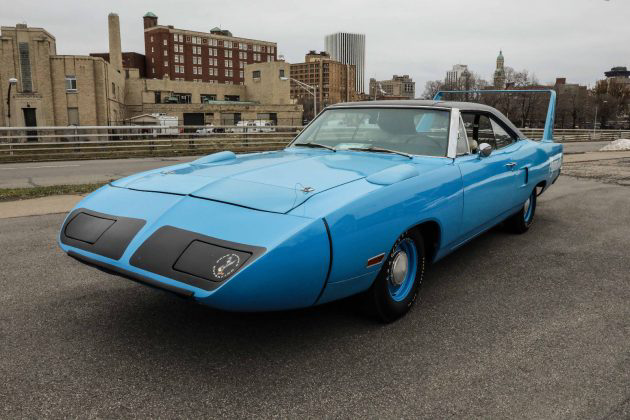 I am a lover of all things MoPar, and all cars unusual. The Superbirds and Daytonas have always caught my eye, even before they really shot up in value, simply because of their truly unique styling and distinguishable look. A nice Superbird is certain to bring six figures pretty much anywhere these days, and even a project Superbird will bring quite a lot. Sought after by collectors, these cars are often for sale but never affordable. This 1970 Superbird is in excellent original condition, and can be found here on eBay in New York with bidding at a low $99,600 as I write this and no reserve!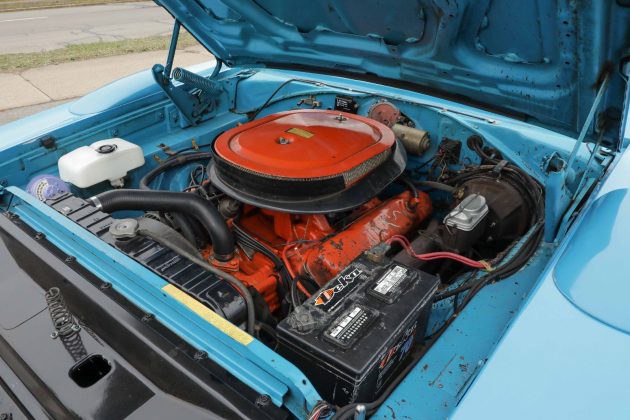 1960s and 1970s blue MoPar B-bodies are the sole reason for my love of blue, cars and Chrysler products. Growing up around a B5 blue Coronet with an orange 318 under the hood has made similar color combinations my go-to favorite. This Plymouth is painted Petty Blue with a beautiful orange 440 sitting under the hood. To quote the seller, "No Hemis [cars] were painted Petty Blue." This car is equipped with a 400 Six Pack, making it one of seven Petty Blue Six Pack Superbirds. Though the engine bay is far from masterfully restored, it is mostly original and shows its age. In this case, that may only increase the value!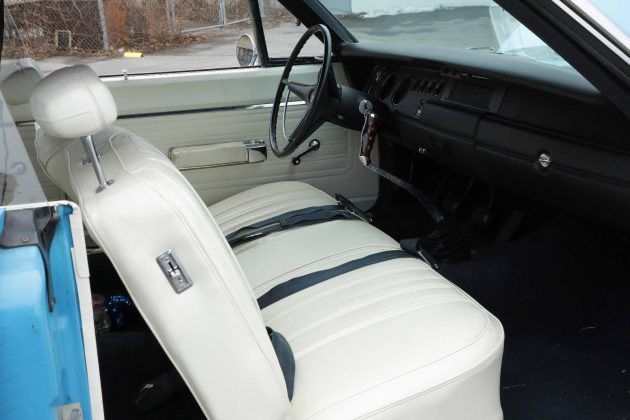 As if the 440 Six Pack option isn't already cool enough, this Superbird is also equipped with a 4-speed manual transmission. According to the ad, this Plymouth is "1 of 308 V-Code 4-speed Superbirds produced in 1970." Both the engine and the transmission are the correct, numbers-matching drivetrain which does nothing but raise the value of this car. Note the pistol grip shifter! The odometer reads 48,010 and although the seller makes no mention of the odometer's accuracy, I believe it. If the interior has not been redone, then this is a low-mileage car that has had a good home.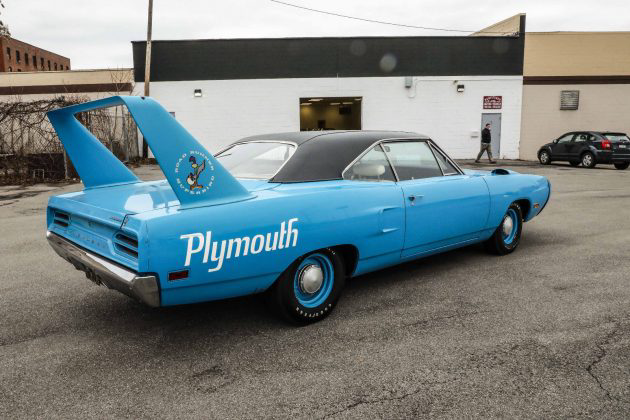 Say what you want about the enormous wing on the rear of this car, but it wouldn't have the history it does without it. Love it or hate it, the nosecone and wing are what make this car special. This Superbird comes with the original build (broadcast) sheet and a copy of the original bill of sale and registration. The seller states that this car is "Vehicle no. 715 of the 1970 Superbird Nascar program." With 7 days left in the auction, I suppose it isn't surprising that bidding is "only" at $99,600. I would be curious to see what this car sells for, because it will definitely sell. This is an excellent example of a beautiful car that was instrumental in the history of both Chrysler and NASCAR, and it will surely find a good home.