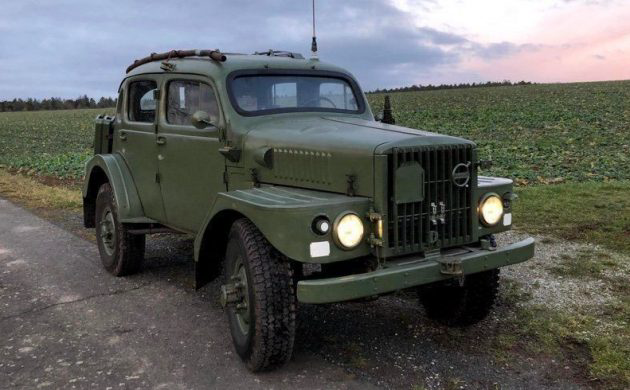 OK, here's an odd one, it's a 1954 Volvo TP21 "Sugga" 4X4. You've never heard of it? Well, that makes two of us. That's all the more reason to investigate and see what's up with this unusual multi-purpose vehicle. It is located in Uerkheim, Switzerland and is available, here on Ricardo for 42'950 CHF or about $47,600 U.S. Thanks to Jeff for this one-of-a-kind find!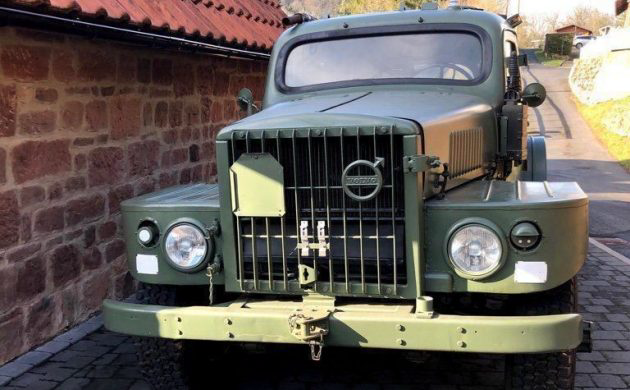 Technically the Sugga, loosely translated as "sow" or "mother pig", and produced between 1953 and 1958, was a Swedish armed forces vehicle, that according to Volvo Sugga, has become "a favorite of military vehicle preservationists, 4X4 offroaders, show car enthusiasts, Volvo fanatics, and even auto-buffs who want a unique sport-utility vehicle for daily use". The appeal will be limited by the Sugga's slim production numbers as only 750 copies were produced.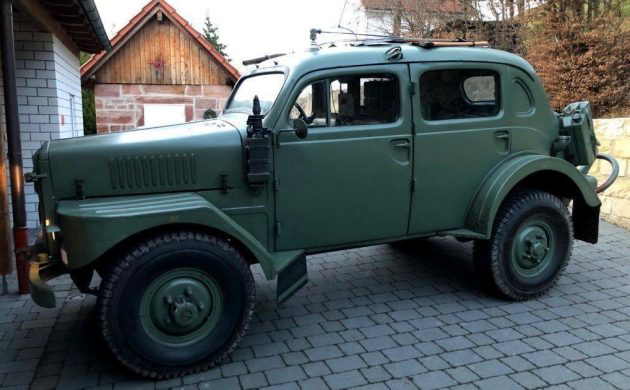 The listing for this Sugga is not too informative, it states that this is one of approximately 200 still in use, and it has been "completely mech. outdated" which I think means completely mechanically updated; something probably got lost in translation. The listing further states that the seller has 15'000 in receipts (about $16,600), ostensibly for what was probably, a total refurbishment. It looks good, certainly like it means business, though I'm not sure that I would know otherwise. The olive drab finish appears to have been recently applied and there is nothing that seems out of place or begging for an answer. It does have a pair of jerry-cans attached to its hind side quarters but that's it for features. No, there are no obvious guns/cannons attached but I suppose one could investigate that possibility if they were so inclined…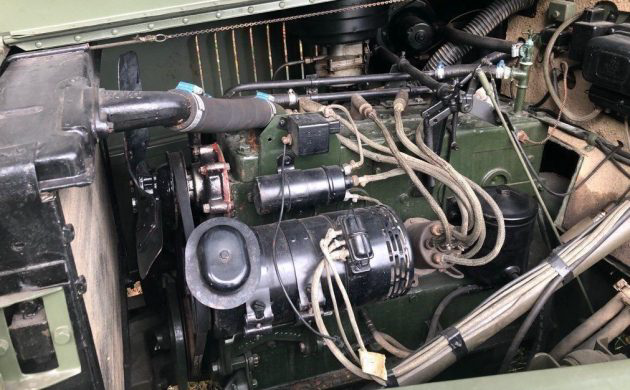 Power is courtesy of a 90 HP, 3.6 liter, in-line six-cylinder engine working through a four-speed manual transmission and a transfer case. This is a "side-valve" engine design that powered many Volvo passenger cars and small trucks. The seller, unfortunately, makes no mention of this Volvo's operating prowess.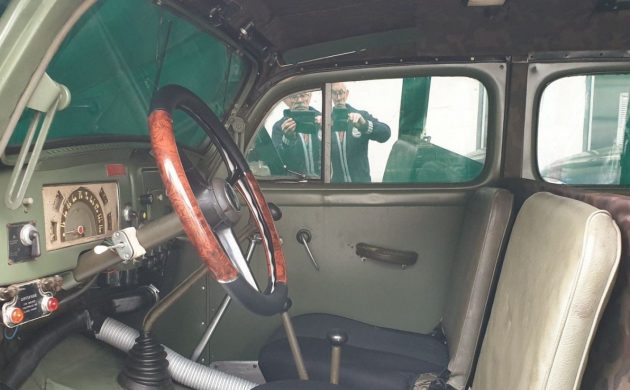 The interior is very utilitarian in nature but that's pretty much what one would expect for such a vehicle. It appears to have been restored recently though I wonder if the camouflage headliner is correct. I particularly like the roof hatch, I can think of numerous instances where that would come in handy. Note the steering wheel – it seems a bit tarted up in this instance.
So this is a bit like a Swedish Humvee or an old-school version of an Oshkosh Defense light tactical vehicle with a gentler European flair. I'm not sure how you would use such a vehicle, it's too nice for off-roading and I'm not sure that I buy into the idea of it as an MPV for daily use. But it would make for quite the conversation piece at a local car show. And, can you imagine the reaction other drivers would have when they see you closing in via their rear-view mirror?