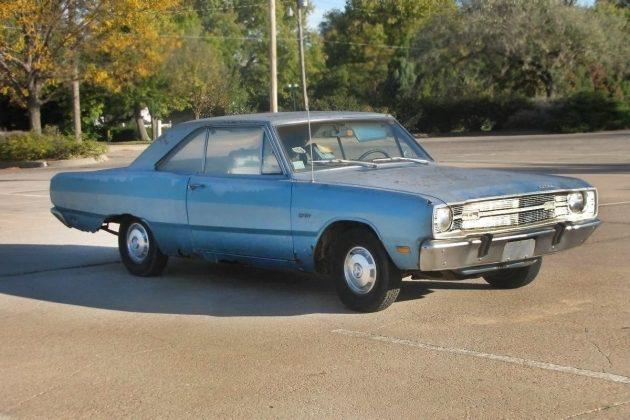 You'll have to bone up on your welding skills with this one, it's one holy-roller. This 1969 Dodge Dart Swinger is quite a sight, rust-wise, but if a person were looking for their first project and wanted to learn how to weld on a relatively inexpensive and very cool car, this could be a contender. This Swinger is listed on Hemmings with an asking price of $995 or offer and it's located in Dodge City, Kansas. I'm assuming that this is the only swinger, I mean, Swinger, in Kansas.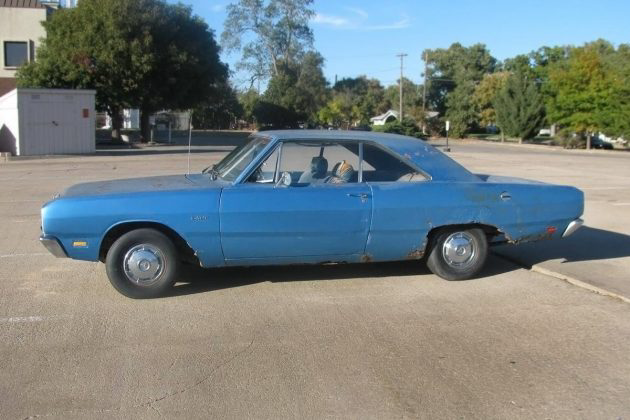 The two-door hardtop Swinger body style was new for 1969 and this car is very desirable being an early fourth-generation car. Most Dart fans prefer the smaller-bumper Darts like this one. In 1970, Dodge revamped the design a bit, front and rear, so this '69 is a great one to grab. But, as you can see, the body work alone will take the skills of pretty much all of the Fantastic Four. Wait, not that Fantastic Four, this Fantastic Four. Or, maybe you're a superhero at bodywork; it'll be needed on this one.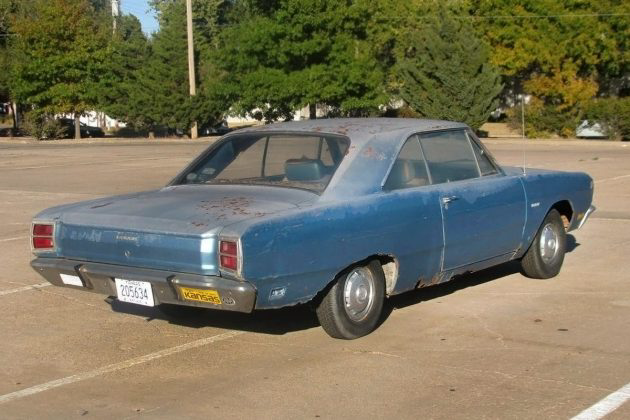 You may want to befriend one of the parts suppliers that sell body panels, unless you're also good at bending and fabricating sheet metal in addition to your skills at welding. There is a lot of rust here and I mean a lot. You'll see more once we get into the engine compartment. Whether it's worth it to order thousands of dollars worth of replacement metal or just make your own pieces to fit depends on the next owner's budget and skill level, of course. This car had to be sitting out in a field somewhere. Kansas vehicles are usually fairly rust-free, aren't they?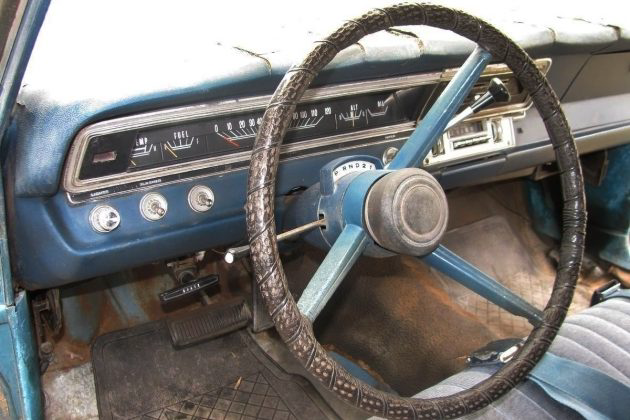 Unfortunately, the interior may be in even worse shape than the body is in, if that's possible. Almost everything will need work on the inside. What the heck, let's just say that "interior needs replaced". A lot of these parts and pieces are available from the aftermarket, thankfully. The upholstery, front and rear, is almost as far gone as it can be, cooked from the hot, dry Kansas climate, and the dash almost couldn't be more cracked than it is.
I know, I'm thinking the same thing. If this were a V8 car it may be worth the money to restore it. The amount of money that'll have to be spent on the restoration of this car means that the next owner will undoubtedly drop an SBC.. ha, I mean, drop a 318 or a 340 V8 in there, or some sort of Chrysler (hopefully!) V8. You can see lots of rust in those front fenders, even on the top, which has transferred to the inner fenders, which happen to be the engine bay, which means that lots of work and money will be spent just making this car safe to drive, regardless of what engine it has. Is this car worth saving? I can't believe I just said that!