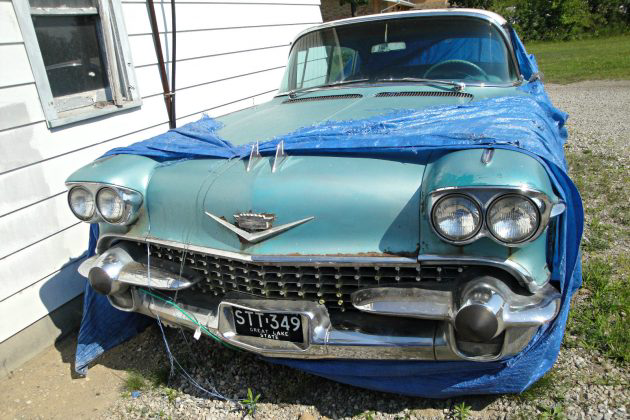 A tarp find is never is happy sight as a tarp doesn't do a very good job of keeping water off of a car, and it tends to trap moisture against the car as well. Found as a decent condition driver, the owner began a restoration, but didn't get much further than pulling the engine, and replacing a few seals in the transmission. Still, this Deville is rather solid, and seems worthy enough to hit the streets once again. The opening bid for this Caddy is just $999.00 or the buy it now option is also available for $2,000.00. Take a look at this Cadillac here on ebay out of Memphis, Michigan.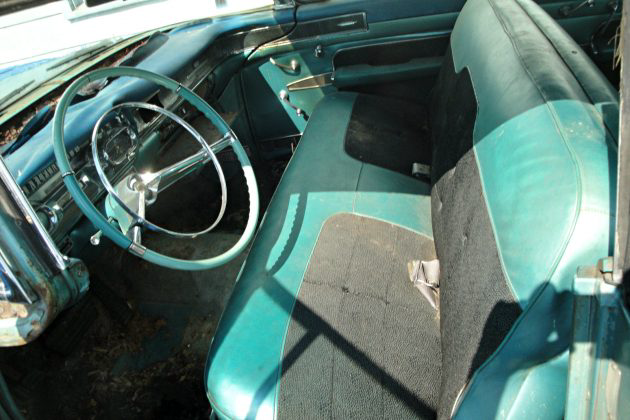 Although described as being a very nice driver condition car, this Deville is nice, but does have its concerns. Inside much of the interior is complete, and in reasonable condition aside from the carpet, and the dash pad that is very rough. With some minor matting on the driver side of the bench seat, the remainder of the upholstery is in pretty good shape after 59 years. New carpet, and some work to the dash pad would leave this interior looking nice enough after a thorough cleaning.  The major let down about this Deville is that the original engine was pulled to be rebuilt. The heart breaking part of that story is the engine sat so long at a machine shop, that the engine would up being "lost." So there is no engine with this Cadillac, although the automatic transmission is included with the car.  It is unclear when the restoration began, but at some point, the "brakes were redone" and new tires where installed.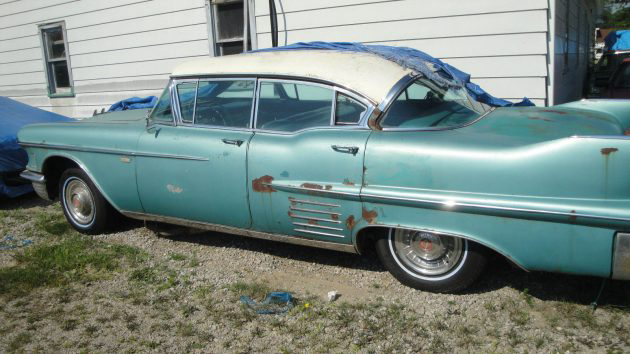 As a whole the body seems reasonable, but there is more rust in sight than what the seller mentions in the ad. Described as "rock solid" the only rust of consequence the seller mentions is that a patch will be needed for the driver floor. There are a few areas on the body wearing surface rust, but there are also a few crispy areas where it looks like you could put your finger through the sheet metal. The first area is near the lower door edge of the driver rear door. The second area is around the rear window where there is a piece of stainless trim missing. Pictures can be misleading, so I could be mistaking. Aside from those few suspicious areas, the rockers and quarters look great, as does the rest of the body. Relatively solid, and nice enough to make a project out of, what would you do with this Deville?