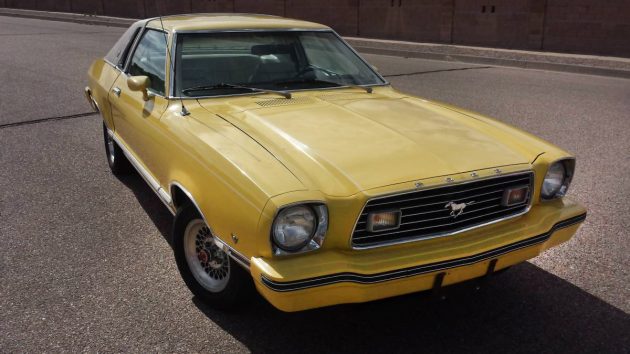 This "piece of automotive history" is a 1977 Ford Mustang II Ghia and it's rust-free, according to the seller. This yellow pony is on Craigslist with an asking price of $4,300 and there are "NO joy rides. Have cash in hand if you are serious." Boom! 'Nuff said. This nice Mustang II may be the leisure suit of cars and I don't say that in a bad way at all, just that it's from a certain era that some of us remember and some others want to forget. Thanks to Pat L for tracking this great car down for us!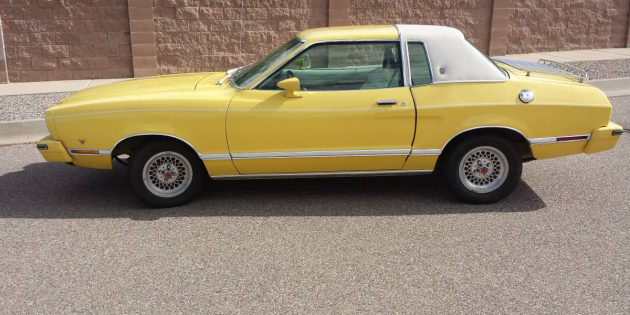 Having grown up in this era, or having been a teenager and aware of things as much as any teenager really is (although they think they know everything), I really liked these cars. I had a model kit of a Mustang II and they've always stuck in my craw after that. The seller has the mileage listed as 36,392, could that be on its first trip 'round the bend? It sure looks like a super low mile car. Ford had just purchased Italian coachbuilder, Ghia, and the Mustang II is said to have been influenced by its long-hood-short-rear-deck designs and, in 1974, Motor Trend named the new Mustang II its Car of the Year.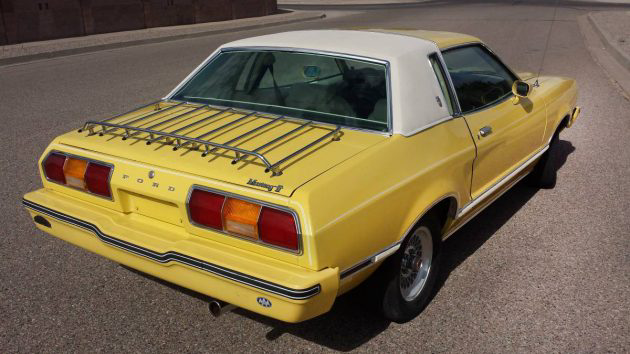 My model kit wasn't of a Mustang II all gussied up with a padded, vinyl top, white bodyside moldings, and a luggage rack on the trunk lid. But, I'm into unusual vehicles (as if I needed to mention that) so this one looks pretty appealing to me, personally. Although, I'd have to get an appropriate wardrobe in order to really do this car up right. The Mustang II was made for the 1974 through 1978 model years; the beginning of the disco era. Coincidence? I think not.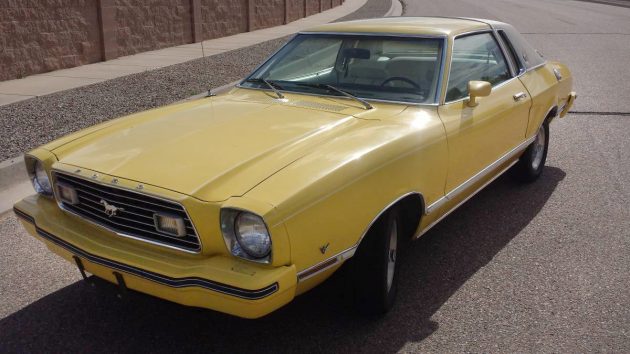 The Mustang II, as most of you know, is a second-generation car and it was an all-new platform, at least for the Mustang is was. For the Pinto, it wasn't new because that's what it was based on. The first thought was to have it based on the Maverick, but it wasn't to be. In all fairness, and according to legend, the Mustang II was "less of a Pinto than the '64½ had been a Falcon." Is this considered the malaise era?! Come on, who doesn't love a yellow Mustang II with a white, padded vinyl landau top and white bodyside moldings?! Yep, you guessed it, this is Mr. Lee Iaccoca's work, or he was at the helm. What tipped you off, the padded, vinyl landau top and white bodyside moldings? Just think if the Mustang II would have come with opera lights, what a missed opportunity..
The Ghia was the luxury version of this car, getting the vinyl roof and, initially, a V6. The interior looks fantastic on this one, from the front seats to the back seat to the headliner, pretty much like it just came off of the assembly line. This car does have AC but, as is often the case, it isn't blowing cold. The Mustang II came out right after the oil embargo so the timing almost couldn't have been any better to introduce a smaller, more fuel-efficient "fun to drive" car. The previous Mustang had grown to fairly huge proportions and car makers were considering getting rid of their gas-guzzling pony cars as gas prices continued to rise and gas became more in demand and, sometimes, hard to get. Some car makers actually did get rid of what we now consider highly-desirable and collectible vehicles; such as the AMC Javelin, Plymouth Barracuda, and Dodge Challenger. Now, let's see what's lurking under that yellow hood!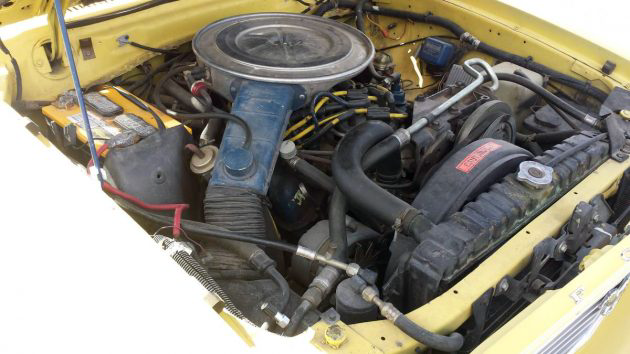 Well, looky here, it's a Ford 302 V8! Sure, it has under 140 hp, but it's a 5.0L 302 Ford V8! There would have been torches and pitchforks if this car would have had a lowly four-cylinder or maybe even a V6 but, come on, this is a legendary Ford 302! Just think what you could do to hop this baby up, the possibilities are almost endless. Ok, maybe they aren't that endless, but you have to admit that this is the most desirable engine for this car, at least for the 1977 model year. In its last year, 1978, the Mustang II offered a "King Cobra" version with over 400 hp! No, actually it still had less than 140 hp, but it looked like it had 400 hp. These cars aren't for everyone, but there are a lot of folks who like the Mustang II and this car would probably draw as big of a crowd around it at a gas station as almost any other Mustang would. Have any of you owned a Mustang II? And, an even more important question: have you ever owned a yellow suit?