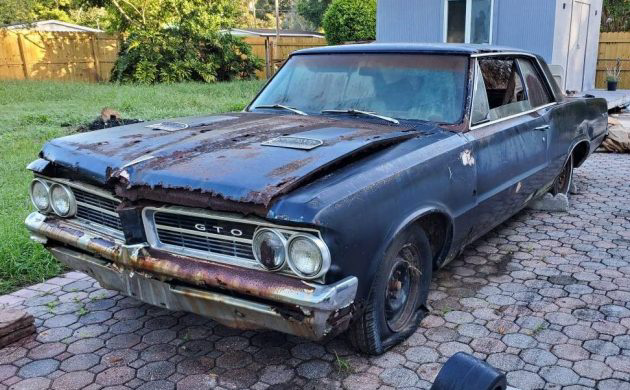 I think that we all dream of that day when we find a project car with plenty of solid steel and only minor rust issues. This 1964 Pontiac doesn't fall into that category, because it would seem to have plenty of rust problems. It does have a couple of factors in its favor. The first of these is that it appears to be a complete vehicle. The second is that the owner holds PHS documentation that confirms the car's identity as a GTO. Barn Finder Ikey H spotted the GTO for us, so thank you for that Ikey. It is located in Brandon, Florida, and has been listed for sale here on Craigslist. It isn't every day that you can take home a genuine '64 GTO for $7,500, but you can if you buy this one.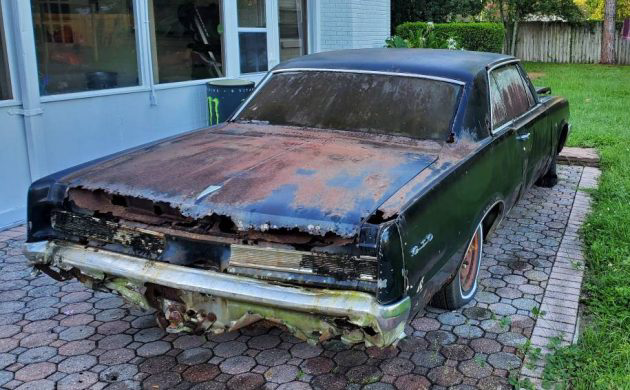 I don't know where this GTO has spent the majority of its life, but the advanced moss and mold suggests that it was somewhere pretty damp. It is hard to know where to begin when discussing the rust problems, but I will say that it's a good thing that glass can't corrode! There isn't a single panel that has been spared. If someone does choose to tackle this restoration, then they will probably find themselves on a first-name basis with the guy that supplies all of the replacement steel. We don't receive any information on how things look below decks, but with the interior shots showing wet carpet, that doesn't auger well. There are also a few interior steel components that are in an advanced state of decay, which raises some questions about the viability of this classic as a restoration project.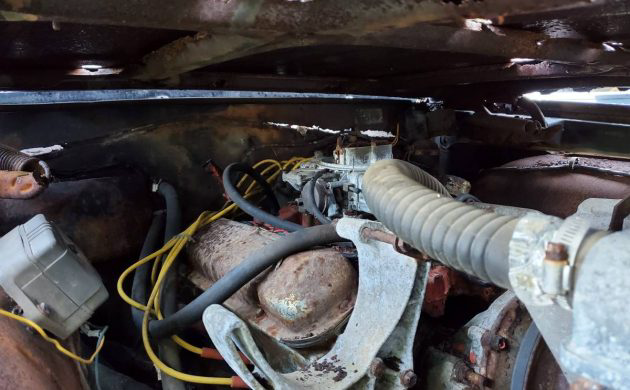 The owner states that the Pontiac comes equipped with a 389ci 4-Barrel V8 and a 4-speed manual transmission. This was a potent package when the car was new, and helped to cement the GTO's legendary status. This was a car that was capable of demolishing the ¼ mile in 14.6 seconds, and that was big news back in 1964. The owner doesn't indicate whether this is a numbers-matching car, but I have noticed one detail that raises a small doubt in the back of my mind. The valve covers on this engine appear to be painted in the standard Pontiac engine color. I'm positive that all '64 GTOs came equipped with chrome valve covers, but I'm happy to be corrected if I'm wrong on that point. It may just be that the valve covers have been replaced at some point. However, when we are talking about a project car in such an advanced state of decay, this would be a matter worth checking. If this isn't the original engine, then it will potentially have some impact on this project's financial viability. The other issue is that we don't know whether the engine turns freely, so that is a further thing to consider. Interestingly, this glimpse is the only shot we get of the engine. I suspect that this is as far as the hood can be raised without the danger of it snapping off its hinges.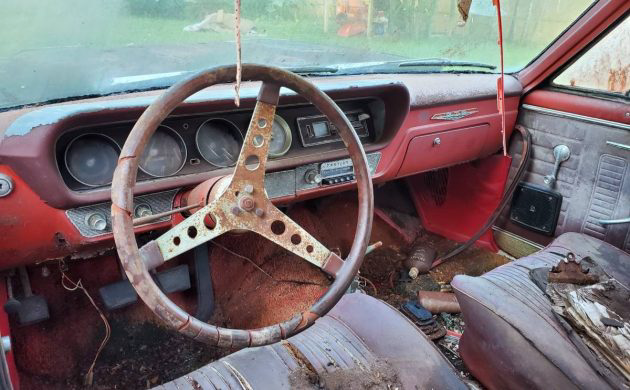 This GTO is nothing if not consistent because the interior is also going to require a full restoration. What we're talking about here is a complete interior trim kit, and I would include new seat foam into that equation. There is evidence to suggest that things have been pretty damp inside the GTO, so I suspect that it probably doesn't smell that flash. I would also be placing a question mark over the relative health of the switches and other electrical components. Replacing wiring harnesses can be a frustrating and time-consuming task. However, it is better to tackle this sort of job when the car is disassembled for restoration than when something fails after the work has been completed. Been there, done, that. Not pleasant.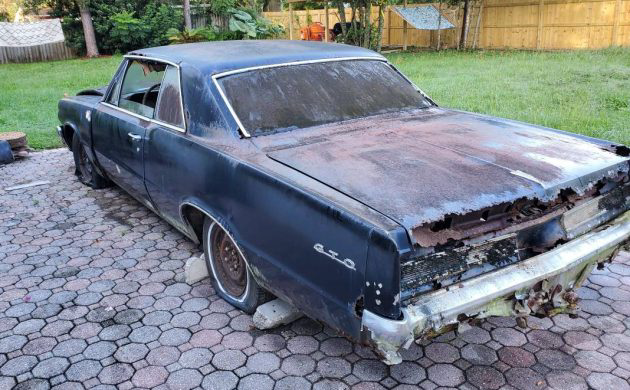 The owner of this 1964 Pontiac GTO states that it is a classic with the potential to be worth more than $70,000 once restored. On that point, he is right. If this vehicle was meticulously restored, and it is a numbers-matching car, then the potential is there for it to command that sort of price, or possibly more. The real problem is that it is currently also possible to secure some tidy examples of the same specifications as this car for under $50,000. I will admit that even at that figure, that leaves some room to move on a restoration. The big question has to be whether there is enough room for it to remain financially viable. What do you think?